Craig Peterson
A day in the life: Billy Bainbridge, Software Developer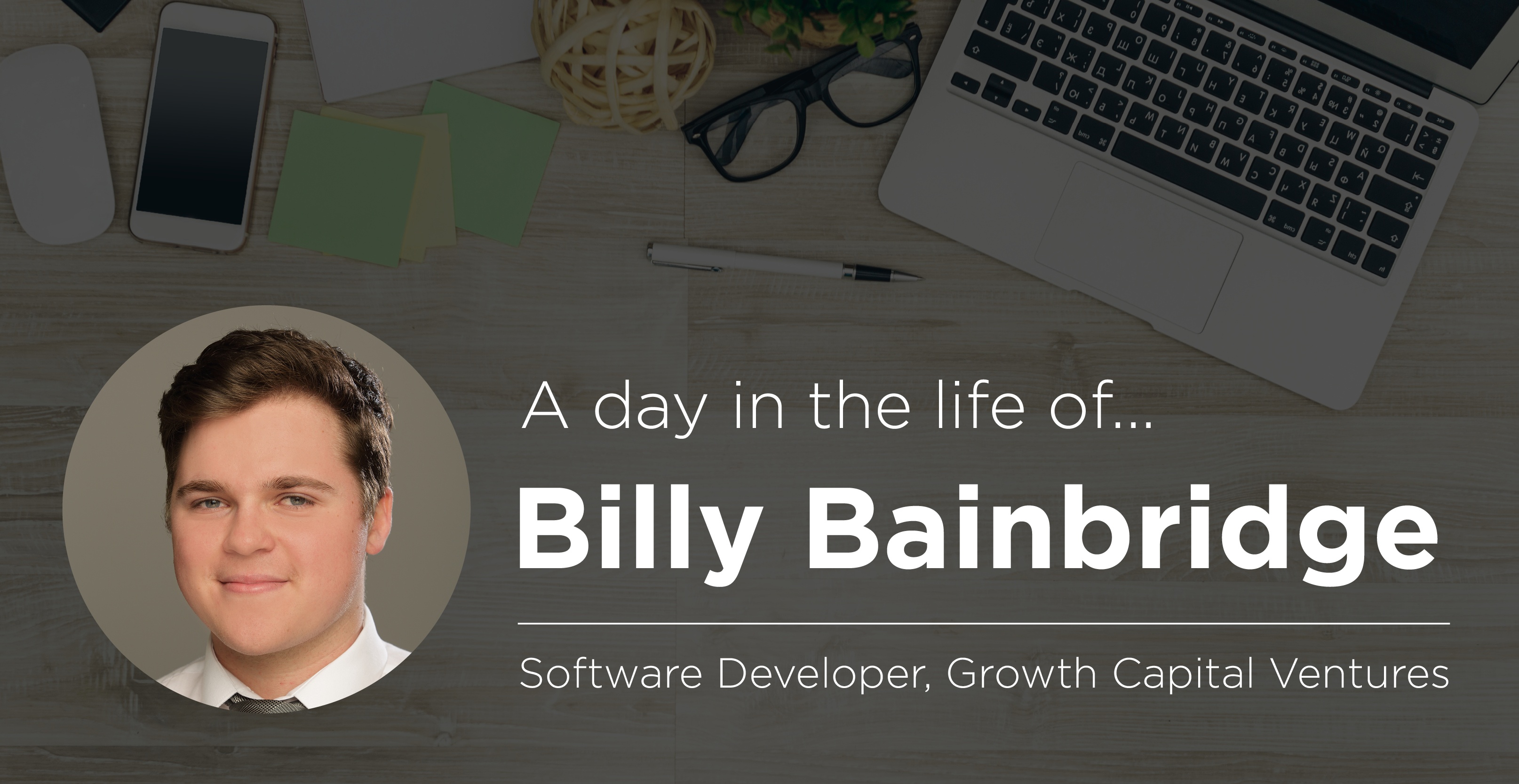 Working within the Growth Capital Ventures development team, Billly recently took the time to provide an insight into his day-to-day activities!
Describe your role as Software Developer?
My role as a software developer definitely keeps me on my toes as my role involves creating new work environments and being involved in all of the new development projects for the company.
I mainly focus on creating the front end side of products, whilst working alongside our design team, offering advice to ultimately help us build strong, client-friendly websites.
What are you currently working on at GCV?
This job is definitely not boring, as I seem to have a dozen projects on the go at any one time!
I'm mainly focusing on our new P2P investment platform at the moment, which is a very fun project. I get to try new things, which will eventually create an amazing product.
I am also working on other sites to support the delivery of the business strategy, whether this is in the fintech or proptech space - for example, GCV's new website or Carlton and Co's property website.
How do you feel technology has impacted our industry, or your role within it?
Maybe this is a little controversial to say, but I've never felt that changes in technology have had a massive impact on my job role - I always feel that as technology grows, so do I.
For example, when a new phone comes out, I need to know the screen size (as it seems most new phone are built with slightly different screen sizes), so I can modify website code to fit the request.
This is the same for programming languages. As new languages come out or are developed on, I need to know and understand it so I can ensure I'm delivering an up-to-date product; one that won't fail in a year's time.
And for me, this is just something that happens as standard. It's simply a part of what I do.
What does a typical day in your diary look like?
I normally start work at about 8:00am, and usually begin by opening an energy drink, preparing myself for the day ahead.
I then go ahead and setup my work environment, where I start by opening my IDE (Integrated Development Environment), which is normally atom. Making sure I'm also running my gulp file, once I've done that I am ready for the day!
We use Jira as a project management tool. With my projects and issues all stored there, if there are any of the latter in here at the start of the day, I'll focus on them first.
Every morning we have a standup at around 10am, which is where myself and the other developers get together and talk about what we're working on, including discussing any blockers preventing us from moving forward.
With the meeting finished, I then generally focus on the tasks in Jira by project priority.
Being a Software Developer can be vast and varied - is there a specific part of your role you particularly enjoy?
Although I've worked in the industry for a number of years now, only being 20 years old, I'm still fairly new to the Software Developer role in comparison to some of my peers.
This is something I only ever consider a positive though - I'm eager to learn as much as I can, and it makes my role even more enjoyable.
If I had to pick a particular part of my role, it would be showing my finished project off. It really does give me a sense of accomplishment - especially if people love what I am showing them first time!
Saying that, I do enjoy getting feedback of both the positive and critical varieties, as it gives me the chance to continuaully grow and improve.
What's the biggest challenge you've faced so far?
While working at GCV the biggest challenge I've faced so far was setting up the working environment for my first project, as I had to bring some of the outsourced work back into the office.
However, the task I was facing was running linux on my Windows PC, it never seemed to work. I ended up using another work colleague's Macbook Pro, which seemed to allow me to work on the project - 7 months later, I still have that Macbook Pro (sorry Luca!).
Outside of work, how do you relax?
As soon as I get out of work, the gym clothes come on and I hit the gym hard.
Once I'm home I like to cook and chill out by watching Netflix (I'm currently watching Sons of Anarchy, which is awesome). Other things I enjoy doing to relax is going on a long bike ride (often through Hamsterley Forest) or playing snooker with my grandfather (although he always seems to win...).
And of course the main one that every developer I know (or even anyone I know who works in a creative capacity likes to do at the end of the week), is have a drink in a nice beer garden with some friends. The only problem is, we live in the UK, so there is never often a nice time for a beer garden!
Want to connect with Billy? You can find him over on LinkedIn here - and if you want to read about the rest of the team, see our 'day in the life' posts for Emma, Dave, Dan, Luca, Sam, Jordan, Tony, Andrew, Sarah, Michael, Lauren and James.