Craig Peterson
A day in the life: James McKenna, Investment Manager

In our last 'day in the life of post', we talked to Lauren, one of our two investment managers - and now it's time to speak with our second, James!
Describe your role of Investment Manager
As an Investment Manager at Growth Capital Ventures I am responsible for working with early stage, high growth SME businesses from origination through preparation and campaign coordination to deal close-out, both financially and legally.
This essentially means that I support entrepreneurs in preparing for listing on our co-investment platform through our investment readiness process. This is a structured process that helps entrepreneurs identify the key information that is required as part of seeking investment. This review of the business will ensure the financials and the business plan are updated and refined. The process culminates in co-creating an FCA compliant, co-branded investment memorandum presenting the key information in a publication.
Once ready, I manage the investment campaign alongside the wider investment and marketing team to promote the opportunity through our online co investment platform.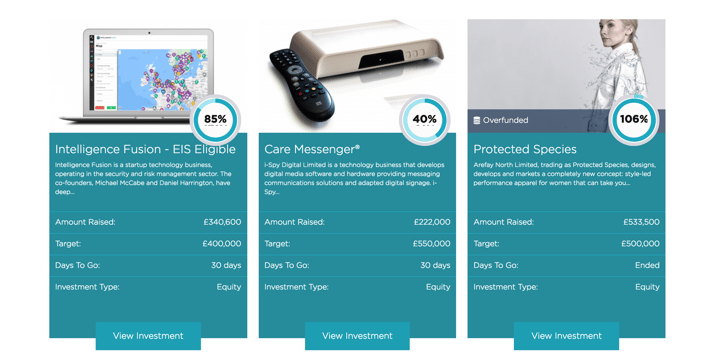 Our approach is not to crowdfund but to bring together Professional Investors (including Angel Investors and Angel Networks), Institutional Investors (including VCs and PE Firms), Corporate Investors and suitably qualified Retail Investors.
Following the investment, I continue to work with the entrepreneurs to complete the financial and legal processes, finalising the deal. Ongoing support is provided to entrepreneurs over the succeeding years to deliver on the business plan, realise exit for the company and produce a successful return for investors.
What does a typical day in your diary look like?
My day usually starts with a review of new potential opportunities, giving me first sight of the exciting deals that are coming through our platform or introduced to us through our investor networks. As the first point of contact with the entrepreneurs it is vital to make every effort to understand their companies so I usually need to request more details initially.
I then have a day full of supporting existing entrepreneurs, working through their preparation and campaign progress to ensure we are on track to complete the deal. This varies dramatically from day-to-day, either in regular meetings, on the phone to investors, or stuck to my laptop assisting in creating content.
Alongside all of this I am constantly working to expand my network of investor relations, contacting peers at venture capital and private equity firms, as well as reaching out to angel investors and networks. This is a rewarding part of my role, helping to match these investors to opportunities that will help them achieve their goals, both financial and social.
Having been in the role for three months, what has been your biggest learning curve?
For me, learning the legal and tax implications of early stage investment has been the biggest learning curve. There are a number of schemes to incentivise investment into high growth companies which each have their own intricacies to understand. I have worked closely with our head of research, Michael Johnson, to understand these schemes and how they can benefit both our entrepreneurs and moreso our investors.
Schemes such as the EIS and its younger sibling SEIS give attractive tax reliefs for single investments into very early stage companies, such as 30% and 50% income tax relief respectively.
VCTs offer the investment into early stage companies also. However, as a trust they spread the risk across a number of investments but come with less lucrative incentives, including capital gains relief.
Finally, there are what are becoming increasingly mainstream possibilities such as stocks and shares ISAs and Pension Investments, which many will be familiar with. These allow you to claim reliefs on earnings and on your pension contributions respectively, but are limited, reflecting their limited impact on the company's most requiring investment.
While we specialise in EIS and SEIS eligible businesses, you can see there are a number of options, all of which come with their own benefits and limitations. This is, of course, a crucial part of the investments we present and a key regulatory requirement. Therefore I have been aware that this is something I must understand fully, including the situations in which they are each relevant for both entrepreneurs and investors, so I have dedicated a great deal of my time to learning all I can quickly.
Which part of your role gives you the most satisfaction?
Meeting and working with the new and exciting entrepreneurs and the innovating teams behind them. This gives me insight into the new products and services that will be available in the near future - you get to see some great ideas and inspiring teams working to bring these ideas to market.
To then work with these teams to realise their growth plans and eventually their ambitions for their company is a privilege.
This gives me the opportunity to work with some fantastic people to analyse their opportunity and plans, so it can be presented in a polished and comprehensive way for investors.
These teams reassure me that the spirit of enterprise is still alive in the UK!
Working in the investment team, your primary focus is supporting businesses through the capital raise process - what do you look for in a company who is looking to raise capital through GrowthFunders?
Primarily I look for a team that can be backed and shows the drive to make their campaign successful. As I have said above, it is the team that takes the company forward and, like me, investors spot this quickly - this is a key point that investors will focus in on when they meet the team. If they show they know your business, market and plans, it gives me the confidence that this team will have what it takes to drive their company forward after a successful campaign.
These are then the points I will dig into - is this a business I understand? Is there a market? What is the business planning to achieve?
I need to know that there is a problem that this business is solving or a niche that it is filling and I need to be able to see how it is able to do this. If I am not convinced, the investors won't be.
Similarly, is the market big enough to fulfill the plans? Is it growing and can the business scale to take advantage of this?
Finally, bringing these closely linked points together, what is the plan for accomplishing growth including key hires, marketing strategy and development plans?
Not everyone will have everything nailed on and there will often be a lot for us to do in the investment readiness process. However, if the team is there and all the skills are in place, we can and do work on the rest to get it right. This is where my primary point above comes into its own - we want a team we can work with!
To find out more about James, connect with him on LinkedIn. We're running a full series of 'A day in the life of...' blog posts here at GrowthFunders. We've another on its way, but in the mean time, check out Lauren's or Michael's.