Budget 2017: cheer for investors/cold shoulder for housebuilders
So, the Budget has been delivered. We published a few thoughts on our areas of interest in advance of the Chancellor delivering his annual set piece. These thoughts focused on tax efficient investing and transforming housebuilding.
But how did these policy areas fare in the announcements yesterday?
The below reviews the content relating to both, before updating on a further initiative designed to support investment into early stage companies.
1. Tax Efficient Investing
Those with an interest in tax efficient investing have been consistently well represented by the Enterprise Investment Scheme Association (EISA), and there are two key tax efficient investing messages to emerge from the Budget.
Firstly, that knowledge intensive businesses will be entitled to double the annual investment level currently eligible for EIS and Venture Capital Trust (VCT) reliefs; up from £5million to £10million. Individual investors will also be able to claim tax relief on investments in knowledge intensive businesses up to £2million per financial year.
Although the definition of a knowledge intensive business was not confirmed, it is fair to assume it will adopt the current definition that already entitles businesses to higher lifetime EIS/VCT investment.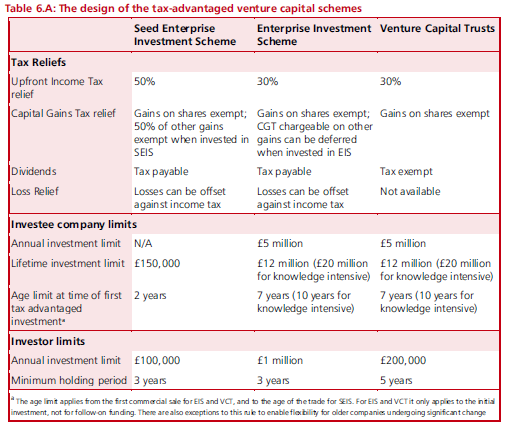 Secondly, the anticipated crackdown on EIS investments that fall outside the spirit of the scheme (such as those that pursue capital preservation) will become reality.
Maintaining the EIS for genuine investment opportunities was paramount; eliminating those investment opportunities outside of the spirit of the scheme is justified, with the Government's response to the Patient Capital Review setting out how a new 'risk to capital' condition will be imposed.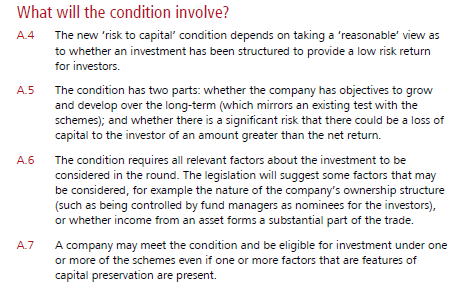 Overall, this Budget represents an endorsement of tax efficient investing.
The Patient Capital Review set out a series of recommendations to which the UK Government has formally responded. Precisely how best to equip the next generation of UK unicorns with the capital they need to achieve their growth potential is an ongoing objective. Capitalising on the knowledge and analysis generated by organisations such as the ScaleUp Institute, whose latest report is well worth reading, is important in this regard.
The endorsement of tax efficient investing comes alongside a commitment to establish a new £2.5billion investment fund managed by the British Business Bank.
2. Transforming housebuilding
If the Budget's content pertaining to tax efficient investing was broadly in line with expectation and represented a logical response, housebuilding appeared to deliver further demand stimuli. This came in the form of an additional £10billion to be made available through the Help to Buy equity loan facility and stamp duty exemption for first time buyers on properties up to £300,000 nationwide.
This is a policy that has attracted criticism, with organisations as varied as the IMF, OBR, and IoD suggesting that making homebuying easier has fuelled demand which, in the absence of any equivalent measures to boost supply, simply increased house prices still further.
The stamp duty exemption drew immediate criticism on social media, with OBR analysis (bottom of page 128) suggesting the cost that would have been paid to the exchequer will be replaced 1:1 with payment to the vendor.
Our pre-budget commentary focussed on increasing the supply of housing and how the Government might do this, either through a direct financial stimulus or by signposting investors to innovative investment opportunities.
The Government has provided details of a £15billion housebuilding support package. This package claims that £1.5billion available through the Home Building Fund will be for SME builders. Although the Home Building Fund has been configured to offer support to SME builders, funds have not historically been ringfenced for this cohort; it will be interesting to see if this new £1.5billion injection is.
There was much talk in advance of the Budget – including from the Secretary of State for Communities – of the need to increase housebuilding to 275,000 to 300,000 new units every year (in part to correct under supply dating back 40 years). The Government commitment to reaching 300,000 "by the mid-2020s" is, by comparison, somewhat tame.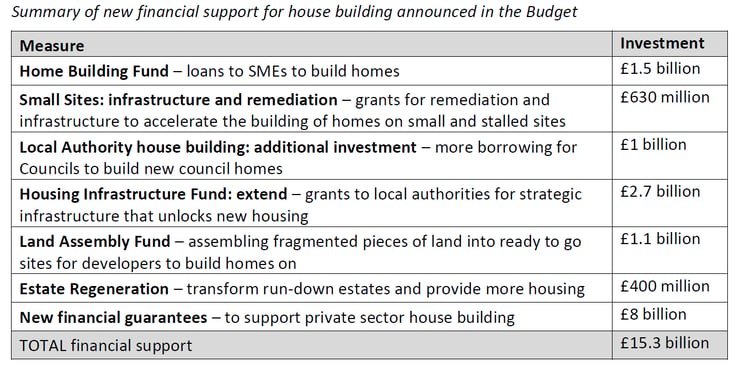 3. Extending the reach of angel investment
We work closely with a number of angel investors. Their experience of establishing and growing a business enables them to offer so much, beyond finance, to the companies into which they invest. The reality, however, is that angel investors are scarcer in some parts of the country than in others.
Speaking to Jordan Dargue, our Head of Operations and Investor Relations, this sounds really positive:
Angel investors are a vital part of our co-investment model and make a great contribution. We're already engaged with the UKBAA as they roll out their regional Angel Hubs. The proposals in the Budget to involve the British Business Bank in fostering clusters of business angels outside London through a commercial investment programme is a great complement to that.
In fact, we identified the need for such a network earlier this year. The process of establishing an Investor Network based in the North East but that extends from Scotland to Yorkshire, with links into London, is well underway. The G Venture Network will drive investment into high-growth SMEs and property developments alike.
Final thoughts
The Chancellor was in an unenviable position in advance of the Budget, facing competing pressures across a very broad range of social, political and economic agendas. In this context, satisfying all interested parties was always going to be a very tall order.
Reflecting on the three areas of interest covered in this blog post, we'd give a massive thumbs up for tax efficient investing; we support the legislation in letter and in spirit.
On housing, we'd be more equivocal, as the supply-side investment is welcome, but the revenue foregone to the exchequer in support of the demand stimulus could have been better invested: the enhanced stamp duty exemption benefits neither first-time buyers nor housebuilders.
Finally, on angel investors, a welcome recognition that networks are important to create syndicates that can invest collectively and, furthermore, that these networks can be scarce outside London. A cautious thumbs up in advance of the detail that will soon follow.