Jenna Taylor
Four emerging entrepreneurs going through to national final
Last night saw the crowning of four emerging entrepreneurs from the North East, Yorkshire, the North West, and the West Midlands at the 2016 BQ dinner.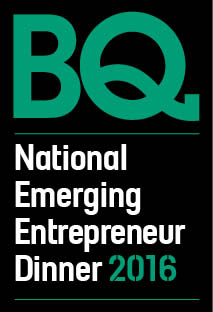 The dinner, which took place at the Leeds Marriott Hotel, was hosted by the BBC's Mark Easton and saw a fantastic turnout in celebration of entrepreneurialism.
Our own Norm Peterson went along to support John Ryder of HiveHR, who recently closed out a funding round on the GrowthFunders platform, after overfunding to almost £300,000.
Josh Littlejohn of Social Bite delivered an impressive keynote speech in which he shared stories such as how he managed to get Bill Clinton to speak at the 2013 Scottish Business Awards and the time George Clooney visited his Edinburgh store (prior to also attending the Scottish Business Awards in 2015). Josh spoke about the good and bad points of running a social business, where 25% of its workforce have previously been homeless and 100% of profits go to charity.
Sadly, John Ryder wasn't selected as a finalist, but his nomination and shortlisting are a fantastic indication that his entrepreneurial spirit is being recognised and he's definitely one to watch. If you'd like to be kept up-to-date with Hive's progress, subscribe to our blog here.
Find out who John was up against in the North East final.
BQ's Bryan Hoare, said: "Every year we expect to find a standout entrepreneur, one who is clearly head and shoulders above the rest, and every year we don't find that. Instead, we find a whole host of entrepreneurs who are first class and excellent in their field, and the decision is agonising."
"Our four winners this year were simply exceptional, though, and we know they are going to go on to be ones to watch for years to come."
"Every field needs a leader, and in these four - as well as the wider shortlist - we're sure we are watching the entrepreneurial leaders of our future."
North East.
Ben Staerck of Furniture Clinic and Handbag Clinic.
Furniture Clinic manufactures a unique range of leather cleaning, repair, and restoration products, whilst Handbag Clinic was created to clean, repair, and restore damaged handbags.
After founding Furniture Clinic with his father, Ben took over as managing director in 2013, before opening an office in New York and another branch in Hong Kong. The Handbag Clinic's first store was opened in Chelsea in 2015, with a second following that year, and a third already in the planning.
Yorkshire.
Joe Carnell of UGOT UK.
ÜGOT was created through a combination of frustration and a love of healthy food. In order to combat the lack of decent, artery-friendly eateries on his local High Street, Joe made it his mission to create hangouts that serve an irresistible combination of fresh, flavour first food that is also full of natural goodness.
ÜGOT now employs 40 people across its three stores in York, Newcastle, and Harrogate railway stations and has raised thousands of pounds for a range of local community projects. Taking this further, Joe wants to inspire a younger generation of entrepreneurs and is a regular speaker at business events and in schools.
North West.
Graham Suttle of Kained Holdings.
Kained Holdings was borne out of a dream; Graham had always dreamt of owning and running his own bar, and along with a couple of friends, he did just that.
The business is now responsible not only for a string of pubs and eateries, but has also branched out into an Academy which offers development classes for the trade.
West Midlands
Michael Bruce of Purplebricks Group plc.
You may have seen their TV adverts which have recently been running nationwide and injecting humour into the often-stressful process of selling your house.
Michael saw an opportunity for estate agents to offer a substantial reduction in fees for consumers through the use of technology. Purplebricks was founded with the aim of making the house buying experience positive and stress free by focusing on the best interests of the customer, and not commission.
Congratulations to the four finalists! We can't wait to see what happens at the final in October. Keep an eye on details for the event on Twitter by following @MADE:2016