Sam Hemmingway
Health food business triumphs at Venturefest Yorkshire and impresses investors
Convenience no longer has to mean "unhealthy" when you're on-the-go, as a health food company has proven on their way to winning the Investment Competition at this year's Venturefest Yorkshire.
ÜGOT, which currently has two outlets in prominent locations in York and Newcastle train stations, impressed an esteemed judging panel which included investors with experience in early stage investing and growing businesses from Exolta Capital, Innovate UK, and Silicon Valley Bank.
Initially, the competition ended in a dead heat between ÜGOT and TickX, a price comparison app for tickets to live events, after being judged in 5 specific areas of business. Each of the judges were then asked to choose between the two and Hossain Rezaei of The You Company made it official as he gave the deciding vote to ÜGOT.
Hossain explained, "Joe's passion and tenacity shone through in his pitch. The business is also revenue generating and scalable." ÜGOT will now receive a prize package of support from local businesses worth around £50,000 to help him grow and develop the business over the coming year.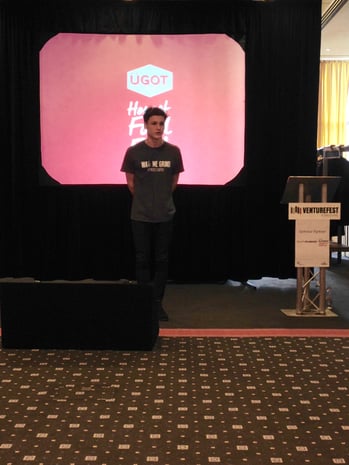 A special mention goes to TickX, another business headed-up by two young entrepreneurs, Steve Pearce and Sam Coley, who delivered a very strong pitch on the day. Sam Hemmingway, Project Manager and Digital Marketing Executive at GrowthFunders, was particularly impressed with this pitch, saying: "TickX really stood out for me because it's an app I would use. It's like the Go Compare of ticket sales, allowing me to get the best price for tickets to gigs and events and it's definitely something I would recommend to my friends."
Norm Peterson, chief executive at GrowthCapitalVentures, hosted the contest. He said: "The standard of competition was really high, and there were a couple of very strong performances that clearly connected with the judges and investors in the room.
Whilst ÜGOT and TickX were essentially a photo finish, with ÜGOT winning by a very narrow margin, all the entrepreneurs played their part by delivering great pitches at what was a really exciting live event."
"Each entrepreneur demonstrated their strengths in different areas, for example, Cumulus Energy Storage highlighted the sheer size of the market opportunity, whereas with Co-Ignition it was the strength of their team, and Lewis Bowen of Geco Industries certainly put across the traction his product is gaining with some major retailers, including the likes of B&Q and Morrisons."
Craig Peterson, co-founder and COO of GrowthCapitalVentures, added, "I'd just like to echo Norm's comments; we were delighted with the caliber of the pitches on the day. A massive congratulations to both UGOT and TickX for scoring so highly, but also to Darren Race at Eleven and Tony Abbott from MyLearnAdFriend, who both delivered fantastic, well structured pitches.
Finally, David Richardson from Luminescent - what stood out for me there was the sheer number of stolen cars throughout Europe, that are never recovered, which obviously has a major impact on our insurance premiums. If this is a problem that Luminescent can solve with their product, then this could be a very exciting opportunity for them."
This year's Investment Competition attracted a record number of entries as more than 30 businesses applied to take part in the live pitching event. Together, they were seeking a combined investment of more than £13million. Each of the eight finalists was offered mentorship by Growthfunders, an online co-investment platform connecting high growth businesses to investors, run by Growth Capital Ventures.
Co-founder of TickX, Sam Coley said, "The help from the GrowthFunders team has been fantastic. The support offered to us to get our pitch ready was incredibly useful for us to get a better understanding of what the investors would be looking for, what sort of questions they would be asking, and how we could pitch our offer concisely within a short space of time, whilst still getting the key messaging across."
Also at Venturefest Yorkshire, as part of the Innovation Showcase, a prize package worth £13,000 was awarded to Rowena Johnson, whose BugBrush invention was designed to encourage dental hygiene in infants.
BugBrush is a unique and revolutionary toothbrush designed to empower children to clean their teeth through play and "brush without the fuss!". The product took eight years to develop and bring to market, and is now sold in JoJo Maman Bebe stores across the UK.
Venturefest attracted more than 1,000 delegates to York Racecourse, where they had the chance to take advantage of free business and legal advice, networking opportunities, and seminars.
The keynote speech was delivered by Lee Strafford, former CEO of PlusNet, who urged digital businesses in Yorkshire to work together in order to reach new global technology markets.
Were you at this year's Venturefest Yorkshire? Did you get to see the businesses who pitched at the Investment Competition? Leave us a comment below and let us know what your highlights were.