Tony Short
How to make a tax efficient investment into opportunities on GrowthFunders
Before I started working with Growth Capital Ventures, I wasn't an active investor. This wasn't for any specific reason, but I definitely had a general belief there that making an investment was likely to be a difficult, longwinded or time-consuming process.
Since starting GCV, however, I've realised that can be anything but the case.
Spending a lot of time with our GrowthFunders platform and the investment process, I wanted to explain just how easy it can be to invest into a tax efficient investment opportunity - one of our EIS or SEIS eligible opportunities, for instance - and showcase how straightforward the process can be.
(and if you're interested in property investments, you'll be pleased to know it's the same process when investing into one of our property investment opportunities)
Viewing our investment opportunities
Once you land on the GrowthFunders homepage, you have a few options to access our live and upcoming Investment Opportunities; either by checking out our latest and featured investments or by visiting the 'Explore' section of the site (this section is your way of discovering all of our businesses and projects that we're are raising - or will soon be raising - investment for).
Each investment will provide a summary, which helps explain the project's focus, the amount they're looking to raise, how much they've raised with GrowthFunders to-date, how many days are remaining before the opportunity closes, and the investment type. We also tag our investments to help you distinguish easily between EIS and SEIS investment opportunities.
Exploring the investment opportunity details
You can view each investment to get access to all of the relevant information that can support your decision to invest or not. Each project provides an overview about their company, key investment features and achievements to date.
Using the tabs you can also gain insight into the market they compete in, business details, business plan, financial documents and exit strategy, whilst also accessing the Investment Memorandum PDF; an investment-specific document that's great for assessing the opportunity in more depth.
The investments detail page is interactive too, allowing you to access investment updates, post comments, start a Q&A session and see other investors that have already committed to invest in the opportunity.
Personally I like to treat this page as if I'm actually having a conversation with the Project Team - it helps me easily understand their objectives, challenges and general direction, and forms part of my due diligence assessment as a potential investor.
Register or login to start investing
Once you're satisfied with your own due diligence and want to make an investment - which we'd always advise is a decision made further to receiving financial advice - you now need to either register or log in to the platform.
When you register for an account, we'll take you through some steps so we have a better understanding of you as an investor, whilst ensuring we comply with FCA regulations.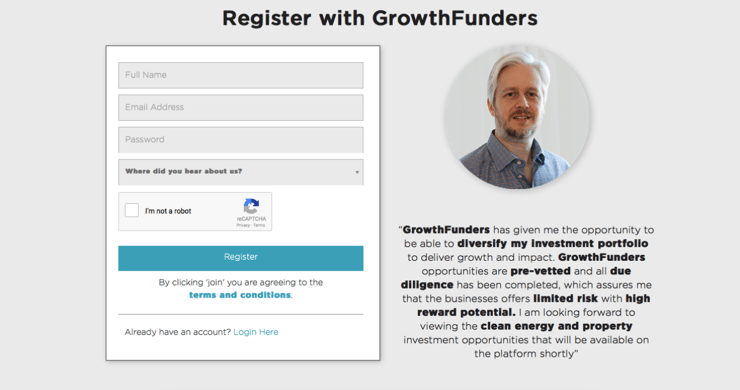 Making your investment in three steps
Now you're logged in, the site will naturally redirect you back to the 'Investments Details' page and using the 'Invest In The Pitch' button, you'll be able to go through the investment process.
(NB: I've used example data within the following screenshots)
Step 1
The first step is inputting how much you wish to pledge to the investment opportunity. The amount invested by other investors and how much equity has been made available by the project owners will determine how much you can invest.
The platform will keep you right though - simply enter your preferred investment amount and it'll convert how much equity you will have if you invest that figure.
Step 2
The second step is viewing the investment agreement, which gives a detailed insight into the investment opportunity. It's vital you read this agreement carefully.
Once you're happy with the agreement, you can electronically accept the terms, and a copy of this agreement will be sent to you once the investment has closed out.
Step 3
The third step is to setup a securely authorised payment for your investment, which will be the amount you input during the first step. This securely authorised payment will be managed by our payment partner, GoCardless (you may be required to create a GoCardless account during the process - this is separate from GrowthFunders and used to manage any payments you make through GoCardless).
It's worth noting that your investment will only be taken from your bank account when the investment pitch closes out and has reached its goal.
Once the payment has been setup on GoCardless, you will be redirected back to GrowthFunders where you will receive confirmation that the investment is complete and you've successfully pre-authorised us to take your investment amount from your bank account if - and only if - the pitch meets its goal.
Viewing the investments you've made
If the investment pitch reaches its goal, you will be emailed the share agreement. However, you can also access your dashboard within GrowthFunders at any time.
The dashboard allows you to view your investments that you've pledged into (even before they've closed), investments that are on your watchlist, and also instigate raising equity investments to further your own business growth.
Making tax efficient investments
We've talked extensively about the benefits of tax efficient investing. For both startups raising capital and investors investing money, the Enterprise Investment Scheme and Seed Enterprise Investment Scheme can be extremely beneficial.
And whilst I fully appreciate the process of actually making an investment can seem daunting - I was in that boat until I started GCV! - once you've done your due dilligence and are ready to invest, it really is just a few simple steps until you're an investor into the next generation of British businesses.