Guest writer, Simon Devonshire
If a decision is proving too difficult, don't get stuck - choose a different question.
Reproduced, with permission, from Simon Devonshire's personal blog: Tall Man Business
It is a wonderful thing to spend time in the company of brilliant entrepreneurs and start-ups, but even the best-of-the-best occasionally get stuck.
There are many causes for this to happen. This post suggests a way to tackle one such situation: Getting stuck when faced with a BIG decision.
Making decisions can be the life or death of a business. The significance and consequence of making a wrong decision is a common source of 'decision-paralysis'. It is often easier to avoid the difficult decision than it is to determine it.
Which is why in an earlier post I advocated it is better to learn to recover more quickly rather than invest time perfecting decision-making.
One obvious antidote to the symptom of 'getting-stuck' is to seek guidance from an expert third party. Which is why I've also written about the importance of appointing brilliant Non-exec's / Board advisors.
But what I want to capture in this post is a technique to affect how you deal with decision-making in difficult situations (rather than deferring to someone else).
It's incumbent on the boss to 'call the shots'. Most decisions are relatively trivial and easy. However, some are momentous, for example: closing a deal; securing investment; dissolving a partnership; firing someone.
When faced with difficult decisions:
Tune-in to your intuition.
Listen to what it's telling you.
Recognise when you are stuck.
And when you are stuck: Choose an easier question to answer.
Ask yourself whether the challenge you face can be broken down into smaller components. See if you can identify a different, smaller decision, which is inherently more easy, more obvious, less risky than the original question you were trying to answer.
Which may sound blindingly obvious - however, this is one of the most common situations that I encounter in mentoring entrepreneurs. And it's the advice that often affects people most.
I'm not talking about 'ducking the problem'. I'm simply talking about navigating it via smaller steps. Smaller steps that might enable you to change destination mid-course, rather than making one giant leap.
This approach is one of the reasons why I love digital businesses so much - in an on-line world new product propositions can be 'A/B tested' (ie. run multiple options simultaneously to see which one performs best) therefore avoiding an 'either/or' decision.
It is horrible watching someone who has 'got stuck' - but it is a pleasure if you can help unstick them.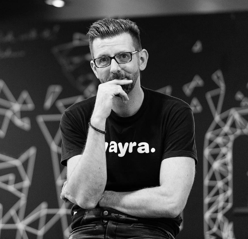 Simon Devonshire is a Director at Wayra, a global start up accelerator program, which is owned by Telefonica. Passionate about the success of entrepreneurs, he is also the co-founder of several business. Simon blogs at

Tall Man Business

and is an enthusiastic ambassador of the business community.