Jenna Taylor
iPad Mini Winner #1 Announcement!
We dropped you a tease earlier on in the week, but now it really is time for us to announce the first of our three iPad mini winners!
Can I get a drumroll please? A huge GrowthFunders congratulations go to...
Charlotte Nichols, the founder and managing director of Harvey & Hugo!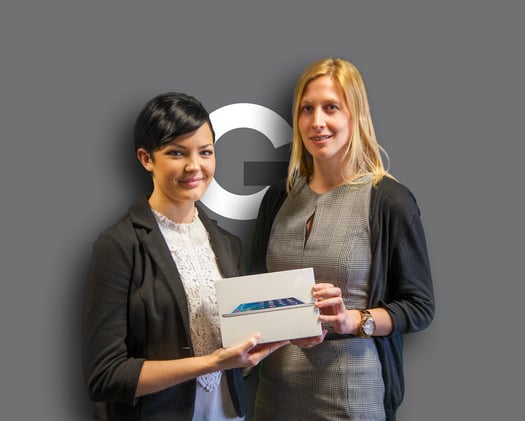 GrowthFunders' Marketing Exec, Sam and Charlotte Nichols, Director at Harvey and Hugo.
So let's find out a little more about Charlotte:
Give us three facts about yourself:
My business is named after my dogs, Harvey & Hugo

I was the Entrepreneurs' Forum's 'If We Can You Can' Face of Entrepreneurship 2010 for The Northern Echo area. (Bit of a mouthful)

I used to play water polo for the Great Britain Junior team
What will you use the iPad mini for?
For work - we're trying to make Harvey & Hugo as paperless as possible. This will help us cut our carbon footprint by printing less paperwork for meetings.
Are there any words of wisdom which have influenced you and your business?
Kaizen (改善), which is Japanese for "improvement" or "change for the best". It refers to philosophy or practices that focus on the continuous improvement of processes. When used in the business sense and applied to the workplace, kaizen refers to activities that continually improve all functions, and involves all employees, from the CEO to the Assembly Line workers.
I used to get frustrated that I couldn't make all of the changes that I wanted to, as soon as possible, until I learnt about Kaizen. It has taught me to make small, continual improvements daily at Harvey & Hugo. You may not be able to see the impact immediately, but over time they should lead to big results.