Patient capital review: a threat to tax efficient investing?
Those with an interest in early-stage business investment have been hitting the keyboards over recent weeks, as the Patient Capital Review's first consultation concluded in September.
Over the summer, we questioned the supposition that businesses should increase the number of funding rounds before they list publicly.
More recently, Beauhurst has sought to establish how much private investment in UK businesses is genuinely patient.
However, there is increasing concern that the budget scheduled for 23rd November will draw upon the consultation to justify amendments to some of the tax advantaged venture capital schemes that most effectively incentivise investment into early-stage UK businesses.
Which tax efficient investment incentives are under threat?
Like many others who work in early-stage business investment, we're keen advocates of the Enterprise Investment Scheme (EIS) and the Seed EIS (SEIS).
The EIS and the SEIS – along with Venture Capital Trusts (VCTs) – form the trio of tax efficient investing initiatives known by the UK Government as the venture capital schemes.
Each of the three venture capital schemes offers slightly different incentives to invest, summarised in the table below.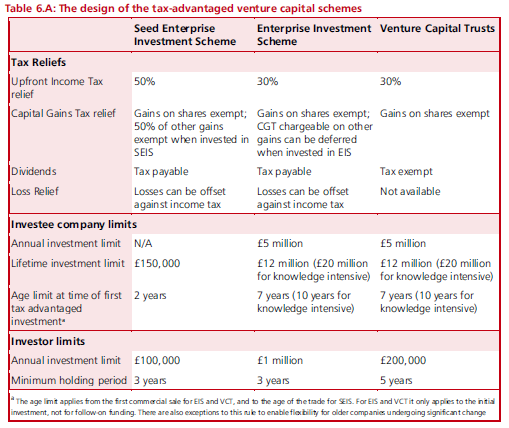 Importantly, all three schemes offer generous tax relief at the point of investment; either 30% or 50%.
This is in addition to an advantageous tax status across a range of other measures, such as when the investments either pay dividends (VCTs) or are sold having increased in value (all three schemes).
Why might these tax efficient investment incentives be under threat?
There are two separate perspectives through which to consider this, and it is important to distinguish between the two, because my assessment of each perspective is very different.
1. Deadweight
The first source of concern is a citation within the consultation that suggests four in ten investee companies felt they would have secured the required funding without the incentives available to investors (paragraph 6.15).
With public finances under increased scrutiny as the Government seeks to find a way of relaxing some of its austerity measures (e.g. public sector pay restraint) without increasing the tax burden, any incentives considered to represent 'deadweight' (i.e. where the outcome is unaffected by the public investment/subsidy) are prime targets.
2. Capital preservation
The second source of concern relates to the presence of tax relief at the point of investment and the incentive that this creates (paragraph 6.16).
In simple terms, an investment that holds its value for the period that is required to qualify for the tax relief at the point of investment (three years for EIS and SEIS, five years for VCTs) offers a competitive rate of return through the tax relief alone.
The further tax incentives are certainly welcome, but not a decisive determinant of whether or not to invest.
How legitimate are these concerns?
With the two concerns understood, it's interesting to consider the actual legitimacy of each, and as such, their roles in this process.
1. Deadweight
My view is that this evidence is being afforded too much authority.
Firstly, closer examination of the research by Ipsos MORI reveals that just 11% of investee businesses felt they would definitely have secured the investment without the tax incentive.
Secondly, I would question whether investee businesses are really the best source of evidence.
Investors ultimately determine whether or not to make an investment.
Empirical evidence of how decisive the tax reliefs are to investors is scarce, but our anecdotal evidence suggests the tax incentives are important to virtually all the investors we engage with.
Importantly, as an online co-investment platform that enables retail and professional investors to invest alongside each other, our evidence isn't restricted to one type of investor.
The importance of tax incentives to investors is clear to us regardless of whether you're investing your first £100 or your tenth £10,000.
2. Capital preservation
Critics can, arguably with some justification, claim that capital preservation is an objective that sits outside the spirit of the venture capital schemes.
These schemes are designed to provide ambitious businesses seeking to scale up with access to capital that they may otherwise struggle to secure, because their limited trading history represents a riskier investment opportunity.
The tax incentives offered by Government are a direct recognition of this and help to mitigate the risk borne by investors.
A further rational for Government offering these incentives is to ensure that businesses with high growth potential are able to access the capital they require to achieve their ambitions.
Ultimately, it is difficult to argue that investments seeking to capitalise on the tax relief offered by the venture capital schemes without embracing their objectives should be preserved.
How should this puzzle be solved?
As is often the case with public policy, the devil is in the detail.
I am very clear that wholesale change to the suite of venture capital schemes is unwarranted and could create an acute, damaging scarcity of investment for early-stage companies.
As the consultation document itself identifies, 0.5% of businesses established in 1998 were responsible for 40% of job creation over the following 15 years.
Depriving the equivalent 0.5% of firms in 2018 of the investment they need to emulate job creation on that scale is simply not a risk worth taking.
However, that is not to say the venture capital schemes are sacrosanct and should be protected in the current form at all costs.
My sense is that reducing the deadweight cost to the exchequer is a less pressing concern than ensuring investments made through the schemes are consistent with their original ambitions.
Nevertheless, both are valid public policy objectives, but are likely to require precise intervention to successfully accomplish.
In this sense, the presence of a range of tax reliefs in each of the three venture capital schemes is useful. This is because it enables the reliefs can be reconfigured in a variety of ways in pursuit of the necessary precision.
Although the fundamentals of these tax reliefs are relatively straightforward, the specific availability and impact varies based on individual financial circumstances. This enables an almost endless set of permutations to be developed in pursuit of the stated objectives.
There are two obvious examples of this to share:
The higher marginal rate of tax paid by high earners often provides a greater incentive for this investor group. SEIS provides the best example of this; reinvestment tax relief enables investors to half their capital gains tax liability. This could be worth as much as 14% of the investment to those paying higher-rate or additional-rate income tax, and as little as 5% to those paying standard-rate income tax.

Similarly, SEIS loss relief can be enable an additional-rate income tax payer to reclaim 45% of their net capital loss; a standard-rate taxpayer would be able to reclaim just 20% of their loss. These tax reliefs could be standardised to restrict tax reliefs to the rate available to standard rate taxpayers. If standard-rate taxpayers are willing to make an SEIS investment with capital at risk of at least 31%, why would additional-rate taxpayers require their capital at risk to be as little as 13.5%?


Extend the minimum period that investments must be held to qualify for tax relief. Or a more complex variation to this would be to graduate the scale of tax relief the longer that investments are held for; for example, EIS investments could achieve 10% relief if held for three years, 20% if held for four years, and the full 30% if held for five or more years. This would reduce the effective 'annual return' that an investment that achieves tax relief at a fixed-rate is able to offer, which is integral to the capital preservation model.
The Patient Capital Review is a worthwhile exercise and the first consultation paper provides a generally solid outline of how patient capital currently works.
The tax reliefs available to investors through the venture capital schemes are invaluable to ambitious businesses and investors alike.
The fundamental elements of these tax reliefs should be retained to ensure the next generation of UK businesses can access the growth capital that they require.
However, there is scope to tweak the reliefs to minimise deadweight and ensure investments accord not only with the legislative requirements of the schemes but also with the spirit of the schemes. This requires a pragmatic approach both from the UK Government and from the investment community.
As investors, we should assist Government attempts to minimise deadweight and desist with capital preservation within the venture capital schemes; retaining the fundamentals of the schemes is too important to risk.