Meet the future of residential property investment, today
Every investor likes to understand market trends and influences on future performance. Investing in property is no different. Recent analysis published by international property experts Savills suggests that a range of factors will influence UK residential markets over the next few years. We've selected four to focus on and considered how we feel these might combine to create demand for new, innovative investment models.
November interest rate rise
The Bank of England announced, on 2nd November, the first increase in its base rate of interest since July 2007. Higher interest rates have, in the past, disrupted buyers' confidence in borrowing to purchase residential property. However, the most recent rate rise was modest and widely anticipated; there is a broad consensus that the prospect of interest rates returning even to levels of the 2000s is unlikely in the short term.
Table 1: Base rate of interest, 1975 - 2015

Modest interest rate rises are likely to impact residential markets where the ratio of house prices to earnings is greatest. These markets are concentrated in Central London, where average prices can exceed average earning by a ratio of up to 38.5:1 in 2016.
Legislative change
Experienced investors in residential property often seek to balance investments between those that offer returns through residential sales and those that offer returns through rental income. This specific example of diversification offers protection against a slump in residential sales caused by economic headwinds (such as interest rate rises). In this scenario, people live in rented property as an alternative to buying a property because borrowing is prohibitively expensive.
However, successive legislative change has reduced the appeal of buy-to-let as an investment proposition. The stamp duty premium levied on properties other than your own home introduced in April 2016, combined with the restrictions on tax relief on mortgage interest payments introduced in April 2017, diminishes the margins available to buy-to-let investors. Property investors who made successful buy-to-let investments in the past may look to alternative investment models to achieve their future financial ambitions.
Superior investment returns in the regions.
There has been speculation for some months that the residential property market in Greater London is overheated. If this is correct, the supposition that modest interest rate rises could hit overheated markets hardest will be tested. Savills' Autumn 2017 Property report boldly forecasts that compound growth in residential property value over the next five years will be weakest in London. The report expands on this:
Historically, whenever London has been the slowest-growing region, the growth profile has flipped to put the North West and North East as the fastest-growing areas. We predict this happening over the next five years; though perhaps not to the same degree as the past, given the economic and lending environment.
Table 2, below, underlines this, with growth forecast to be strongest in the three Northern English regions.
Table 2: Five-year house price forecast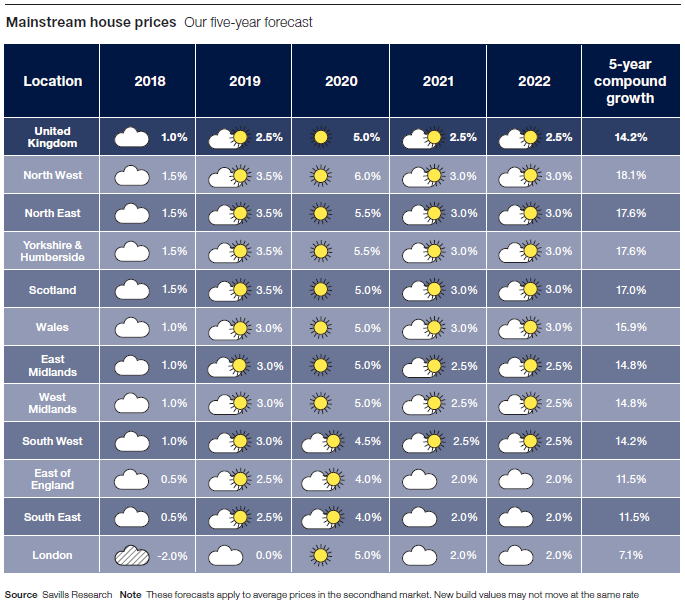 The need to build
Housing is close to the top of the UK Government's policy priorities. Having implicitly recognised the limitations of initiatives that stimulate demand in isolation, the 2017 housing white paper contains a clear, ambitious commitment to increase annual housebuilding to a minimum of 225,000, and perhaps closer to 300,000. This represents a significant increase on the long-term trend; an average of 160,000 new homes have been built annually since the 1970s.
The proposals to boost housing supply include a desire to diversify the housebuilding market, with a specific focus on re-establishing small and medium-sized housebuilders in the market; the proportion of homes built by this cohort fell by 40% between 2008 and 2015. Smaller housebuilders complement national housebuilders through a focus on localised and smaller developments that may not otherwise be brought forward.
An innovative and compelling solution
Interpreting these four trends through an investor's lens, an innovative means of investing in property appears to offer an ideal solution. Firstly, lets summarise the impact of these four trends on an individual investor.
Rising interest rates make deposit accounts gradually more appealing and place pressure on investors to assemble portfolios that offer greater returns. This may involve incorporating slightly more risk into a portfolio to achieve this.
Investors that in the past may have invested in buy-to-let properties may look for an alternative that offers less direct involvement for an equal, or even superior, potential return.
Greater forecast growth in the North of England should pique the interest of institutional and professional investors who have previously focussed on Greater London.
A government commitment to boosting housing and providing greater support to smaller builders in pursuit of this. This should give investors greater confidence to invest in smaller builders.
Equity crowdfunding is an investment option that is increasingly popular. It has typically been associated with unlisted companies that exhibit high-growth potential. Platforms are now emerging that enables the principles of crowdfunding – many investors, some investing very small sums – to translate to property. This enables individual investors to take on the role of property developers, investing in special purpose vehicles (SPVs) that acquire sites, build homes, and sell them.
Download our free guide to Integrating property investments into your portfolio to find a worked example of investing in this way. This investment proposition is growth focussed and is unlikely to offer the opportunity to generate income (although if the SPV operated for long enough, it is possible that it might offer a dividend). Its appeal is the speed at which it can deliver growth. Achieving growth is typically a longer-term ambition; rapid capital growth is an elusive goal.