Jenna Taylor
Meet The GrowthFunders Team - Jenna Taylor
15 Questions Of Fame
Since it's my job to do the majority of blogging for GrowthFunders, I've had to interview myself for this, which isn't weird at all...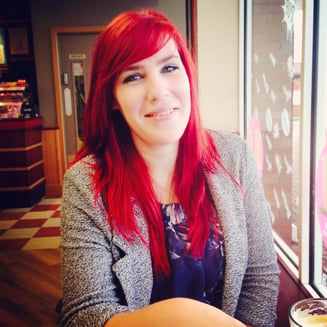 Who are you and what do you do?
My name is Jenna Taylor and I'm the Content Marketing Exec at GrowthFunders.
But what do you do?
I write everything from blogs to tip sheets, eBooks to website content and I try to decide what people will enjoy reading and things they will learn from.
What are your favourite things to write?
I really enjoy putting together the "Coming Soon" or "Investment Opportunity" blogs because I can tap into some of my Creative Writing studies and use more poetic language or literary devices (puns, rhymes, etc). I really like seeing how many people have read the things I've written, and seeing which ones they've enjoyed most.
What's the best part of your job?
I love being part of a team where we're all working to build something but working on our own things which then contribute to the bigger picture.
What do you listen to while working?
Absolutely anything. Music-wise everything from Vince Guaraldi to Muse, from the Mamas and the Papas to First Aid Kit. Sometimes I listen to soundtracks from the musicals, or poetry readings by Allen Ginsberg and Jack Kerouac, and my favourite podcasts are Welcome To Night Vale and 99% Invisible.
Favourite social media site?
Definitely Twitter. It's like an external stream of consciousness, I can say what I want and it doesn't even matter whether or not anyone's reading.
Do you have a favourite place to visit?
We got married in a tiny village in the North Yorkshire Moors in the same church where my grandparents did in 1950. It's like stepping back in time when you visit because I don't think it's changed much in the last half century. It's beautiful and definitely one of my favourite places in the world.
5 people you'd like to meet, dead or alive?
Lucille Ball

Judy Garland

Allen Ginsberg

Mama Cass

Nigella Lawson
What book are you currently reading?
"Blind Willow, Sleeping Woman" by Haruki Murakami.
In the movie of your life, who would you want to play you?
I'm just going to go for it and say Christina Hendricks. She's amazing. I think it's more a case of I want to be her, so her having to be me would be the next best thing.
Last job?
I had a temp job at one of those companies that prints children's drawings on Christmas cards that the schools can then sell to the parents. It was the easiest, most repetitive job in the world: 7 hours of scanning / cropping / pressing F12 / saving and I absolutely loved it.
Top 3 movies?
Eternal Sunshine Of The Spotless Mind.
The Sound Of Music.

The City Of Lost Children.
Do you have any phobias?
The obvious one is spiders but most people have that so it's not that weird. I think that accolade would go to feet - I really, really hate them. Just thinking about them is making me cringe.
Best singer / band of all time?
That's a tough one. It changes everyday, but today I'll say David Bowie.
Thanks for reading!