Jenna Taylor
Meet The GrowthFunders Team - Norm Peterson
15 Questions Of Fame
I'll be honest - there wasn't a massive amount of work for me to do on this week's "15 Questions Of Fame". All I had to do was read through Norm's answers and pick the best - what a difficult job that was! Norm's humour and love for life come through in every single one.
I hope you enjoy meeting Norm as much as everyone here at GrowthFunders enjoys working with him every day.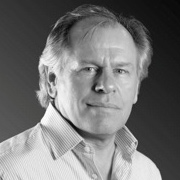 Who are you and what do you do?
My name is Norm Peterson and I am the CEO and Co Founder of Growth Capital Ventures.
What's the best part of your job?
The variety, that goes for the tasks and projects I work on and the people I meet and work with. I also work with my brother Craig, we're always bouncing ideas off each other and working through problems/opportunities from different viewpoints.
Have you worked on anything lately that you're extra proud of?
The launch of GrowthFunders and closing the first deal. We enjoy challenging ourselves at work and developing capital introduction platforms involves managing a wide range of stakeholders to get the job done. I am fortunate to work with a great team and partners to make this happen.
What do you listen to while working?
I listen a wide range of music but not at work as I'm too busy thinking and planning. On Friday night, I log onto Mixcloud and search "Ibiza" and that's it!!...Great selection to listen to as we prepare dinner and a glass of Amarone...bliss as we start the weekend.
One app you can't live without.
Google maps! I can be found wandering around london staring at my mobile as I make my way to the next meeting.
Do you have a favourite place to visit?
I love the Yorkshire Dales, we only live 30 mins drive away so we often visit the area. We have Harrogate and York on our doorstep, York has so much to see and it's easy to get around on foot. If you pressed me to make one choice, then the Yorkshire Dales just for it's sheer beauty at any time of the year.
5 people you'd like to meet, dead or alive?
I'm going to mix this up for interest...
Our Dad, (Big Ern as we affectionately called him) passed away in 2010. I'd want to tell him how we're doing, let him know about his grandchildren...talk about all the sorts of things he loved to know.

David Beckham - talk about football and the great job he does promoting good causes.

David Bowie - talk about music and fashion (he's my wife's hero).

Richard III King of England - find our what really happened at the Battle of Bosworth.

David Jason - for all the times he made me laugh as a young man in the 80s.
What book are you currently reading?
"Smart People should Build Things" by Andrew Yang. It's about how to restore our culture of achievement, build a path for entrepreneurs, and create new jobs. Whilst it's written for America, the same idea holds true in UK or Europe.
In the movie of your life, who would you want to play you?
It has to be Brad!...If only for the looks!!
What was your last job?
UK Development Director (Novaxess BV, Telcoms/Internet). I joined a broadband ISP to assist with a funding round for the Netherlands operations. We secured 60M and based ourselves in Amsterdam. My task was to raise 110M to build the UK network and then the dot com crash hit us.
Best singer / band of all time
Bryan Ferry and Roxy Music
Where can you be found in your spare time?
"Me time" is a run at the weekends. Usually through Bramham Park, headphones on full blast - running helps me relax. Then the rest of the weekend is spent with family, my wife (Jayne) and I visit our sons.
We can be found on the rugby sideline supporting our youngest son (Luca) who plays loosehead prop and we sometimes get to London to see our eldest son (Hugo). Sunday….another run followed by the most amazing lunch prepared by me! I love cooking, wine and our home is a hub of visitors (friends and family).
I enjoy reading, I read to learn so my subject matter is around raising finance, entrepreneurship...a bit dry!
What's your current obsession?
Detail, I get frustrated when people do not take the time to check what they do it correct.
When I think about obsession I imagine a person in a state of angst trying to solve a problem. In this context then it has to be a project that we are working on which involves housing and finance. We've developed a platform to raise capital for housing and we are also developing an interesting concept to build homes...more later!
What school did you go to and what was your favourite subject?
I went to seven different schools...Dad travelled with work and we just went with it. My last school was Pennywell, Sunderland. I had to transfer there to take what were then O Levels.
PE, I was sport mad, I would have a go at any sport but football was my passion as a young boy.
3 things on your bucket list:
Keep fit

Spend more time with family

Enjoy the moment