Jenna Taylor
Paws-For-Thought Update: showmeCats
Social networking isn't just for humans anymore - cats are now taking over the cyberworld and they're doing it via

showmeCats

.
(Or at least their owners are by creating accounts on behalf of the furry felines).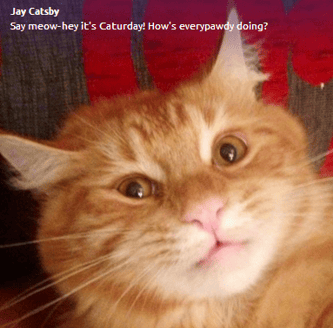 There are an estimated 93 million cats in the UK and US alone, and 10% of those have a social media presence. Facebook's decision to close all the non-human profiles on their website threatened to leave this virtual community virtually homeless.
These cat owners needed somewhere where they could put together a collection of everything they loved and enjoyed about their cats, which they could then share with other cat owners. The team behind showmeCats: Ciprian, Dana, and Virgil, set about building a platform where cat owners could post photographs, stories, and interact with other cat owners - think Facebook for cats.
Origins
The showmeCats team built the website during the 12-week accelerator programme, Searchcamp at Teesside University in Middlesbrough. The Searchcamp programme, along with its follow-on incubator, is for early stage internet startups and tech entrepreneurs, and is designed to get them investor-ready. The intensive course, led by Programme Director, Bobby Patterson, offered mentorship from a wide range of start up experts including Kate Rutter, co-founder of LUXr and Stephen Lusty (ex Google).
The Searchcamp programme encourages entrepreneurs to use lean start up methodology in order to turn their ideas and concepts into real business or products. Ciprian, CEO of showmeCats found the method to be an invaluable resource. He said that "the lean start up method allowed us to carry out our market research alongside our product creation. We built our minimum viable product and asked for customer feedback from which we were able to quickly build something that our target audience really wanted to use." The team immediately set about attracting members and since their launch in July 2013 have built up a user base of around five-and-a-half thousand.
Funding-to-Date
As part of the Searchcamp programme, the team received £15,000 in initial investment and have received a further £20,000 from business angels so far. They are now looking to raise funding in a bridging round which will enable them to build up their user base further. For this, they are looking to raise £50,000 via GrowthFunders. Because of the "co-investment" structure of the GrowthFunders platform, investment can come from a wide range of investors. showmeCats' aim is to raise around £10,000 from suitably-qualified online business angels who can invest any amount of money from £100 to £5000, and £40,000 from an anchor angel network. The team is already halfway towards their online target and are currently in talks with a number of angel networks.
"The GrowthFunders approach is flexible so if more online angels wish to invest, this is not a problem, we will just adjust the amount needed to be raised from an anchor angel." explains Craig Peterson, co-founder of GrowthCapitalVentures, the developers and operators of the GrowthFunders platform.
The business has full SEIS compliance, which means that investors of showmeCats will receive 50% tax relief. The Seed Enterprise Investment Scheme helps to mitigate risk and enhance potential returns for the investor.
At a glance, showmeCats sounds crazy - it's a social network for cats! But behind that, Ciprian explains, "There is a solid business proposition. The business has a very focused target market which means relevant market research can be carried out quickly and effectively. Through engagement with the enthusiastic users showmeCats has already acquired, the team has introduced a number of features including the virtual currency, Headbonks. At the moment this is a free feature, but its popularity indicates that there is potential for it to be turned into a highly successful revenue stream."
Exit Strategy
The nature of the showmeCats website means that it collects a lot of cat-related data. At the moment the team can use this information in order to produce relevant targeted merchandise but the data collection is actually part of a bigger plan. As part of their exit strategy, Ciprian says that "we intend to carry out a trade sale of showmeCats to either a global digital e-commerce platform, which doesn't have a database of cat owners in its portfolio, or major pet food manufacturers." The team are building their business to scale and exit, ideally, within a 3 to 5 year time frame. Although, as Ciprian acknowledges, this is obviously dependent on the amount of funding they receive now and the development and customer acquisition they can afford to carry out in the meantime.
Risk Warning:
Investing in unlisted businesses (particularly start-ups and early stage) is a high risk / high return investment strategy and carries significant risks including; illiquidity, loss of capital, rarity of dividends and dilution. It should only form part a balanced investment portfolio and is targeted at investors who are sufficiently sophisticated to understand the risks involved and are capable of making their own investment decisions.
For more information please view our Risk Policy.
This page of the GrowthFunders platform has been reviewed as a financial promotion by Linear Investments Limited, which is authorised and regulated by the Financial Conduct Authority FRN: 537389. No offers of investment are made on this page, as any investment can only be made on the basis of the information provided in the pitch section by the companies concerned. Linear Investments Limited takes no responsibility for the information, recommendations or opinions made by the companies.