Raising money for your startup Step 7: Choosing the right revenue model
The way in which you intend to monetise your startup and generate revenue - as well as long-term value in your business - will be one of the key things potential investors will be interested in finding out at an early stage.
Savvy investors are keen to understand how your revenue model works as this will have a direct impact on the amount of money you need to raise and the overall valuation of your business.
Companies which can collect money more quickly, particulary those with recurring revenues, are more desirable to investors as they can usually command a higher value on exit. Software-as-a-Service (SaaS) businesses usually fit well into this category.
A revenue model, or plan, is a key component of your company's business model and refers to the way in which you choose to generate revenue for your startup. Companies can generate revenues in a variety of ways:
Asset Sale
Usage Fees
Subscription Fees
Lending / Renting / Leasing
Licensing
Brokerage Fees
Advertising
To find out more about each of these models as you decide which form of revenue generation suits your business the best, see this post from our Creating a Killer Pitch series.
The revenue model your startup pursues is closely linked to your business model, so the articles below look at both in different ways.
There's a wide range of pieces, including how to choose a revenue model, making sure that you choose the right fit, and examples of both revenues and business models.
How does your Revenue Model link to your overall Business Plan?
Your business plan should also communicate your business model to potential investors when you are raising money.
It outlines your goals, how you intend to achieve them, and includes such information as the functions of the business and the revenue stream(s) you have chosen to use, amongst other things.
Lincoln Murphy
This slide deck offers a very quick introduction to revenue models, options, and streams and is a fantastic overview with one of the most interesting points being made on the Bottom Line section (slide 10) in which Murphy claims that:
This reinforces the importance of making sure your business is solving a genuine problem in the marketplace, which you can find out more about by clicking the link.
George Deeb
Choosing the right revenue model for your business isn't a guessing game and this article is useful as it suggests a number of ways in which you can make your decision.
From looking at what is typical in your industry to the importance of not creating friction to consumer buying, this post will help but I found the final point the most useful.
When raising money for your business, there is one person or group of people you need to convince – potential investors. Deeb introduces the Investor "Sniff Test", four questions that potential investors may ask, so it's a good idea to make sure you can answer them prior to pitching for investment:
Is your revenue per transaction high enough to cover your costs and drive a profit (covering costs of the product, fulfilment and marketing)
Have you tested your marketing initiatives first, to ensure you are clear on where your cost of acquisition per customer will end up, and set your revenue plan from there
Can you turn your startup losses into profits with a 12-18 month period, and limit such losses at a digestible/fundable level for investors
Can a 10x return reasonably be achieved by your investors in a 3-5 year period. All of these pieces of the puzzle are tightly interwoven when trying to determine your revenue model
In-Depth: How To Pick The Right Revenue Model For Your App
Andrew Cohen
In this article Cohen, the founder and CEO of Brainscape uses his personal experience to explain why it's important to choose the right revenue model for your app (or business) to ensure that people see the value in it and aren't put off by your pricing methods.

A lot of tech-, or more specifically, app-based startups employ a Freemium model - released as free downloads with in-app purchases offered.
Some begin as free and go viral, quickly gaining traction and attracting a huge number of users, before introducing a price.
This often stops people from buying it as they resent having to pay for something which was previously free, the business loses momentum, and previous investors start to ask questions. This post encourages you not to make the same mistake as Brainscape did.
Choose your startup's revenue model
Ken Leaver
This slide deck is great as it explains the connection between revenue streams and your value proposition, via the business model canvas (slide 4). It also goes through what a revenue model is, making sure you choose the right one, and how to defend your choice when pitching to investors.
This is an extremely in depth article which tells you everything you need to know about revenue models and how it relates to your business plan as one of the building blocks of the Business Model Canvas.
Entrepreneurial Insights goes into detail on a number of topics: revenue streams, developing your revenue model, types of revenue streams, pricing mechanism, ways to generate revenue stream, and key revenue model and market questions.
The post also includes two case studies which I think are useful to see when it comes to determining your own choice of revenue model.
One of the case studies used is Google and a short competitor analysis has been conducted: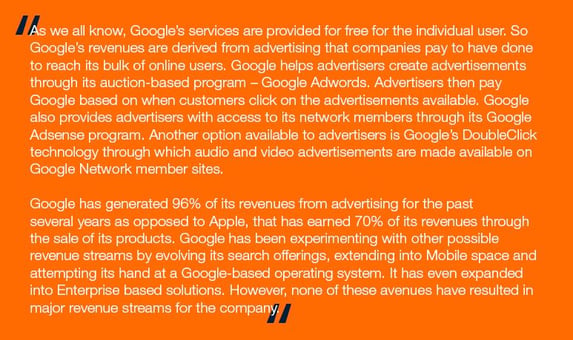 Bonus:
Subscribe to download a pdf package of revenue and business model examples of some of the most well-known companies in the world, including Kickstarter and Nespresso.
Choosing the right revenue model for your startup or early stage business is essential to attracting a large and loyal customer base.
Choosing the wrong one, can be catastrophic and prevent you from gaining traction or even scaring away potential investors.