Raising money for your startup Step 6: Identifying your competitors
Because in almost all cases it isn't true and investors will take that phrase as a sign that you haven't carried out in-depth market research.
Once the alarm bells have started ringing, it's likely they won't be interested in your business.
This is why it's vital you conduct a competitor analysis when looking to raise capital.
What you most likely mean is that you don't have any "direct" competitors, but there are two other types of competition your business may be facing: "indirect" and "replacement".
As way of a brief explanation: A direct competitor is a business that essentially offers the same product or service as you do, an indirect competitor is a business which offers a similar product or service but may be in a different sector of the same market, and a replacement competitor is a substitute for the product or service offered by your business which doesn't need to be in the same sector and won't be immediately obvious.
To find out more and see some real-world examples, check out our post, "So you think your startup business doesn't have any competition".
Identifying your competition is one of the most important things you can do for your business, especially when it comes to approaching investors and raising money.
You need to know (and then relay to potential investors) what else is out there, what they're doing, and how your business is better, faster, or cheaper than them.
Below, we've gathered some top tips on how to identify your competition:
Because it's not always immediately clear who your competitors are, some entrepreneurs struggle to determine exactly what they're up against.
This post is written in response to the owner of a department-type store but the main points can be applied to determining the competition of most businesses.
Analysing the activity and criteria of your customers, as well as what else is available in the area surrounding your store, can give you a fantastic insight into why people choose you instead of your competitors, or vice-versa.
He wraps up the post with a handy suggestion for how to present your competitor analysis in your business plan:
Entrepreneur Media staff
This is an excerpt from the book, "Write Your Business Plan", which focuses on identifying what sets your business apart from others and gives it its competitive edge.
One key takeaway I got from this piece was that,
Investors want to know that you understand the challenges your business faces and in which ways you're better than those around you.
They can't get this information from a list of names and they're not going to do your research for you.
Once you've identified the competition, you need to find where your competitive edge lies? For example, is it in cost, features, service offered, quality, distribution, or something else entirely?
Available to listen to as well as read, this post is full of great advice when it comes to researching and identifying your competitors.
While he covers some of the same points as the other pieces in this post, such as asking prospective customers and thinking about like-minded business, Deeb also suggests studying industry associations, search engines, and startup databases as, in his experience, this has given him a greater understanding of what already exists, what startups are in the works, and what he's facing.
As the Managing Partner at Chicago-based startup consulting and financial advisory firm, Red Rocket Ventures, Deeb has a lot of expertise to share and it's fantastic to hear it in his own words.
This post opens with a warning to be aware that competitors are "out there and […] hungry for your customers".
In order to keep them at bay, you need to monitor them regularly to ensure that you know what progress they are making. For this piece, Dahl asked 10 small business owners for their favourite tools for researching competition.
The results are invaluable to any entrepreneur looking to identify their startup's competition, whether or not you're raising money.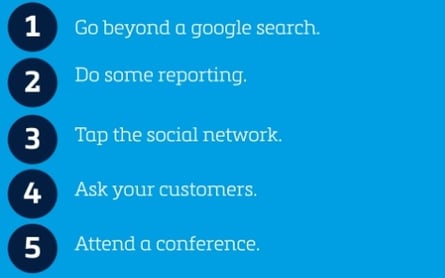 Read the full article to find out the remaining 5 tips!
Has this post helped you to widen your search when it comes to finding your competitors? Let us know by leaving a comment below.