Jenna Taylor
"Take Control: Live" Event
The North East is an exciting place to be, especially when it comes to the thriving startup and SME landscape.
An important aspect of this increasing success is collaboration; running a business doesn't need to be a solo venture.
Supporting other businesses through collaboration can take any form, including joining up on single projects, utilising each other's skills, and exchanging advice. Here at GrowthFunders, we work with a number of businesses located in the North East area, to promote growth and success via the exceptional talent available.
One of the businesses we've worked with on a number of occasions is Harlands Accountants, who aim to help their clients take control of their finances and build a better business through the accountancy, business advisory, and tax services they offer.
We'd like to tell you about an event that Harlands Accountants are holding as part of their Business Builder workshop series. You can read our recap of last year's summer event which featured guest speaker, Caspar Berry, on "Risk-taking and decision-making in poker, business, and life" by clicking here.
This year's event
Take Control: Live
Harlands' summer workshop will take place on:
Wednesday 22nd July 16:00 to 19:00
Location:
The Live Theatre,
Newcastle upon Tyne.
NE1 3DQ
Speakers and guests
Gary Turner, Managing Director of Xero
Gary will be sharing his story of how Xero has grown to be a world-renowned brand and voted the "Most Innovative Growth Company" by Forbes for the past 2 years in a row.
Dubbed the "Master of Influence", Gilan has over 17 years of experience and imparts valuable skills in being able to read and influence others in the contexts of leadership, sales, and negotiations. Gilan will be delivering an exclusive UK session on how to take control of your business relationships through his keynote speech, "Body Language for Business".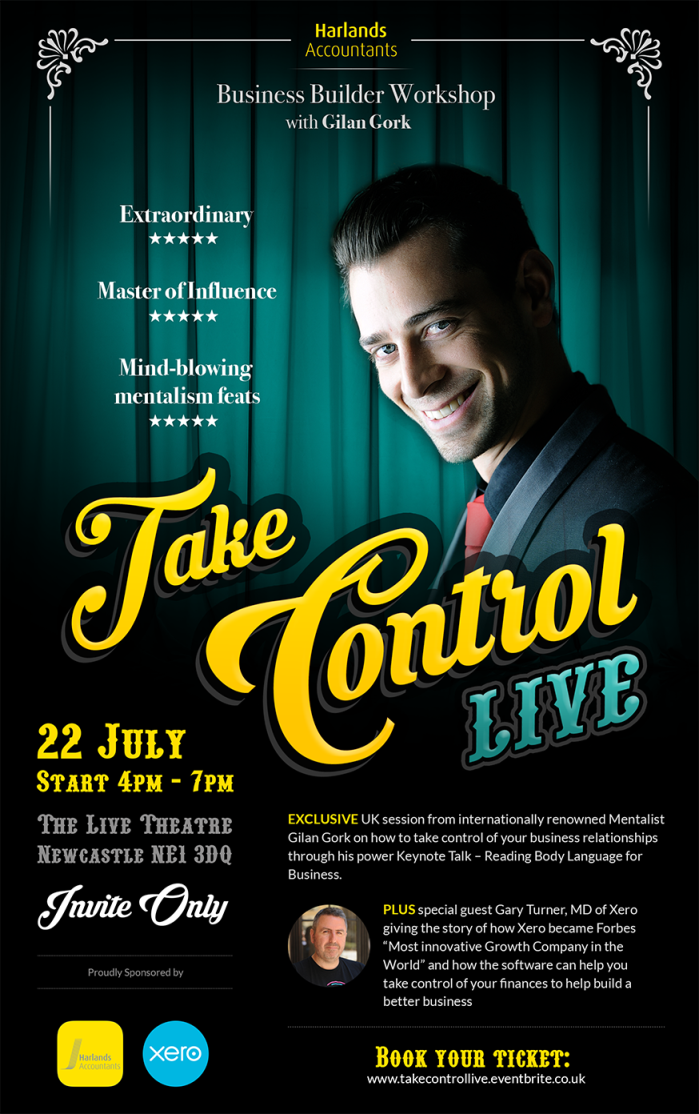 The event promises some interesting insights into the human psyche which will enable you to "take control" of your business relationships.