Why 2022 could be a promising year for EIS investors
First introduced in 1994 with the goal of stimulating the growth of the UK's innovative SME sector, since then the Enterprise Investment Scheme (EIS) has gone on to support an incredible 36,720 early-stage businesses, raising over £25bn of investment during that period.
And recent figures released by HMRC suggest this number is set to continue on its impressive growth path.
With 3,755 EIS applications approved in the 2020/21 tax year alone as a growing emphasis has been placed on the SME sector to innovate and adapt as a result of Covid-19, recent data suggests now could be the best time invest into early-stage businesses with EIS.
What is an EIS investment?
The Enterprise investment scheme is a government-backed initiative that offers investors the opportunity to benefit from a host of generous tax reliefs (including income tax relief of up to 30% on the value of your investment) alongside potentially high returns in exchange for their investment into a qualifying early-stage company.
EIS investments often appeal to experienced investors and high earners, being a form of tax-efficient investing. This means individuals can use the EIS tax reliefs to shield their capital from tax cuts, offset cuts to pension allowances and limit the effect of other forms of financial restrictions that can erode capital savings.
To qualify for the Enterprise Investment Scheme, companies must fulfil a number of strict requirements that ensure the suitability and potential growth of the company: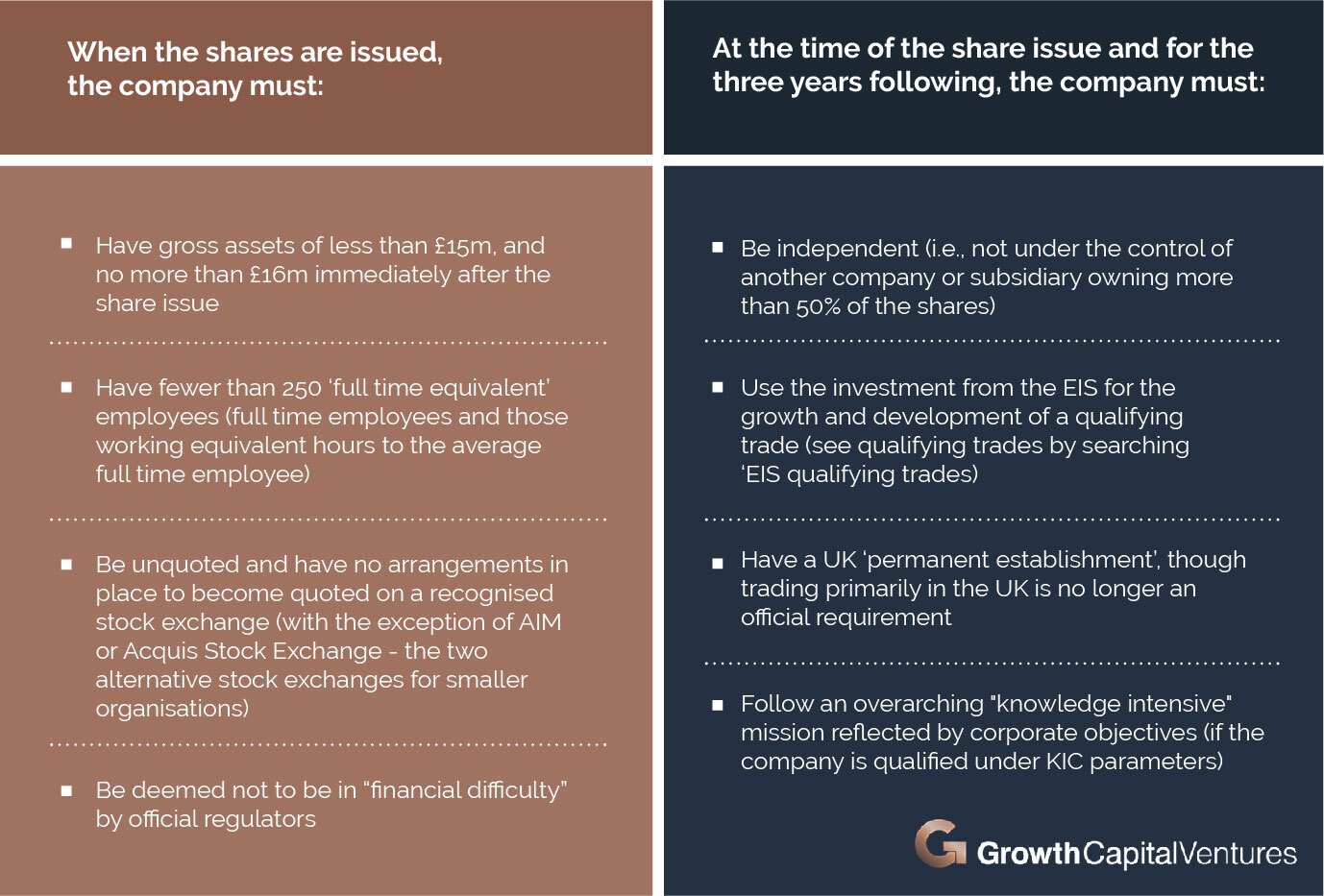 EIS eligible investments are also often into knowledge-intensive companies (KICs) due to the scheme's favourable raising options - the EIS permitting £10m of investment into a KIC company per year instead of £5m for non-KIC organisations, and £20m over the company's lifetime as opposed to £12m.
To be classed as a KIC, a company must be carrying out research, significant development or innovation at the time they are issuing shares and thus provide a wider positive social, economic or environmental impact, making EIS investments particularly attractive to impact investors.
Not only can EIS investments often provide a wider social good, but the financial returns associated with the scheme can be potentially very favourable.
This is not only due to the Enterprise Investment Scheme's requirement for companies to be classified to have 'high growth potential' before investment takes place but also because of the host of generous tax reliefs the EIS offers investors.
What tax reliefs does the EIS offer?
When answering the question of "What is an EIS investment?", the generous tax reliefs offered by the scheme is what most investors commonly associate it with.
The tax reliefs available when investing into an EIS-eligible business include:
Income tax relief of up to 30% - this is applicable on a maximum annual investment of £1 million, or £2 million if at least £1 million is invested into knowledge-intensive companies
No capital gains tax when selling EIS shares - if you have held the shares for at least three years and received income tax relief in full on all of your subscriptions for the EIS shares
Capital gains deferral - if you use a gain from the sale of any asset to make an investment into an EIS-eligible company, you do not have to pay the capital gains tax immediately
Inheritance tax-free - after you have held your EIS investment for two years, it becomes inheritance tax-free
Loss relief - if your EIS investment is realised at a loss, it can be offset against the same or previous year's income tax, or the same year's capital gains tax
These EIS tax reliefs, and their aforementioned ability to shield capital from financial cuts, are what makes the scheme particularly attractive to high net worth individuals in particular (with just related one example being the proposed rise in capital gains tax from 18% to 20%, which some financial analysts suggest could arrive as early as next year).
And whilst the EIS tax reliefs are widely agreed as being especially generous, it is worth highlighting that even more agreeable perks are offered by the 'little brother of the EIS', the Seed Enterprise Investment Scheme (SEIS).
The Seed Enterprise Scheme is targeted at startups explicitly (unlike the EIS which is aimed at more established early-stage companies) and offers extremely generous tax reliefs including up to 50% income tax relief, with these higher rates reflecting the relatively higher risk associated with investing in startups.
A promising year for EIS investing
As the dust appears to be settling after a hectic few years for businesses and individuals alike, tax-efficient investment tools targeting early-stage SMEs - such as the EIS - could be more crucial now than ever before.
In the wake of 2019 dominated by Brexit headlines and 2020/21 consumed by the coronavirus pandemic, the significance of innovative startups and adaptive early-stage SMEs to the UK economy has never been better highlighted.
Making up 99.9% of the business population, accounting for three-fifths of employment and contributing to more than half of the annual turnover in the private sector, SMEs are a crucial component in the British business landscape.
And in a period in which the UK has been heavily reliant on the innovations of the early stage, the processes put in place to back them financially have been pivotal, in the tech sector especially.
The 'digital revolution' the UK is experiencing as a result of rapid technological adoption - accelerated by the pandemic - has forced the growth of a host of forward-thinking, flexible SMEs, in turn bringing with them a range of high growth EIS investment opportunities.


From mobile ordering platforms such as Qikserve, to fintech enabled challenger banks like B-North, 72% of UK tech businesses saw an increase in demand for their services throughout 2020 in a period in which most sectors noticed negative growth.
With tech businesses making up six of the top ten fastest-growing UK companies of 2020, many EIS investors who committed capital into innovative tech opportunities throughout the pandemic are witnessing share values bolster as their portfolio companies move closer to exit.
This growth shows no sign of slackening off, too, with many predicting the past decade's rising EIS figures (that saw 2,585 applications granted in the 2019/20 tax year) could be set to continue following further government support put forward in the 2021 Budget.
In the Budget, the Chancellor expressed his plans to maintain the growth of young tech companies in the UK, pledging £375 million to the 'Future Fund Breakthrough' as well as introducing a host of digitally-oriented initiatives, including the 'Help to Grow: Digital' scheme, set up with the goal of up-skilling the tech ability of young SMEs.
Just two of the new policies pledged to bolster early-stage tech, the increased governmental support will not just nurture the UK SME sector as it looks to stand back on its own two feet, but will help to fuel the further growth of the already thriving UK tech sector, bringing with it a new wave of high growth, tax-efficient investment opportunities.
Emerging from the pandemic with a renewed sense of normality and a shared vision to 'build back better' with the help of the nation's valued SME innovators, both in parliament and on paper, 2021 could be the jewel in the crown for EIS investors looking to benefit from its lucrative tax reliefs.