The B-North team: strong foundations on which to build a bank
Little over a week on from the launch of B-North's live investment opportunity with GCV, in our latest piece, we hear from portfolio company B-North's CEO and Co-Founder, Jonathan Thompson, who explores the SME lender's vastly experienced and dynamic team, considering its instrumentality to the recent success of the bank and its role in future growth:
"As in any business, the quality of the team is an essential ingredient to success. In B-North this is magnified by the fact that we are on such a unique journey – it takes a very special blend of skills to build a bank from scratch. Every individual brings their own unique contribution and it's fair to say we would not have delivered such a strong proposition to the Regulator, developed such a compelling IT capability, nor raised the capital we have to date, had it not been for the talents and hard work of everyone on the team.
A key facet of B-North, compared to some other firms applying for a banking licence, is that the B-North team itself has architected every part of the business and its regulatory application. Many bank licence applicants rely heavily on third-party consultants to submit their licence application. Then, when they get to the point of authorisation, they have a hell of a lot of work to do to get the real business off the ground – including recruiting people, building the technology and getting ready to launch (including a very intensive mobilisation and attestation process with the Regulator). As that mobilisation phase is limited to a maximum of 12 months, this 'outsourced' approach to the licence application process merely loads additional risk into an already hectic mobilisation phase.
Instead, at B-North we have invested fully in the team and our technology whilst simultaneously navigating the bank licence process. This decision was taken partly as a result of the experience of the team but also reflective of our confidence in the market opportunity. We now have 29 full time team members who have been building and shaping the business and interacting with the Regulator since 2018, so every individual on our team really understands the process, the proposition, and is genuinely a part of the B-North journey.
We have a mix of established banking and start-up experience amongst us, which has really informed our proposition. It is very customer centric, combining the latest in cloud-native banking capability, overlaid by our authentic regional bank model (our Pods), where experienced bankers will interact with borrowers. What's more, those pods are located regionally, and a large element of our lending will be decisioned regionally too. We are essentially putting experienced bankers back on the ground, enabled by the latest technology.
Everyone these days needs faster, more efficient lending, especially SMEs, but that doesn't mean the human relationship between a borrower and a lender is any less important. In fact, in a world where in-person transactions are the exception rather than the rule, the value of relationships can be underestimated. Online is fine for small, low-value transactions, but where a business needs more material financial support from a bank, a face-to-face relationship is critically important for both parties. What we've done at B-North is designed a bank around the borrower experience to deliver faster, yet personal support to SMEs.
We also have people in the team who have spent their entire careers working with brokers. Again, we're intent on optimising the borrowing journey for SMEs and when you know good brokers and fully understand how they operate – as we do – we will be a natural partner for this critically important channel of funding for SMEs.
When it came to hiring people, we've been able to attract some exceptional banking talent. For those who came from incumbent, high street banks, the employee proposition is quite compelling. Big banks have lost interest in the SME lending market. It's simply not cost effective for them to do it well, hampered as they are by legacy systems and heavily centralised processes. Incumbents are overly focused on cost cutting and remote servicing, and are locked into a cost-cutting agenda to the detriment of their SME borrowers. The luxury of designing from scratch and using the latest technology hosted in the cloud really helps unlock the economics of authentic, regional SME banking.
What's been very clear in the years since we established B-North is that our investors have complete confidence in our proposition and our team. We've been supported in multiple funding rounds to date and we've added new supporters and investors along the way (like the Greater Manchester Combined Authority (GMCA) and Channel 4 Ventures). I think a large chunk of that confidence comes down to seeing a properly evolved team structure with experts from all aspects of the banking industry coming together with a clear vision of delivering faster lending to the UK's SMEs. And that has allowed us to build upon our team further and invest in others.
At the point of authorisation, we plan to deepen the team and I'm really pleased to say that the expertise is already waiting in the wings. 15 additional people are ready to join us when that happens – from front line colleagues to finance specialists and risk specialists. We already have Becky Owen, who is our Regional Managing Director for our first pod in Manchester, which will service the north west market initially. You'll have met her already in our 'Meet…' interview series on our website – go and take a look if you haven't already! (Post from December 2020).
We very much value the support from investors and the relationship we have with the Regulator. It is fair to say that the team, and the business, is absolutely raring to go!"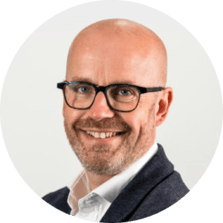 Discover: live investment opportunity with B-North