Craig Peterson
A day in the life: Andrew Sexton, Senior Software Engineer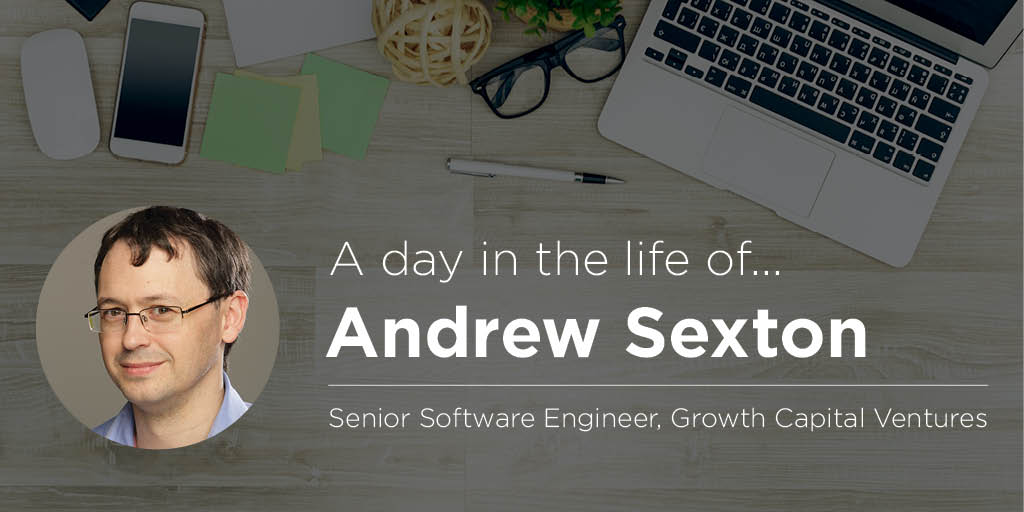 In the latest post in the series, we spoke to GCV's Senior Software Engineer Andrew Sexton about his working days.
Describe your role of Senior Software Engineer?
Software engineering covers a lot of differing areas, but the overall theme of them is problem solving.
I am involved in initial early discussions of a project which are very high level ideas, and with my team colleagues, gradually break these ideas down into smaller, more defined requirements, which can then be designed and built in to a software product.
What project are you currently working on with GCV?
Currently I am working on a new platform with GCV, which is in the design/early build stage.
The product is being built on the .NET platform and has integrations with third parties who can provide specialist functionality.
I'm currently involved in scoping out and designing the project, and as the build progresses I will be responsible for building various parts of the platform and the connections to other services.
To date, what has been your biggest professional achievement?
That's a tough one, as although from a technical point of view it wasn't the most intricate project I've been involved, I'm particularly proud of an event user, checking and tracking system for open water swimming I designed and built.
The initial concept was made in a matter of weeks, from idea to the first event it was used in, and involved a very small team, integrating with a sports timing company.
There were various challenges, and we had to train a team of volunteers to use the platform. As a team, we attended each event to train and assist the users, monitoring its use and making continuous improvements. This involved very (very!) long days, but it was immensely fulfilling - some of the events have had over 10 thousand swimmers taking part!
What does a typical day in your diary look like?
After making a strong cup of coffee (one of many...) and checking over my emails to see if anything needs immediate attention, we have a daily stand up as a team to go over the day's priorities and any issues we are aware of.
I then start to commence the project in hand, with requirements mapped out through the day. This could be anything from direct development work through to research into the best ways to develop or build part of the platform.
You have experience working with a variety of technical languages and platforms, but where do you excel?
I usually refer to myself as a technical generalist, and I believe I have a good in-depth knowledge and experience of computing and software development. However, I've always preferred working with databases - I think this is purely a mindset thing, as I'm quite mathematically minded, and it all just seems to fit together nicely for me.
What part of your role gives you the most satisfaction?
Being able to be involved in this fascinating and evolving sector, building platforms that will deliver real benefits to its users is such a great feeling.
I believe the ideas and product roadmap for Growth Capital Ventures and associated brands are pioneering how a user accesses quality investment opportunities. These products are truly geared to be beneficial to everyone involved.
What has been your biggest challenge in the role to date?
Whilst I have had some exposure to investment vehicles and financial data in the past, along with being financially savvy, I think I spent my first few weeks here only understanding about 50% of the discussions going on!
There are so many financial terms you need to understand before you can even think about building this type of software, it definitely takes time to get up to speed with them (and it's certainly a continuous learning process!).
Outside of work, how do you relax?
I have two young children, so evenings are usually filled with them climbing on me or my wife, whilst weekends are usually spent out and about.
Other than that, I enjoy the 3 Bs of baking, beer and badminton (which I haven't played for a very long time and need to get back into).
Want to connect with Andrew? You can find him over on LinkedIn here - and if you want to read about the rest of the team, see our 'day in the life' posts for Sarah, Michael, Lauren and James.