Craig Peterson
A Day In The Life: Tony Short, Programme Manager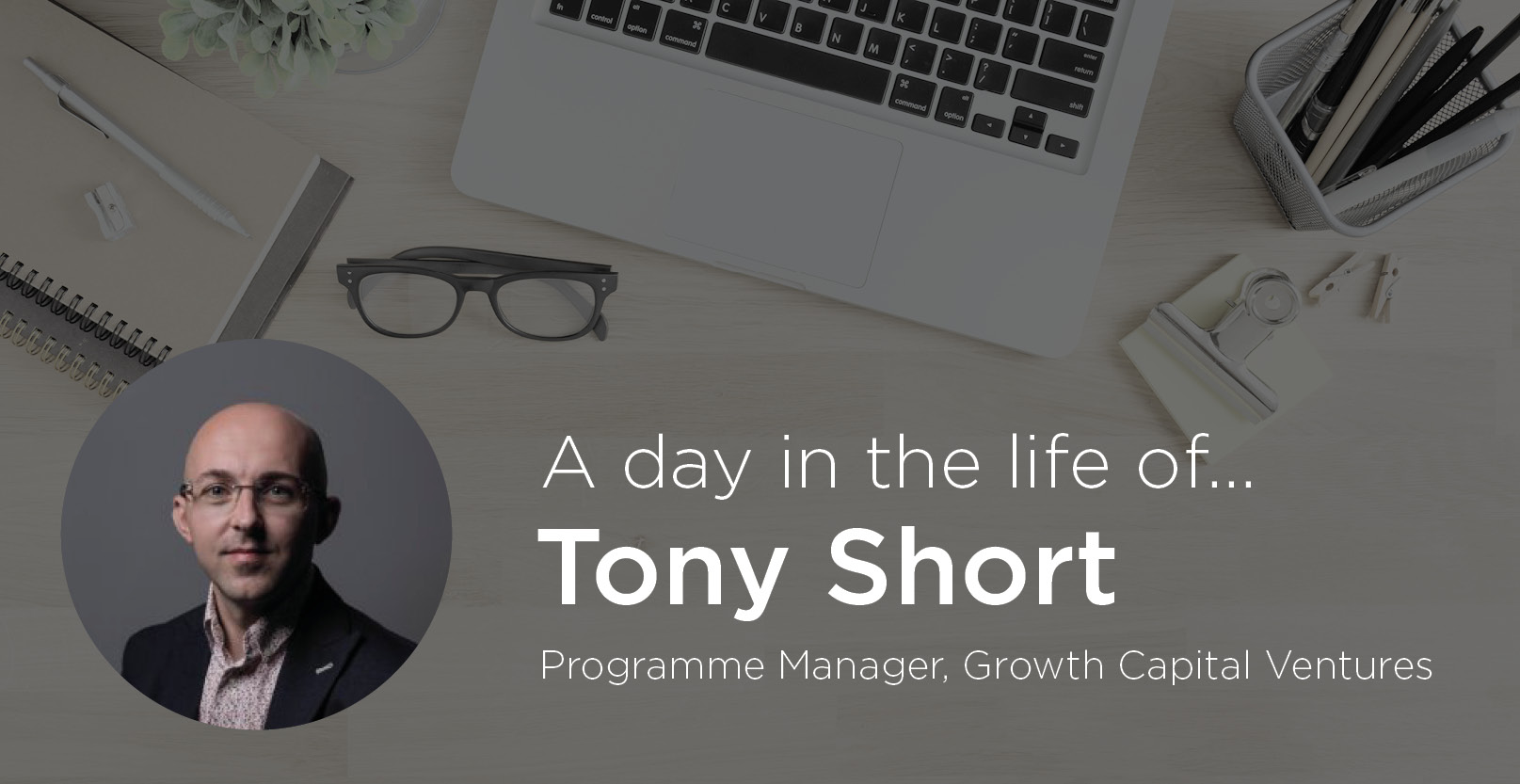 Chatting with Andrew Sexton last week, the next post in the series is focused on our Programme Manager, Tony Short - enjoy!
Describe your role as Programme Manager?
As a Programme Manager for Growth Capital Ventures, I'm responsible for core deliverables as part of our breakthrough plan. This includes responsibility for Product Roadmap, Development Roadmap, Project Management Office and Standard Operating Procedures.
I operate within the Software Development department where we have a multi-disciplined team of Back End and Front End Developers.
What project are you currently working on at GCV, what is your responsibility within this project and how is it being developed?
We are currently progressing a strategic product roadmap to develop and maintain a number of websites that cut across multiple sectors including FinTech and Property Development.
At any one time, we could be developing up to four websites, all of which use the Agile Scrum methodologies and frameworks. It's this methodology that allows us to scale our business offerings, with myself taking on the Scrum Master role, something I consider as being a coach for the team, helping the team do the best work it possibly can.
Each project will be individually assessed to decide which platform and development language we should use, but each site underpinned with the emphasis of an API first approach, similar to how industry disruptors such as Atom have developed their own FinTech platforms.
Managing a programme of software products, aligned with teams, how do you manage project requirements and communicate with teams working on projects?
The pre-delivery phase is afforded a great deal of attention within Growth Capital Ventures. A lot of emphasis is placed on identifying the stakeholders and ensuring they fully understand their remit, responsibilities and expectations for the project.
One role that is critical during the pre-delivery phase is the Product Owner, a key stakeholder, that's responsible for the vision of what they wish to build, and convey that vision to the Agile team.
To help tease, define and scope these requirements, I facilitate a number of workshops including Competitor Analysis, Brand, UX, User Interviews, Design, Functional and Non-Functional. These form a melting pot of requirements which are shaped into User Stories and ultimately allow the Product Owner to agree upon and prioritise their development backlog.
It's critical that transparency plays a key part in helping to raise awareness and buy-in from all those involved with the projects. To support this we lean on tools such as Confluence, part of the Atlassian suite of tools, to capture, distribute and collaborate on all the requirements identified during the pre-delivery phase.
What does a typical day in your diary look like? Which part of your role do you particularly enjoy?
On a daily basis, I start my morning routine of having a stand-up that allows the project team to have a time-boxed session to focus on what each colleague accomplished yesterday and will accomplish today, along with identifying any blockers to prevent them with their daily objectives.
A daily stand-up is just one of many Agile ceremonies that I facilitate and deliver as Scrum Master, which includes product backlog planning, sprint planning, show and tell, release planning or a retrospective session.
To manage the Product Roadmap and individual projects, the majority of my day is spent using our software development tool, Jira, an Atlassian product, which is used to help manage our software and digital projects. I'm able to use this tool to plan, track, collaborate and report progress as well as facilitate specific Agile ceremonies.
I dedicate time to coach, mentor and facilitate the Agile team, helping the team to do their best work it possibly can, doing anything possible to help the team perform at their highest level, whilst dealing with any blockers preventing them with their objectives.
I take great pride in producing artefacts that will keep everybody who is involved with projects abreast of project specific updates and establishing governance frameworks to facilitate producing Standard Operating Procedures.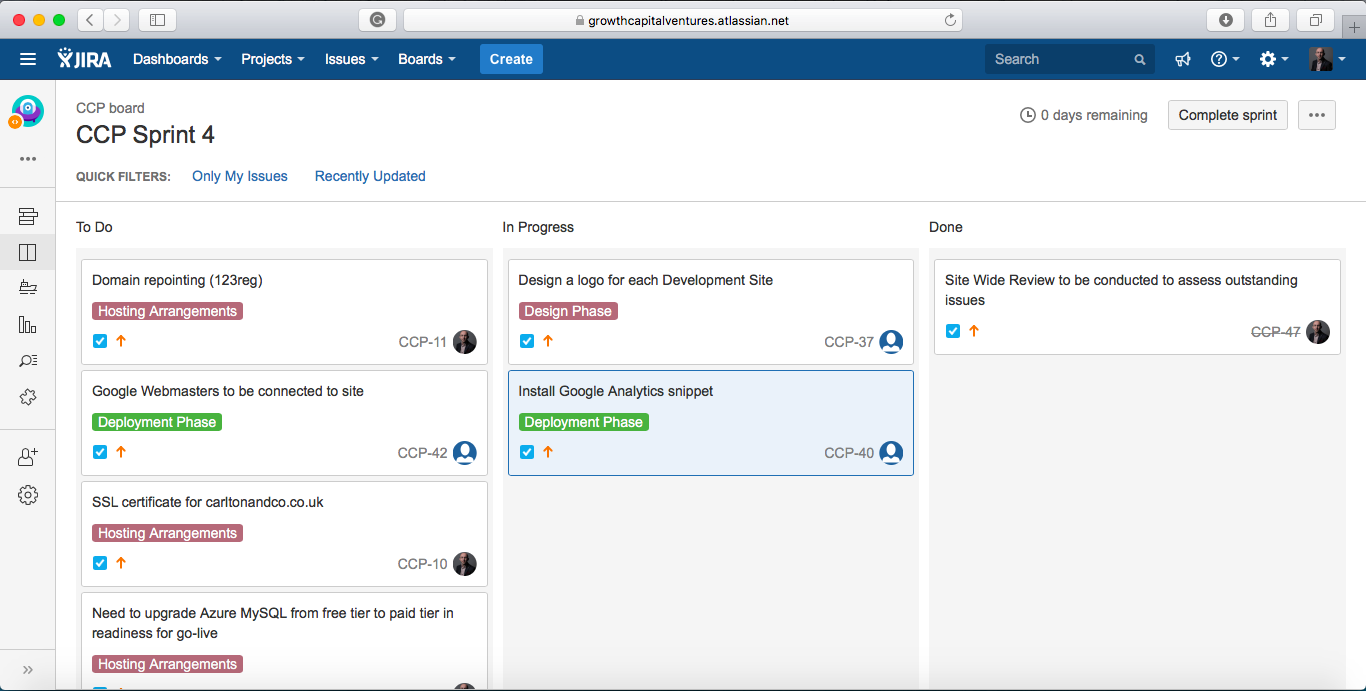 We're blessed to have communication and collaborative tools such as Slack, Confluence, Jira and Google Drive to make sure all communications and processes are accessible to everybody within Growth Capital Ventures.
You have experience of managing large scale software projects, which project has been your biggest achievement to date?
I've project managed across a variety of sectors, from Local Authority to Travel & Tourism, Retail to FinTech. My proudest project to date is the management of a digital transformation programme for a leading Housing Association to deliver an industrial leading UX experience, aesthetically pleasing site which was to be powered by leading edge technology,
The project was delivered within the agreed timescales and to scope but more than that it was the satisfaction of experiencing the impact it had on their Customers & Clients by enabling the Housing Association to become so much more accessible.
What part of your role gives you the most satisfaction?
Having experienced first hand the immense advantage of using the Agile methodology, I take extreme satisfaction with implementing, embedding and coaching Agile within Growth Capital Ventures.
Regardless of colleagues previous exposure, whether they are seasoned Agile professions or completely new to the methodology, everybody fully embraces the philosophies and can see the positive impact it will have with their projects.
The Agile community is very active and prominent, whether online with resources such as Mountain Goat Software & Atlassian or offline meetups such as Agile North East, I find these great resources to help coach my colleagues into the variety of concepts, thought leaderships and examples of how best to embed and scale Agile within Growth Capital Ventures.
What has been your biggest challenge in the role to date?
Having only started in June, it's been an interesting journey on getting up-to-speed and gaining a sound appreciation of the FinTech movement. There is a lot of regulations, developments and variables involved and every day offers an opportunity and challenge to learn the complexities within this sector.
This challenge has offered me great insight into the FinTech sector - without that insight I don't think it would be feasible for me to programme manage our ambitious strategic roadmap.
Outside of work, how do you relax?
I've got two daughters, 7 and 2, who are full of energy, personality and naughtiness.
When I need to relax from work, plus the demands of living with three females, then you can find me in my garden. I'm a keen gardener, some may even say, slightly obsessed, with maintaining my lawn. I'm known to spend a great deal of time grooming my lawn or chasing the Postman from walking over the grass.
Want to connect with Tony? You can find him over on LinkedIn here - and if you want to read about the rest of the team, see our 'day in the life' posts for Andrew, Sarah, Michael, Lauren and James.