A day in the life: Ryan Absalom, Software Developer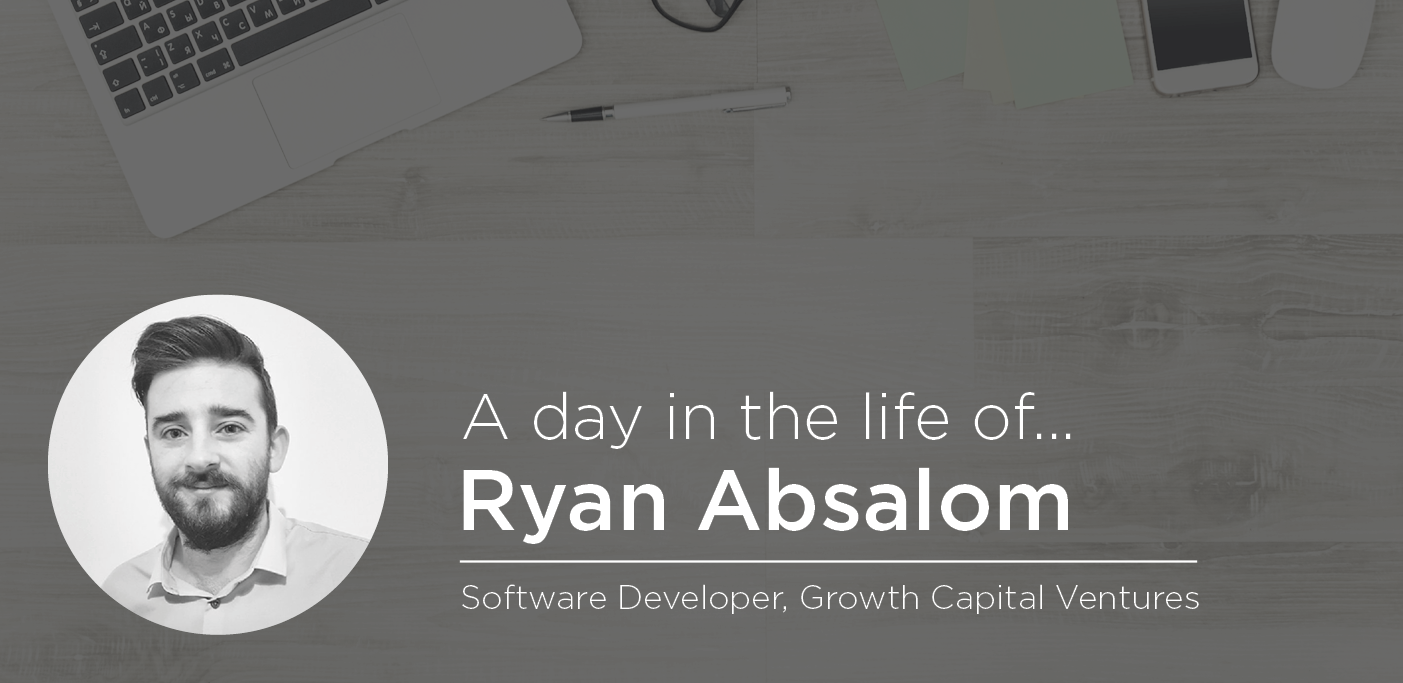 The latest member of the GCV team, Ryan joined us in October as a software developer, and here he shares his insights into his time so far as part of our development team.
Describe your role as a Software Developer?
In my role I am responsible for the front end of the projects that come to the development team. My process involves choosing the front end technologies we use and drive the product forward by creating the visual and interactional elements on the page and ensure its look, functionality, accessibility and quality is to the highest standards possible.
What are you currently working on at GCV?
I have just recently finished working on a rebuild of the Growth Capital Ventures site, focusing on the speed and quality to enhance the user experience.
Right now I'm working on the front end build for the brand new site of our recently launched investor club, G.Ventures, which is due for release very soon.
What does a typical day in your diary look like?
I am an early morning kind of guy, so I like to get in early, fuel myself with a coffee and get stuff done.
My usual day will be developing pages, components and writing scripts to help automate some of the more labour-intensive processes that are involved in my role. Everything I do is ticketed in Jira and tried and tested by myself before being passed to QA.
On more of a weekly basis there will be the occasional meetings here and there, along with 'show and tells' that give us the opportunity to present the progress of what has been done throughout the week.
Although it comes few and far between (!!!), in any downtime I like to learn about new tools and techniques, and try to apply them to existing products for continuous improvement.
As someone new to the industry, what's your thoughts on the role of technology within it?
Technology these days is changing rapidly. A lot of stuff that would take hours to do in the past can now be automated and optimised.
In general, mobile devices have pretty much overtaken desktop in terms of site visits, so it's important we all adapt and create quality desktop and mobile applications.
Although controversial to some extent, I feel front end technology is moving more towards the quick, one page application look using frameworks such as React.js, Vue.js and Angular.js.
From a development point of view, this is an exciting time and it'll be interesting to see where we go in the future with these technologies.
Is there one part of your role you particularly enjoy?
Although I have not been here very long, there are a few things I really love about my role.
Firstly, I get to do my own thing. I can develop in my own way and add my own input into the applications, making the job much more interesting and enjoyable.
I also like how I can stick my head down and just code with little distraction - I am sure this is something that all developers want in their day-to-day jobs!
Last but not least, the people. It's definitely helped knowing a few faces from my previous job, but literally everyone is great and I feel very welcome here.
What's the biggest challenge you've faced so far?
My biggest challenge so far is ongoing - to create a front end framework that keeps code quality at its highest level.
So far a server made for fast 'on the fly' development that gives your code syntax errors and warnings should be fixed to ensure it is at top standard. It also includes a pre fixer to help ensure what is built works as expected on all browsers (we all know how brilliant IE is...).
This is pretty much a task that can never be complete as there are always ways to improve - difficult but definitely rewarding!
Outside of work, how do you relax?
I pretty much don't!
Outside of work I like to keep very active (to make up for being at a desk all day) and I am regularly playing football or at the gym.
On a weekend I like to get out places. Maybe that will be going on a trip to another city or going to the zoo or a theme park, or simply just a night out (the weather picks this one for me for the most part).
Want to read about the rest of the team? See our 'day in the life' posts for Anthony, Billy, Emma, Dave, Dan, Luca, Sam, Jordan, Tony, Andrew, Sarah, Michael, Lauren and James.
Image courtesy of Muhammad Rafizeldi.