CoreHaus Announces Successful Trial
Innovative housing manufacturer and GCV portfolio company CoreHaus has successfully trialled its modern method of residential construction at a new housing development in County Durham. Partnering with fellow GCV portfolio company and North East regional house builder, Homes by Carlton, enabled CoreHaus to trial their product on Homes by Carlton's Cathedral Gates development in Chilton.
CoreHaus was founded in 2014 by Carlton and Co Group – the parent company of Homes by Carlton, and North-West based housing procurement specialists Fusion 21 in a joint-venture deal.
The company's primary goal is to positively impact the North East's property and job market by offering an innovative house building product that minimises costs, limits environmental damage and outstrips alternative building styles in efficiency.
Register your interest for upcoming investment opportunities into CoreHaus
Innovative Design
The new house frame design – CoreHaus – is centred around a modular steel core that consists of prefabricated 'pods', including a pre-finished kitchen, downstairs toilet, staircase, bathroom and a central heating system, all of which are manufactured off site before being delivered to the development where walls and roofing is then constructed.
Although modular, the frame's standard engineered core can be configured to a range of different sizes to accommodate a flexible combination of house types.
This new approach to design significantly reduces construction times, build costs and increases the flexibility of construction – not only providing developers with a quicker, more cost-effective building process but also minimising many of the negative environmental impacts associated with traditional construction methods.
Though the process involved in the construction of a CoreHaus home varies significantly from that of traditional build, the finishing product appears much the same as its neighbouring homes at Cathedral Gates – all properties following the same exacting standards of hand-built craftsmanship, character and a high attention to detail.
Simon Walker, managing director at Homes by Carlton, said:
CoreHaus looks no different to the traditional house types once fully built. Interiors can be the same and exteriors will use the same block and brick. It's just a more modern way of building that should be kinder to the environment and have energy benefits for the homebuyer.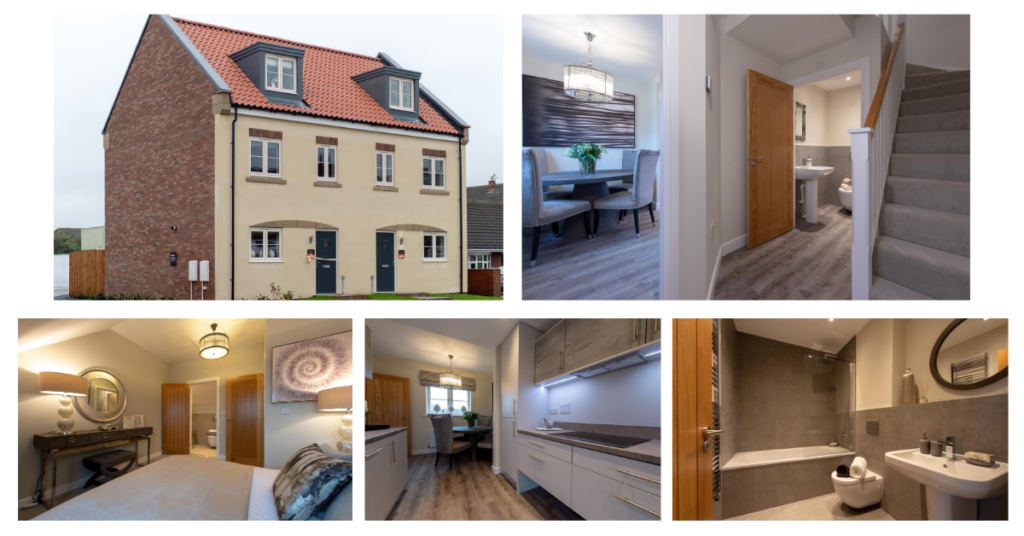 Due to the energy efficient housing 'pod' being assembled in factory-monitored settings, onsite construction time can be decreased by as much as 50% , not only allowing for improved flexibility in design but significantly limiting CO2 emissions in an industry in which environmentally driven legislation is becoming increasingly prevalent.
CoreHaus homes are designed to make it easier and more cost-effective for developers to deliver environmentally efficient homes with a unique design and contemporary feel. They're larger than many new three-bedroom homes on the market, and we believe offer a higher standard of finish than many traditional house types being built elsewhere.
Simon Walker added:
It is well-known that there's a huge shortage of high quality and affordable homes in the North East and other areas of the UK. CoreHaus homes are designed to make it easier and more cost-effective for developers to deliver environmentally efficient homes with a unique design and contemporary feel.
According to research from Heriot-Watt University England's housing shortage is currently in excess of 3.91 million homes, meaning an extra 340,000 new homes must be built each year by 2021 to clear the deficit. This figure, although considerably higher than the government's target of 300,000 new homes per year, is one that Homes by Carlton believes can be addressed with the help of CoreHaus and other industry innovations.
Dave Neilson, chief executive of Liverpool-based Fusion 21, said: "These figures are concerning and at current development rates these shortfalls will not be met. A transformational approach is therefore required to ensure we can head off an ongoing housing crisis – and that's where CoreHaus can help."

"Our unique, innovative construction method can deliver faster build times and make it economically viable for developers to stimulate activity in the housing market, while having less of an environmental impact.
Future Plans
After positive trials at Cathedral gates, Homes by Carlton is already looking to extend the CoreHaus product in future developments located throughout the North East within the next 12-18 months.
With numerous individual projects in the pipeline for CoreHaus, the company is now looking to recruit a project director to build a small core team initially before developing commercial partnerships to drive sales in the new product.
In addition to the recruitment drive, CoreHaus also plan to extend their production capabilities and source an independent, County Durham based factory unit which will facilitate the in-house manufacturing of frames.
The GCV portfolio company's long term production plan will see the manufacturing of 1,000 modular homes every year for 5 years by which point over 100 people will be employed across the business – not only positively impacting upon the local job market but also providing an innovative, sustainable solution to the lack of affordable housing in the region.
CoreHaus became one of the GCV portfolio companies shortly after the forming of the joint venture between Fusion 21 and Carlton and Co in 2014.
With a growing demand in high growth, impact driven opportunities amongst GCV's private investor network (G-Ventures), £450,000 was co-invested into in total across two venture capital funding rounds for CoreHaus.
By utlising the valuable tax efficiencies offered by EIS and SEIS investment schemes, investors can look to maximise potential returns on future opportunities on the GCV co-investment platform and the G-Ventures private investor network.
Register your interest for upcoming investment opportunities into CoreHaus