Craig Peterson
Equity crowdfunding - fancy being an angel investor?
Equity crowdfunding platforms are opening up the angel investment marketplace to a wider audience of 'serious investors'.
In the past, investing in unquoted companies (seed, start-ups, early stage and established) has only been available to angel investors, angel networks and VCs.
However, technology is a wonderful enabler as entrepreneurs can now list their investment opportunity online via equity crowdfunding platforms and suitably-experienced investors can access and invest in a wider range of tax-effiicent investment opportunities.
Benefits for investors
Greater choice of investment - increases the ability to diversify and spread risk across a number of investments

Streamlined and standardised process - saves time and money

Co-investment opportunities - syndication reduces risk and helps more investment opportunitie close out

Tax efficient investment opportunities -

Seed Enterprise Investment Scheme (SEIS)

and

Enterprise Investment Scheme (EIS)

Up to

64% tax relief

in some cases with SEIS
The risks for investors
Investing in unlisted or unquoted businesses, particularly start-ups and early stage companies, is a high risk investment strategy.
Worst case scenario...you could lose all of your investment. Many start-ups and early stage businesses fail. Also, it is difficult to sell your shares. You are relying on the business being successful and selling to another company or floating on the stock market.
The potential returns
'Siding with the Angels' is a report produced by NESTA and the British Business Angel Association which focuses on the early stage investment market. It's well worth a read. Click the image to download the report.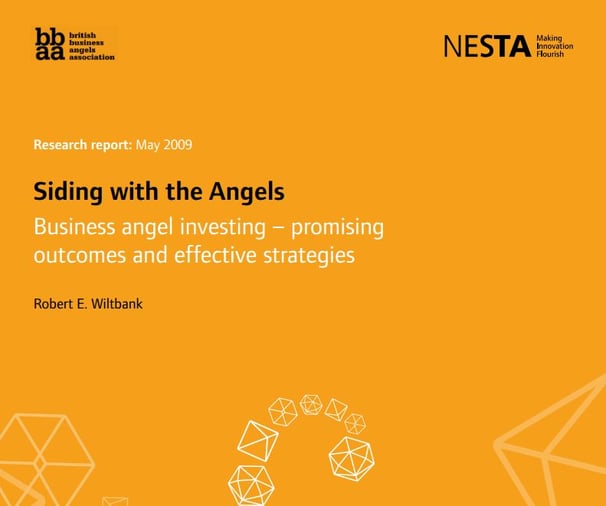 The report suggests, given a holding period of just under 4 years, that the overall return is approximately a 22 per cent gross Internal Rate of Return. A pretty impressive return on investment!
It is important to point out that this level of return is not guaranteed. Previous returns don't always indicate future performance.
As mentioned earlier, when investing in start-ups, experienced angel investors will always diversify and make a number of investments to ensure they spread the risk. Also, this report is not a direct reflection of returns generated from investing online via equity crowdfunding platforms.
The equity crowdfunding market is still very young and there just isn't enough data to analyse at the moment. However, there are similarities and investors should be looking for platforms and investment opportunities that have the potential to deliver the returns that experienced angel invetors target.
If not, investors run the risk of not generating a return on investment which is in line with the risk profile associated with investing in unquoted businesses.
Due diligence
When investing in unquoted businesses, it's important that you carry out your own due diligence. Some platforms carry out limited screening before listing investment opportunities, others carry out detailed screening.
Either way, it is vital that you do your own due diligence. Most platforms have forums where investors can ask the entrepreneurs questions.
Forums are a great way to find out more about the entrepreneur and the investment opportunity. Ask questions about the team, the product / service, the problem / solution, exit etc. Some offer the ability to Skype the entrepreneur, the next best thing to a face-to-face meeting!
The stages of risk capital
Also, it's important to understand the various stages of risk capital, which are generally referred to as follows:
Seed capital
Start-up
Early stage / early growth
Expansion / development
Established
Turnaround
Management buyout
All carry different risk / reward profiles. For example, investing in a start-up business would generally be riskier than investing in an established business needing expansion or development capital. More on this in later blogs.
Generally, business angels invest in start-ups and early stage businesses, although many also provide capital for later stage businesses requiring capital for growth and expansion. This could be as part of a co-investment (or syndicated) strategy alongside a VC.
The opportunity to become an angel investor is now within the reach of a much wider audience. Equity crowdfunding platforms are increasing deal flow and streamlining the investment process. Be aware of the risks, don't invest more than you can afford to lose.
Pick your investments carefully and DIVERSIFY - spread your capital across a number of businesses - we recommend a minimum of ten. Consider investing in businesses at different stages of growth - start-up, early stage and later stage businesses. Above all, enjoy the experience. You might just invest in a real gem of a business!