Investing for growth or impact? Invest for both
Investors have varying reasons for putting capital into projects or businesses. Some invest for financial returns primarily or exclusively; investing their money with the view to generate financial gains over a period of time. This has arguably been the most common reason for investing traditionally.
Others invest to make a positive change in society, the environment, or the world as a whole. They want to make a genuine impact, and this forms a key part of the decision making process to invest.
There is then a third group of investors who invest for both growth and impact.
What is impact investing?
"Investments made into companies, organisations, and funds with the intention to generate a measurable, beneficial social or environmental impact alongside a strong financial return" - Global Impact Investing Network (GIIN)
Impact investments are those made into projects and businesses with the intention of generating positive social and environmental impact, as well as delivering a financial return. From the funding of high growth technology businesses that generate jobs in under-served markets through to backing projects that deliver much-needed, low-carbon, affordable homes, there are impacting investing opportunities to suit most.
The impact investment market is growing at a rapid pace, with investors seeing higher returns than their average financial investment - and obviously able to feel good that their money is making the world a better place.
Historically, impact investing has only been available to high net worth individuals who invest large sums of money into specialist funds. Investors with a lower net worth were traditionally never given the opportunity to invest, as the option simply wasn't available - until now.
With the introduction of co-investment platforms like ours at GrowthFunders, retail investors can now invest smaller sums of money into a range of investments alongside institutional and angel investors. Whilst still having a level of risk associated with them, these bring the potential of higher returns and have that 'do good' impact.
The four pillars of growth and impact investing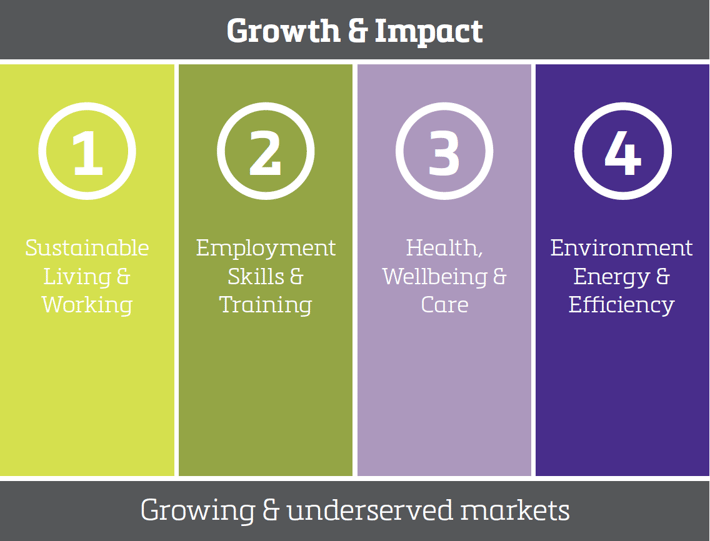 At Growth Capital Ventures we focus on originating impact driven investments for our co-investment platform that have the potential to deliver superior investment profit precisely because there's a real purpose underpinning them.
Our vision is to be the leading developer of online co-investment platforms, allowing investors to access the best possible deals that offer the deliver returns for both growth and impact.
Choosing impact or growth isn't a decision you need to make
Many investors are cautious of 'impact investing', believing that in order to invest for positive social change, they will have to face the prospect of slow or minimal returns.
However, you don't have to choose between capital and caring when it comes to investing for growth or impact; finance-first investing means you can genuinely do some good in your local community or the wider world whilst targeting competitive returns.
In fact, research is increasingly showing that impact investing doesn't require a trade off. A report by Morgan Stanley's Institute for Sustainable Investing surveyed over 10,000 equity mutual funds and found that returns have "actually met or exceeded the median returns of traditional equity funds".
The benefits of investing for growth and impact
The potential for superior returns
Potential for longer-term, sustainable growth on investment
The ability to diversify across a number of sectors and investment types
Making a positive difference towards a better future
Seeing a measurable social, environmental or economic change
"At GrowthFunders, we're pioneering an online co-investment platform that allows a range of investors to invest directly into businesses and projects that deliver growth and impact." - Craig Peterson, COO, Growth Capital Ventures