Raising money for your startup Step 4: How to demonstrate successes to investors
When pitching for investment for your startup or growth business, highlighting or drawing attention to your prior successes can make you more attractive to potential investors.
Your business' key achievements can be relayed to investors regardless of the way in which you deliver your pitch. This comes in handy if you choose to run an equity crowdfunding campaign on a platform which offer co-investment as standard.
In this instance, your investment pitch will appear both online in the form of your pitch page and supporting documentation, (especially your Investor Presentation.
For tips on what information to put into your presentation alongside your achievements, check out this post: Creating a Killer Pitch: Investor Presentation) and offline if you get the opportunity to pitch live (it should easily be covered in one slide).
This post will look at some of the ways in which you can highlight your key successes when raising money, along with some real-world examples.
As always, we'd love to hear what you think, so if you have any tips or stories to share, please leave a comment in the section at the bottom of the page.
Why do investors need to know what your business has already done?
Showcasing your key achievements when pitching provides potential investors with a number of valuable insights, such as your ability to successfully execute your business plan, how quickly your business has grown since it started, and the budget with which you were able to get to this stage.
All of this information instils confidence in investors and provides them with evidence of your progress, both past and projected.
Below is an example of the GrowthCapitalVentures "Achievements" page which was included in their Investor Presentation when they opened for investment in 2014.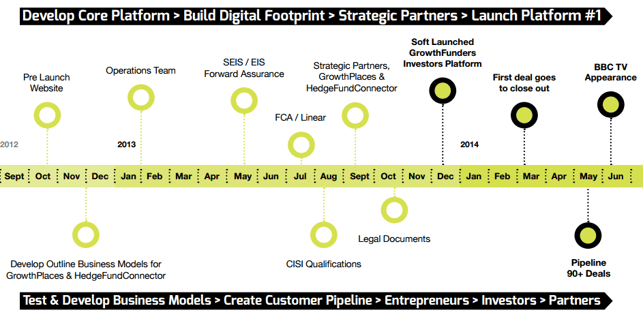 Connecting achievements with metrics.
It's also a good idea to link your key achievements-to-date to key metrics in your financial forecast. In the example below, Just Eat show their achievements alongside in financial terms, such as "revenue" and "cash-generated").
This approach offers potential investors a tangible view of your progress and provides a clear picture of the steps you've made to this point.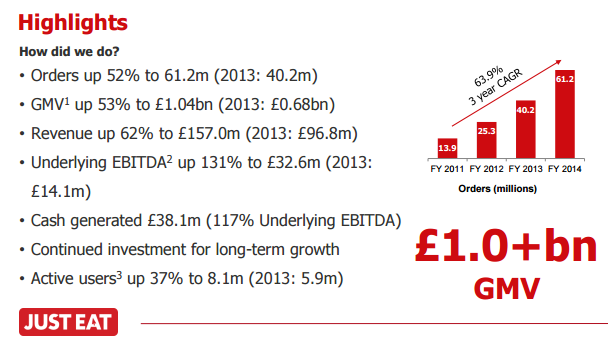 Achievements which are linked to metrics in this way show how well your business has met the goals you set when you started out.
Investors will look at all evidence of quantifiable measures, or Key Performance Indicators (KPIs), to gauge your past performance and predict your future potential when deciding whether or not to invest.
Types of evidence to include in your supporting documentation
Whilst each investor has his or her own set of criteria when it comes to making investment decisions, all will want to see evidence to back up your claims of achievement and ability.
Put together a paper trail which documents your journey so far and which you believe could help to showcase your successes as part of your equity fundraise.
Examples could include positive cash flow documents and records of any business loans you have taken and subsequently repaid.
The success of your team
As well as showing investors what milestones your business has achieved, it is important to include details of your relevant industry expertise, especially if you have been responsible for growth, expansions, and the securing of new clients and customers.
Similarly, it is a good idea to the expertise and industry achievements of your management team as they are integral to the overall success of your business.
The inclusion of your key achievements, as outlined above, will help you build a solid foundation upon which your future business goals can be assessed by potential investors.
Because your accomplishments can serve as a window into the future performance of your business, evidence you provide will illustrate how you good you are.