Tax Efficient Investing for Experienced Investors
The Bank of England has had an inflation target since the UK left the Exchange Rate Mechanism in 1992. This target is for the annual rate of inflation, measured using the Consumer Price Index (CPI), to be 2%. The rationale for its introduction was to make monetary policy both more credible and more predictable. The target has a tolerance of +/- 1 percentage point; if the rate of inflation rises above 3% or falls below 1%, the Governor of the Bank of England must write to the Chancellor of the Exchequer to explain the cause of the indiscretion and the corrective action being taken.
Inflation: a brief history
The chart, below, summarises performance since 1989 (reflecting that the inflation target was introduced in 1992). In the (almost) 25 years since the target was introduced, the rate of inflation has been within tolerance 76% of the time. Interestingly, it has been above tolerance for virtually the same proportion of time (11.5%) as it has been below tolerance (12.5%).
Perhaps the most alarming observation from the chart is the speed at which the rate appears to currently be moving through the tolerance bands. It took 55 months to move from the lower to the upper threshold between Autumn 2002 and Spring 2007 and 33 months to move from upper to lower between Spring 2012 and Autumn 2014. Should the June 2017 rate exceed the upper threshold, it will have moved from lower to upper in just 9 months.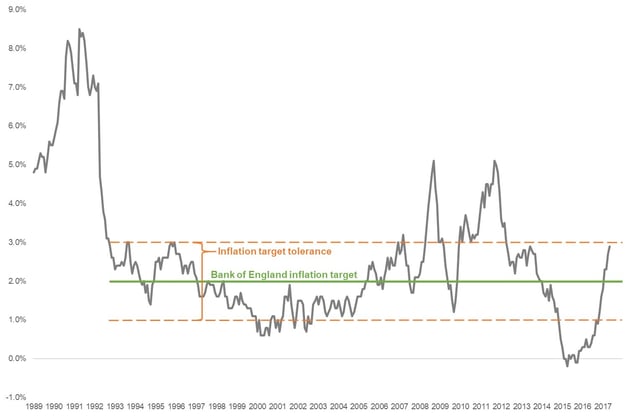 Perceptions of inflationary risk
The Bank of England makes clear that it considers a rate of inflation that is below tolerance as being just as much a cause for concern as a rate that is above tolerance. Despite this, informed commentary tends to focus more on the perils of an inflation rate that breaches the higher tolerance. From a personal finance perspective, this is understandable; increases in the prices of products and services bite with greater immediacy than a macroeconomic contraction brought about by a deflationary crisis in consumer confidence (where people stop purchasing products and services because they believe they will be cheaper in future).
How experienced investors might respond to inflation
Astute investors will keep a very close eye on inflation. Put simply, if the rate of inflation exceeds the rate at which their investments are growing, they are losing value. Discerning investors will not tolerate this for long, but how might they go about overcoming this challenge?
The rate of inflation is cyclical.
Prices are measured against their level twelve months previously. Once prices have risen, it becomes more difficult to maintain a high rate of increase. For example, if the cost of a set of products and services increased from £100 in January 2014 to £105 in January 2015, the rate of inflation would be 5%. The cost of this same set of products and services would have had to increase to £110.25 at January 2016 to maintain this level of inflation. If the cost of the products and services increased to £106.05, this would represent a fall in the rate of inflation, from 5% to 1%. It is possible that the cost of the products and services at January 2016 could return to its January 2014 level of £100, which would represent a negative rate of inflation (deflation), of 4.76%.
The chart, above, validates this; the rate of inflation does not rise (or fall) inexorably. The key message, with which experienced investors will be familiar, is 'don't panic'. Short term fluctuations in inflation are inevitable and shouldn't necessarily stimulate immediate action. Assimilating analysis from a range of respected economic commentators is a good way to assess longer-term trends.
Restructure their investment portfolio
Experienced investors will always have half an eye on how their investment portfolio is configured. They will consider objectives and risk appetite. Objectives can broadly be defined as investments that provide a regular source of income through dividend or interest payments or growth in the form of capital gains, which will typically take longer to realise. There is an established correlation between how risky an investment is and the potential financial reward it may offer; very secure investments (such as savings within the limit protected by the Financial Services Compensation Scheme) tend to offer modest returns, relative to the potential returns offered by riskier investments (such as an equity investment in an early-stage business).
One way to try and ensure that increased inflation doesn't erode the value of investments is to replace some low reward investments with some that offer higher potential rewards. As described above, this will require some additional risk to be introduced to the portfolio. If this increase is incremental, with an emphasis on maintaining diversification, this can represent a sensible response.
Maximise the value of available tax efficiencies
Another way through which investors can seek to improve the performance of their portfolio is to ensure that they are taking full advantage of the tax-efficient investment strategies that the UK Government offers. These incentives are diverse and often generous; they can make a material difference to the appeal of an investment opportunity. A couple of incentives are summarised below; for a comprehensive guide, download your free copy of our guide to tax-efficient investing.
Experienced investors are likely to accrue capital gains and therefore capital gains tax (CGT). Investors that invest in Enterprise Investment Scheme (EIS) eligible companies can defer this CGT liability for as long as they hold the investment (minimum three years). Furthermore, investors that invest in Seed Enterprise Investment Scheme (SEIS) eligible companies can halve this CGT liability provided they hold the investment for minimum three years. This is in addition to the income tax relief available to investments in EIS eligible companies (30% of the investment value) and SEIS eligible companies (50% of the investment value).
Experienced investors who have a large ISA balance may wish to take advantage of the recent flexibility introduced to the cash ISA. Holders of Flexible ISAs can now withdraw and replace funds within a tax year without impacting upon their annual limit. So, it would be possible to invest a large sum held within an ISA in a product offering greater rewards for a period of, say, nine months. If this nine-month period does not bridge two tax years, the sum can be returned to ISA and remain eligible for the tax incentives offered by an ISA. This approach can be repeated in the following tax year.
For more information, download your free copy of our Guide to Tax Efficient Investing.