What is online investing?
Rise of the Online Angel Investor series: #1
First of all, what is an online angel investor?
Did you know that the term "angel investor" was originally used to describe someone who invested money into Broadway shows? Now, however, it is used to refer to any suitably-qualified individual who invests capital into an entrepreneurial business, usually those who are at the start up or early stage.
Because of this, angel investors are also sometimes known as "business angels", or simply just "angels", all of which you'll see used throughout this blog series.
The early stage investment marketplace is evolving
These angel investors are now also sometimes referred to as "online angel investors", "online business angels", "crowd investors", or "equity crowdfunders" due to the introduction of online equity crowdfunding.
As with most things in this Technological Age, the act (or art) of investing has been taken online. Previously, access to this asset class was generally reserved for high net worth individuals, experienced angels, and VCs.
Exclusively for the affluent classes; elusive to the masses. However, with the introduction of online investment platforms (the technology) as well as new UK regulatory framework, this is no longer the case, and investments into this asset class are now open to a much wider investor base.
This new wave of angel investors are backing the next generation of great British businesses, and therefore helping to encourage growth in the UK economy.
How does investing online work?
For the most part, it's quite similar to investing offline, although there are a number of differences, or benefits, which I'll get on to. Angel investors can invest in unlisted companies, mostly at the start up or early stage of growth via means such as online equity crowdfunding platforms.
The objective is to build a strong and diversified investment portfolio that guarantees a financial return. Those who invest into start up or early stage businesses via equity crowdfunding platforms do not invest for the option of dividends, as there will very rarely be any at this growth stage.
Rather, they are investing in the small companies whilst looking towards the exit, which could potentially happen 5 years after the initial investment, but more likely around the 10 year stage.
Online angel investing or equity crowdfunding provides investors with the opportunity to invest smaller amounts of money into a range of unlisted businesses. Investing in this asset class means that they could receive incentives such as up to a 78% tax break via SEIS and EIS.

Business angels are those who take part in equity crowdfunding, because essentially they are investing capital in a business in return for equity. One way in which online crowdfunding is different to offline investing, as it allows angels to co-invest alongside any number of other angels, by accepting any amount of investment (with a minimum usually set at around £100).
This system means that as long as an individual can prove that they are suitably-qualified, in that they understand the risks associated with investing in this asset class, they can invest the amount of their choice.
So where does online angel investing fit into the venture capital landscape?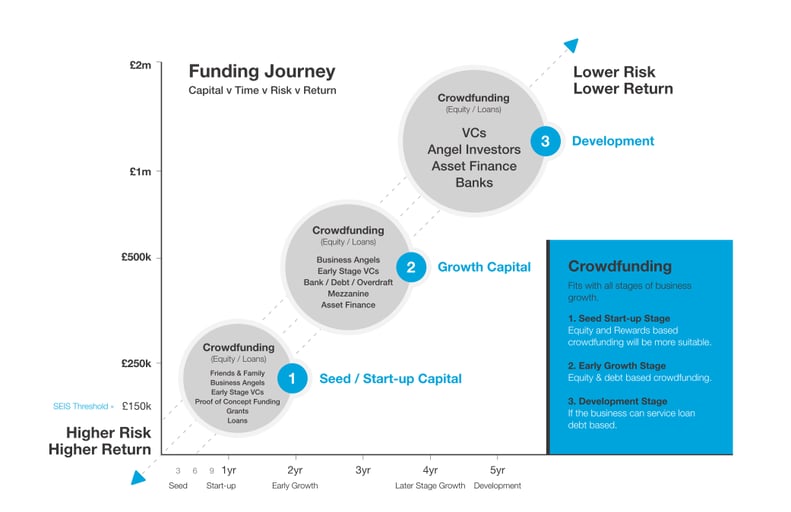 Benefits of crowdfunding
One of the main benefits of investing in businesses through online crowdfunding platforms for angel investors is that it can save time when compared to the offline investment process.
Traditional forms of investing can be hugely time-consuming for the investor, as they usually find themselves having to look through numerous business plans (of varying standards), attending entrepreneurial events, and listening to countless pitches by business owners who are looking for investment.
Investing via an online platform means that they can look through the pitches (investor presentations, business plans, financial forecasts, etc) at their leisure and communicate via forum of video call tools, if and when they feel they are interested enough to want more information.
Why become an angel?
There are a number of potential motivations for people becoming a business angel or angel investor:
This could mean that they are supporting a business in their local community.
It's about more than just money
Perhaps they want to learn from or teach the business owner.
They want to make a return on their investment
'Siding with the Angels' is a report produced by NESTA and the British Business Angel Association which focuses on the early stage investment market. It's well worth a read. Click the image to download the report.
Share your experiences
Think about what your motivations are. Could you use your experiences to keep a blog which could be used by entrepreneurs and investors alike to learn from? Or perhaps you'd like to keep your investments more private, which is ok too.
Whatever your motivations for becoming an online angel investor are, they have to be "right" for you and you have to be comfortable with everything associated with investing in start up, early stage, and established businesses.
---
GrowthFunders: Home of the online angels.
Want to find out more about how you can make money through online angel investing? Download our free eBook: