With the UK in the midst of a housing crisis, property investing is a must
In advance of the 2017 Budget in November, housing moved close to the centre of the political stage. Although it didn't successfully dethrone Brexit, it ran it a close second.
In many respects the eventual content of the Budget was, in housing terms, slightly underwhelming. Nonetheless, housing remains a major social issue; considered "critical to individuals' long-term financial security" and "a driver of social mobility".
Beyond these important social considerations, residential property is an asset class that has historically delivered strong returns for UK investors - so how might property investors embrace innovation in property investment to maintain these returns into the future?
What is the housing crisis?
In very simple terms, the UK has not been building enough houses. This is a longstanding issue that has compounded with each passing year; too few houses built in 1977 has an impact in 1978 and, when no corrective action is taken, this is carried forward into 1979 and beyond.
The chart below shows the divergence between two headline influences on UK property prices. The UK population has steadily increased by 16.7% between 1973 and 2016, while over the same period housebuilding fell by 49.1%.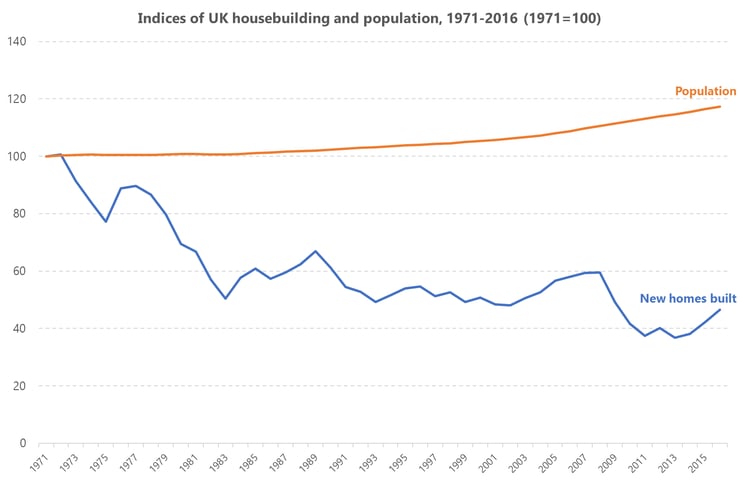 Macroeconomics 101 reminds us that if supply contracts and demand increases, prices go up.
There has been some lively and enlightened debate over the corrective action required in the market for residential property; the supposition that simply increasing supply will be insufficient to resolve the current issue is well made.
Nonetheless, the long-term trends observed in the previous chart are difficult to ignore, especially when this is supplemented by house price data over a very similar period (beginning in 1973 and not 1971). This can be seen in the chart below.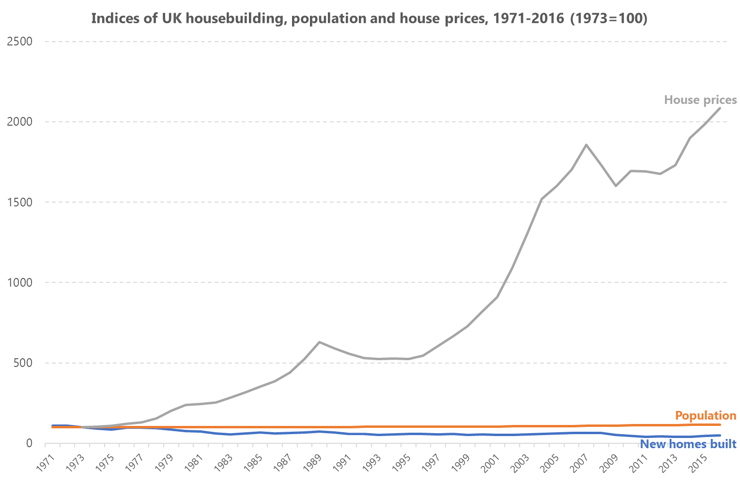 Housebuilding and population data are retained from the previous chart; the change in both looks insignificant compared to the increase in house prices over the same period. Although other factors will undoubtedly have influenced house prices over this period, this provides a basic confirmation of the textbook outcome when supply contracts and demand increases.
What does this mean for investors?
One of the enduring appeals of residential property investment is that its two distinct components – sales and lettings – are complementary investments. The second chart above demonstrates that the increase in house prices was not uninterrupted; values fell noticeably following the recession of the late 1980s and again, more sharply, following the 2008 financial crisis.
Investments in property that rely on revenue generated by sales to provide a return can suffer in an economic downturn. This was particularly acute following the financial crisis of 2008; the presence of irresponsible lending as a cause of the crisis led to greater restrictions on borrowing and aspiring homeowners were unable to secure the mortgage that previously would have been well within their grasp.
However, as the returns on investments reliant on sales to generate revenue diminishes, the market for rental property surges. The same people that would have become homeowners but for the tighter restrictions on borrowing remain in the rental market. More people seeking to rent pushes up the rental yields available to investors.
This ability to 'hedge' your returns by including in your portfolio property investments that generate returns through sales income alongside those that generate returns through rental income remains a compelling combination.
How can technology expand your horizons?
Innovative investment structures such as equity crowdfunding and peer-to-peer lending have fully embraced property investment. The returns generated by the two investment structures are distinct but complementary.
Equity crowdfunding relies on growth in the value of an investment to provide a return.
Property investments made through equity crowdfunding platforms typically involve taking a share in a property development project that will deliver a return once the development is complete and the homes have been sold. The capital remaining in the special purpose vehicle (SPV) will be distributed to investors proportionate to their shareholding.
Peer-to-peer lending provides an income return through a structured repayment schedule.
Property investments made through peer-to-peer lending platforms involve loaning capital to borrowers who are seeking to finance a property deal. The capital is repaid in addition to an agreed rate of interest. This rate of interest is determined by the credit worthiness (and implicit risk profile) of the borrower.
These complementary investment structures can be combined with the more traditional approach to achieving complementary returns. Doing so can provide a modern, diversified portfolio of property investments - and together can directly address the housing crisis here in the UK.
The need for action
Returning to housing as a social issue, there is an imperative to construct homes sufficient to meet continued growth in demand. Furthermore, there is increasing consensus that inflated house prices are damaging to the UK economy.
The Government recognises this and has committed to respond. The most tangible evidence of this is the commitment - both in its 2017 Housing White Paper and subsequently in its 2017 Budget - to increasing housebuilding to c300,000 homes by the mid-2020s. 300,000 homes per year represents a 77.9% increase on the 2015/16; the scale of the challenge should not be underestimated.
However, with challenge comes opportunity and ambitious housebuilders can capitalise on this government commitment to enhance investor confidence in the opportunities that they bring forward seeking investment; the innovative financial solutions outlined above provide the ideal platform for them to do so.