Alyssa Peterson
Weekly Briefing: further interest rate rises expected, SEIS updates & the potential of the UK modular housing industry
This week, we explore Ernst Young's outlook for the UK economy in 2023 and 2024, expectations for interest rate movements around the world, changes to the Seed Enterprise Investment Scheme (SEIS) in the UK and the latest data on private equity and venture capital in the aftermath of widespread banking pressure. We also look into the UK housing market, exploring the Office for National Statistics' latest house price data and the potential role of modular homes in addressing the UK's housing crisis.
UK economy
EY ITEM Club Spring Forecast: UK now on course to avoid recession, but only marginal growth expected in 2023
The UK economy is now expected to avoid both a technical recession and a calendar year contraction in 2023, according to the EY ITEM Club Spring Forecast.

It is expected that the UK economy will grow 0.2% in 2023, up from the -0.7% contraction predicted in January's Winter Forecast.

The improved outlook is largely due to better-than-expected GDP in Q4 2022 and the anticipated rapid easing of inflationary pressures.

With inflation likely to start receding at pace later this year, the Bank of England expected to begin cutting interest rates in 2024, cheaper energy, and new investment incentives being introduced, 1.9% growth is forecast for 2024.

Business investment is expected to decrease 0.3% this year, a little less than the 0.8% fall previously predicted by EY ITEM Club, before increasing by 2.3% in 2024 as new investment incentives begin to have an effect.




Global economy
Interest rate rises expected next month in Euro area and US
As of 12:00pm on 18th April 2023, the CME Fedwatch Tool reported the probability of a further Federal Reserve interest rate increase to be 86.1%.

The next Federal Open Market Committee (FOMC) meeting will be held on 3rd May, and it is a real possibility that the Fed will increase US interest rates further, suggesting that banking pressures – namely the collapse of Silicon Valley Bank – have not deterred the US central bank from monetary policy commitments.

Furthermore, markets have shifted even further on the ECB to price in a 46% chance it will raise the Base Rate by a full 50 basis points on 4th May.
China to become the global economy's biggest driver of growth over the next five years, doubling the US contribution, says IMF
Based on calculations from data in the International Monetary Fund (IMF)'s World Economic Outlook released last week, China is forecast to contribute 22.6% of total world growth over the next five years.

Half of global growth is expected to be concentrated in China, India, the US and Indonesia, with these countries contributing 22.6%, 12.9%, 11.3% and 3.6% to global GDP respectively.

After these top four nations, Germany, Turkey, and Japan are expected to contribute the most, and three-quarters of global growth will most likely stem from just 20 countries.

Overall, the IMF anticipates global growth to expand by approximately 3% over the next five years. This is the lowest medium-term forecast in an IMF report since 1990.

It's important to note that this economic slowdown is most pronounced in advanced economies where inflation remains high. As the graph below shows, EMDEs (Emerging Market and Developing Economies) have significantly higher growth projections – and slightly lower inflation projections – than AEs (Advanced Economies).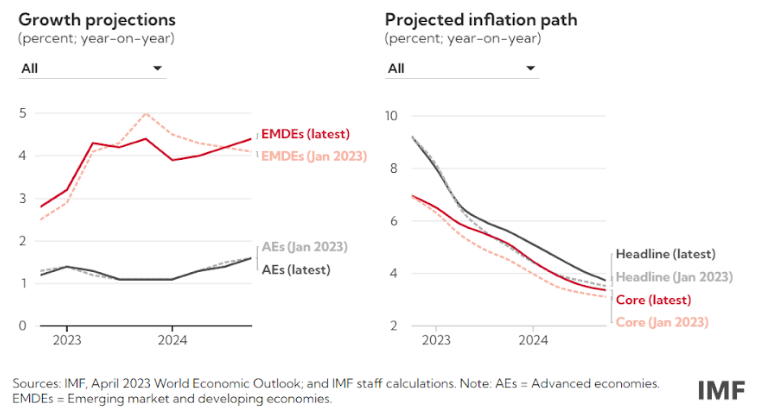 UK tax update
Changes to the SEIS in 2023/24
The Seed Enterprise Investment Scheme (SEIS) is one of the UK Government's venture capital schemes, and is designed to incentivise investment into early-stage startups by offering investors a range of generous tax reliefs to mitigate the associated investment risks and maximise potential returns.
As of 6th April 2023, four changes to the SEIS have took effect:
1. Individual investors can now invest twice as much in SEIS shares in a single tax year (£200k up from £100k).
2. The maximum amount a company can raise under the SEIS has risen from £150k to £250k.
3. Eligibility criteria is now more inclusive, with companies holding assets of up to £350k (compared with £200k) now being able to qualify for the SEIS.
4. Companies that have traded for up to three years can now qualify for the SEIS (an increase from the previous two-year limit)
These changes will make it easier for investors to allocate larger sums of capital into SEIS-eligible companies and potentially receive greater tax benefits.

Furthermore, the expanded eligibility criteria means that a wider range of UK startups can access the investment they need to scale up, and investors can now access slightly more mature and therefore potentially less-risky startups via the SEIS.

Overall, the SEIS is likely to become a more attractive option for both investors and early-stage companies, potentially increasing the level of investment in the UK startup ecosystem in 2023 and beyond.




Venture capital
Post-SVB collapse: the US venture capital outlook
1. Late-stage deal value was valued at $11.6 billion, a five-year low.
2. Fundraising has slowed, with only $11.7 billion closed across 99 vehicles in Q1 2023.
3. The estimated deal count for Q1 remains above 2020's quarterly figures, despite experiencing a drop from Q4 2022.
Importantly, the impact on the venture capital industry in the UK could be less pronounced. This is because the banking crisis is likely to have less of a direct impact on the UK economy due to the main banks affected having been headquartered in the US and Switzerland.

Furthermore, the UK VC environment has displayed resilience over recent years. Despite a challenging economic climate in 2022, London's tech firms raised double the amount of VC investment ($19.8bn) than any other European city that year.




Private equity
US PE passes the stress test in Q1 2023
Amidst the banking turmoil that played out in Q1 2023, private equity in the US fared relatively well compared to public markets.

In the seven-day span that surrounded SVB's collapse, PE firms announced five mega-deals worth a total of $31.3 billion.

However, there were some alterations to the regular trends: the March batch of large leveraged buyouts (LBOs) in tech required 70% to 92% in equity – considerably larger than the historic average of 48% – reflecting the scarcity of debt capital to fund large deals in particular.

US PE fundraising remained surprisingly strong at $66.8 billion in funds closed, and performance appears to have steadied after two quarters of negative returns.

Overall, the industry has held up surprisingly well so far, leading some observers to contemplate whether PE might end up being a net winner in the aftermath of SVB.




Property
Are modular homes an answer to the UK's housing crisis?
Compared with countries such as Japan and Germany – where this industry is more established – modular housing is still a relatively new phenomenon in the UK. However, the idea is that this method of building good-quality homes at a fast pace might be part of a long-term solution to Britain's housing crisis.

According to calculations from the industry group Make UK Modular, this industry will be able to build 20,000 modular homes by 2025 – a fifth of the 100,000 annual shortfall.

The government has set a target of 300,000 new homes a year in the UK by 2025, and around

204,500 were built in the 12 months to March 2022

, official figures show.

Make UK Modular says that 3,300 modular homes were built in 2022 – one in 60 of every new home constructed – and it is expected that five years from now, the modular industry will be a significant part of how we deliver homes in the UK.

Furthermore, modular homes are in the top energy performance bracket, so could save an average household approximately £800 per year on energy bills.

High quality modular housebuilders across the UK, such as CoreHaus, are harnessing the benefits that modular housing can offer consumers, and are on track to meet the targets set by the UK Government for the number of modular homes expected to be built over coming years.
House prices up by 5.5% in the year to February 2023
The latest house price data published on GOV.UK by HM Land Registry (HMLR) shows that average house prices in the UK increased by 5.5% in the 12 months to February 2023, with the average house price standing at £288,000 – £16,000 higher than a year prior.

Whilst this figure is 1% lower than the data for the previous month, it appears that the UK property market remains relatively resilient in the face of challenging economic headwinds.

The West Midlands saw the highest annual percentage change of all English regions in the 12 months to February 2023 – 8.6%

– while London saw the lowest at

2.9%

.



Annual house price rates of change for all dwellings, UK, January 2006 to February 2023:


A final note
Overall, this week has provided some level of reassurance in private markets – particularly private equity – as pressure surrounding the banking sector appears to decelerate. Furthermore, changes to the SEIS are likely to provide further support to the venture capital ecosystem in the UK as rules for both investors and startups become more favourable. Ultimately, with the Bank of England Base Rate expected to reach a peak of 5% in September 2023, the end of the current high inflation environment may be in sight.