Alyssa Peterson
Weekly Briefing: UK inflation falls to 8.7%, monthly IHT revenue hits £600m & house prices remain constant
Falling UK inflation, unchanged average month-on-month house prices and a recent agreement on increasing the US debt ceiling could each suggest an increasing level of stability is coming into force throughout the global economy.
Furthermore, the alternative investment industry has generated interesting deals and reached new key milestones despite the tough wider economic outlook. For example, several VC megadeals have been completed in the UK so far in 2023, Africa's venture capital market has reached record value, and a PE firm is currently considering a £4bn takeover of the UK branch of Centre Parcs.
It's also important to note that UK taxation is also reaching record levels, with HMRC collecting £600m in inheritance tax (IHT) receipts in April 2023 alone – £100m more than the same month last year. As a result, the use of tax-efficient investment schemes, such as the Enterprise Investment Scheme (EIS) and Seed Enterprise Investment Scheme (SEIS), where shares are fully exempt from IHT provided they have been held for at least three years.
UK economy
Inflation in the UK fell to 8.7% in April 2023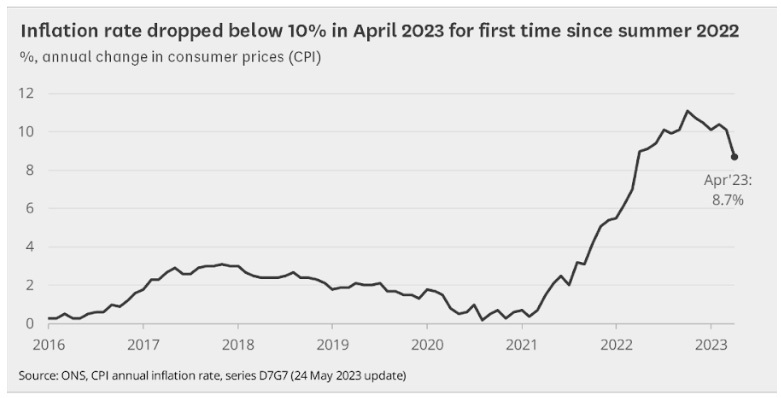 The Consumer Prices Index (CPI) measure of inflation in the UK fell to

8.7%

in April

2023. This compares favourably to the 10.1% figure recorded in March 2023 and follows seven consecutive months where double-digit inflation has been recorded.
Most of the decline was due to the sharp increase in household energy bills observed last year not being repeated this April.
However, this

drop in the inflation rate was not as large as expected

. Economists surveyed by Reuters expected inflation to fall to 8.2%, while the Bank of England expected it to fall to 8.4%.
The

average forecast

among economists surveyed by the Treasury in the first half of May 2023 was for the annual inflation rate to fall to 3.9% in the final quarter of 2023 and 2.5% in the final quarter of 2024.
Similarly, the Bank of England expects inflation to ease in 2023. As stated in its

latest set of forecasts published in May 2023

, it anticipates an inflation rate of 5.1% in the final quarter of 2023, higher than the previous forecast of 3.9% made in February.
Figures for inflation in May 2023 are scheduled to be

published by the ONS

on 21 June.


Global economy
How does the UK's inflation rate compare to other countries?
In April 2023, the UK's annual inflation rate of 8.7% was higher than in most comparable economies such as the Eurozone (7.0%), France (6.9%) and the US (3.8%).
Legislation has been passed to raise the US debt ceiling until the 2024 election
Last week, the US Senate passed bipartisan legislation backed by President Joe Biden that lifts the government's $31.4 trillion

debt ceiling

, a day after the House of Representatives approved the bill.
As a result, the U.S. has averted – at least for the time being – what would have been a first-ever default, as the Treasury Department had warned it would be unable to pay its bills on 5 June if Congress failed to act.


UK tax update
HMRC collected £100m more in inheritance tax in April 2023 compared to a year prior
HMRC received £100m more in inheritance tax (IHT) in April compared to the same month last year.
The total amount paid in April 2023 alone was £600m and, in the last 12 months, UK families paid over £7bn in

inheritance tax (IHT)

altogether.
The significant rise in tax paid is primarily driven by continual increases in property prices and the long-term freeze of the

IHT threshold

(which has been unchanged since 2009 and is set to remain at £325,000 until 2028).


Impact investing
EU set to support 100 startups with unicorn potential to achieve green and digital goals
The European Commission

began an initiative

to help 100 potential unicorns scale up to become Europe's deep tech champions and help drive the trading bloc's green and digital objectives.
The EIC Scale Up 100 initiative will identify and support the growth of 100 promising European deep tech companies with the potential to become unicorns.
Startups will be selected in areas that contribute to Europe's green and digital transition, such as sustainability, digital, and health.
Overall, the initiative aims to help the startups grow annually by 40% in their valuation, new investments, partnerships, and jobs, and by 50% across the same parameters for the 20 top-performing companies over two years.
Emerging markets managers in alternatives expect investors to maintain or increase expectations for ESG reporting
A shortage of data in developing economies makes it harder for potential investors to determine ESG compliance or prove to regulators how ownership of an asset impacts the investor's ESG profile.
These economies are therefore considered higher-risk, and so less attractive from a risk-adjusted returns perspective.
Preqin Pro data reflects this. In 2022, there were 2,127 ESG funds raised, 18% of which targeted emerging markets. Of the top ten largest ESG funds in 2022, only one focused on an emerging market (China).
So far in 2023, there have been 546 ESG funds raised, 14% of which are targeting emerging markets.
Private capital will be

essential in addressing the climate crisis and achieving net zero

. It remains to be seen whether emerging economies will attract a fair share.


Venture capital
Africa's venture capital market reached record value in 2022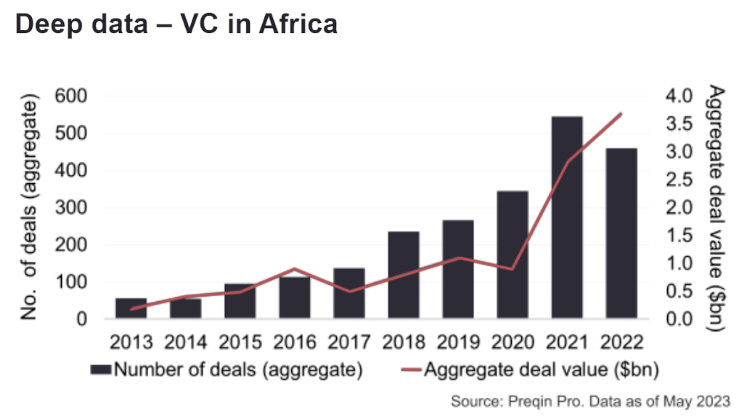 Africa's VC market saw significant growth between 2020 and 2022. Aggregate deal value reached a record

$3.7bn last year

, up from $2.8bn in 2021, and $900m in 2020.
US private wealth has driven investment in the continent, particularly in fintech and software.
However – in line with the global VC market – value and volume have fallen sharply so far in 2023.
Several VC mega-deals completed in the UK despite wider dealmaking struggles
UK venture capital investment has seen

consecutive quarterly declines

since the beginning of 2022 and is expected to remain subdued for the rest of 2023.

UK-based startups raised $8.1bn across 1,015 deals in 2023, with a significant decline in deal value and the number of rounds compared to the same period a year prior.

As Europe's largest VC hub, the UK has been hit harder than many of its European peers due to its higher number of late-stage companies. Fewer outsized deals and new unicorns have meant a fall in overall capital invested.

But despite the overall decline, several mega-deals have been completed in 2023, including London-based consumer lender Abound raising over £500 million and investment platform eToro securing £200m in funding.





Private equity
CVC Capital Partners considering £4bn PE takeover of Center Parcs
CVC Capital Partners, the owner of Six Nations and former owner of Formula One motor racing and bookmaker William Hill, is preparing a

private equity takeover bid

for Centre Parcs.
The holiday resort chain is currently owned by Canadian PE firm, Brookfield Property Partners, and was listed for sale last month.
CVC is likely to be a strong contender in the auction, although industry sources suggested on Monday that bids were expected to be in the lower half of a recently touted £4bn-£5bn price range.
Several infrastructure funds, including French-based Antin, are also exploring whether to make offers for the company.


Property
Average UK house prices remain largely unchanged month-on-month, falling by just £130

The average house price in the UK in May 2023

fell very slightly

– by £130 – to £286,532.
This represents no significant monthly change, but shows a quarterly increase of 1.3% and an annual fall of -1.0%, marking the first time since 2012 that house prices have fallen year-on-year.
Given the effectively flat month, the annual decline largely reflects a comparison with strong house prices this time last year, as the market continued to be buoyant heading into the summer.
UK property prices have now fallen by approximately £3,000 over the last 12 months and are down around £7,500 from the peak in August.
However, prices are still £5,000 up since the end of last year, and £25,000 above the level of two years ago.


A final note
Ultimately, the importance of tax-efficient investments has been reinforced this week with the April inheritance tax data stating monthly revenue was 20% higher than in April 2022. Currently, the UK is experiencing one of the most significant periods of taxation, with frozen and reduced thresholds causing more tax bills to arise without the Government having to increase rates. This means that – for income tax and inheritance tax in particular (due to wage growth and the general upward property price trend) – individuals are facing higher tax bills largely due to inflation.