Jenna Taylor
Coming Soon! Investment Opportunity: Chop2Bowl
Cooking is no longer a chore reserved for the bustling housewife to carry out in preparation for her husband's return from work. That kind of picture is restricted to movies from the 1950s.
Instead, cooking has become an event, a sport, a social interaction - something anyone and everyone can do - and enjoy! There have been many innovations in the kitchen since meals began - from the double oven mitt to silicone bakeware, but it's not often the ubiquitous chopping board gets a make-over.
The Problem
Think about how many ingredients go into the meals you make, and the different food groups they come from. Unless you're vegetarian, there's usually a combination of meat or fish and vegetables. You can't use the same board unless you cut the vegetables first, move those to a bowl and then cut the meat, or you have to have more than one chopping board.
The Solution
One chopping board with a split-apart function, meaning that cross-contamination can be easily avoided.
The Board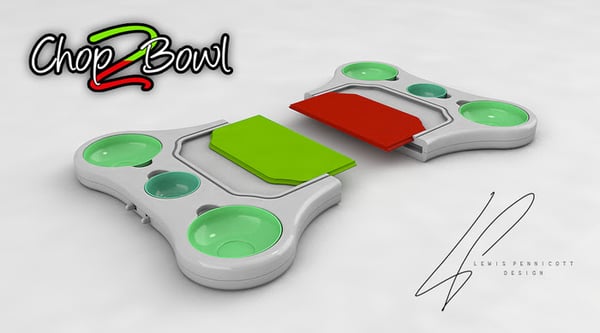 One half of the board is red, suited to be used exclusively for meat, whilst the other half is green, for everything else. Whilst the main aim of this feature is to safeguard food hygiene, its split-apart function also means that the act of chopping can be shared. As well as encouraging cooking as a social event, it will serve to speed up food preparation. This is one instance in which too many cooks won't spoil the broth.
The core Chop2Bowl product is made up of an split-board and six bowls which are inserted into a base unit. There are plans to produce additional modules for the core product which customers can purchase separately to personalise their Chop2Bowl experience. For example, the fashion-conscious kitcheneer will be able to match their Chop2Bowl accessories (such as the insertable, flush-fitting bowls) to their decor.
As well as being used for food preparation, the Chop2Bowl can also serve as a serving platter; perfect for chips 'n' dips!
Who?
Young entrepreneur and innovator, Lewis Pennicott, is the brain behind the board. Chop2Bowl was conceived during a 2nd year Product Design project Lewis undertook whilst studying at Teesside University.
Students were offered a choice of projects and with cooking for himself a reality since he'd left home to live on-campus, Lewis chose to work on a new kitchenware product.
Since graduating, he has developed the Chop2Bowl concept further, setting up Lewis Pennicott Designs Ltd, for which he has big plans.
Lewis is no stranger to entrepreneurial ventures, having previously headed a successful short-term t shirt business. He started DECE Designs Ltd after a sporting injury forced him to take time off from his studies.
Instead of "just sitting around waiting" (his words!) to go back to university, Lewis dived straight into every aspect of the business, including producing original designs, sourcing products and printing, logistics, marketing via social media, and then packaging and sending out all orders.
He's a now self-confessed cooking-enthusiast who likes to experiment with the ingredients of traditional dishes, often cooking for family and friends. His cooking is going to be even better, he says, once he can use a Chop2Bowl!
Achievements-to-Date
The Chop2Bowl has an ever-growing social media following with excited soon-to-be customers showing their interest via the hashtag: #IWantAChop2Bowl and asking "when can I get one?!"
After conducting a world-wide patent search and finding nothing remotely similar to Chop2Bowl, Lewis acted quickly. The initial product concept is in patent pending status, and the design in being registered.
Up to this point, all funding received has come from family and friends.
What Does The Future Hold?
Lewis plans to design and launch a range of household items which meet the same principles of practicality and design as Chop2Bowl.