Jenna Taylor
Employee Appreciation Day 2016
The first Friday in March is annually observed as National Employee Appreciation Day in the US. That's today! So let's bring some of that appreciation to the UK and show the members of our country's workforce just how much we value them.
Started in 1995, the day was created as a way of encouraging employers to recognise the efforts of their employees. But Eric Mosley, CEO of Globoforce, thinks recognition should be built into the working culture and exercised more often. He recently published a fantastic piece for the Huffington Post, on why he thinks appreciation matters year-round.
Last year, Argos for Business introduced National Employee Motivation Day, "created to inspire passion and appreciation across the UK's workforce."Motivation and appreciation go hand-in-hand and can go a long way towards creating a more engaged, productive, and ultimately happier working environment.
Through our work with employee engagement tool HiveHR, here at GrowthFunders we've learnt a lot about the ways in which encouraging employee motivation can raise productivity.
As one of our four core pillars of positive impact, health and well-being - especially in the workplace - is something very close to our heart. We look for the positive health and well-being potential of all the projects, businesses, and investment opportunities we list on the platform.
A 2013 study conducted by gamification company, Badgeville, found that:
83% of respondents said recognition for contributions was more fulfilling than any rewards or gifts
76% found peer praise "very" or "extremely" motivating
88% found praise from managers "very" or "extremely" motivating
90% said a "fun work environment" was "very" or "extremely" motivating
Why is appreciation important?
No matter the size of business, employees are one of a company's most important assets. Without them, how would anything get done? In the machine of business, your employees are the cogs that make everything run smoothly. But that doesn't sound that poetic does it? Which is why we need to think of some great ways to show our appreciation.
There are loads of ways to do this, from verbal interactions to rewards. Reportedly, LinkedIn's CEO Jeff Weiner opted for his yearly "equity package" to be put into a pool for his employees. All $14m of it...Now, that's not the type of reward all of us can offer, so here are some more practical examples:
Show your appreciation
Say "thank you"
Sometimes that's all it takes; but be specific about what you're saying thanks for. That way, the employee knows exactly what you liked about their work and will be able to reproduce that in the future.


Get caught
If you don't want to say anything directly to the employee, make sure they hear you telling someone else you thought they did a really great job.


Write it down
A hand-written note to acknowledge a job well done can mean a lot, especially in today's age of email and Slack. Taking the time to sit and write your thanks down shows your employees that you put some thought into things.


Celebrate
Reward your whole team for pulling together and producing something that got great results. This could be anything: a pizza party, going out for drinks, or even closing the office early on a Friday.

If done successfully, this approach can help to introduce real-time recognition into the culture of your business. By showing appreciation yourself, you can encourage your workforce to pass the recognition on in a crowdsourced manner.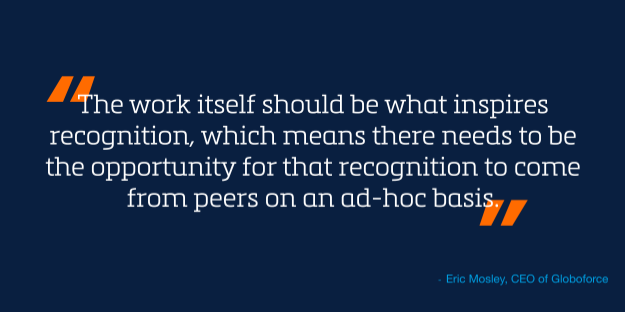 How have you shown appreciation to your employees, either today or any other time? Leave us a comment below or join the conversation on Twitter using #EmployeeAppreciationDay.
If you think your employee engagement system needs more help, why not look at introducing Hive.HR - the weekly micro-survey tool which means you get real-time feedback from your workers enabling you to implement changes easily and efficiently.