Michael Johnson
Global fintech trends in 2017: investment performance around the world
The Fintech sector continues to command global attention and attract significant investment. It is disrupting established markets and creating new markets.
Earlier this year, we analysed data published by GP Bullhound that confirmed the growth in Fintech investment was following different trajectories across the three main regional markets – US, Europe and Asia.
Data published earlier this week by market leading US analysts CB Insights enables further detailed analysis of regional trends within the Fintech sector in the first half of 2017.
Investment in US Fintech
Analysis of GP Bullhound data suggests that almost half (46%) of all global Fintech unicorns (businesses valued at $1bn or more) in 2016 were US businesses and their cumulative value exceeded $50bn.
The US exhibits a clear trend across recent quarters: deal volume is decreasing and deal value is increasing. US deals involving venture capital backed Fintech companies fell to a five-quarter low of 96 in Q2 2017.
By contrast, investment recorded a five-quarter peak of $1.9bn.
Four of the five new unicorns to emerge in Q2 2017 were US businesses: all four secured significant investment in Q2 2017.
Clover Health ($130m), Robinhood ($110m), AvidXchange ($300m), and Symphony ($63m) all contributed to the trend for fewer, higher value investments. A further three non-unicorns raised over $100m, and a further five non-unicorns raised over $50m.
Investment in European Fintech
Financial services are more tightly regulated in Europe than in the US or Asia. Some analysts have intimated that this depresses initial investment into European Fintech companies, but conversely provides a (temporary and partial) protective shield from competition once a business has established itself.
The recent trends in European Fintech investment are different from those observed in the US. Deal volume and value decreased in Q2 2017, relative to Q1 2017; this appears to be approximately proportionate.
One potential explanation for this, from a UK perspective at least, might be the tax efficient investment schemes that incentivise investment in early-stage companies - investors seek to capitalise on these before the end of the financial year, which boosts activity in Q1.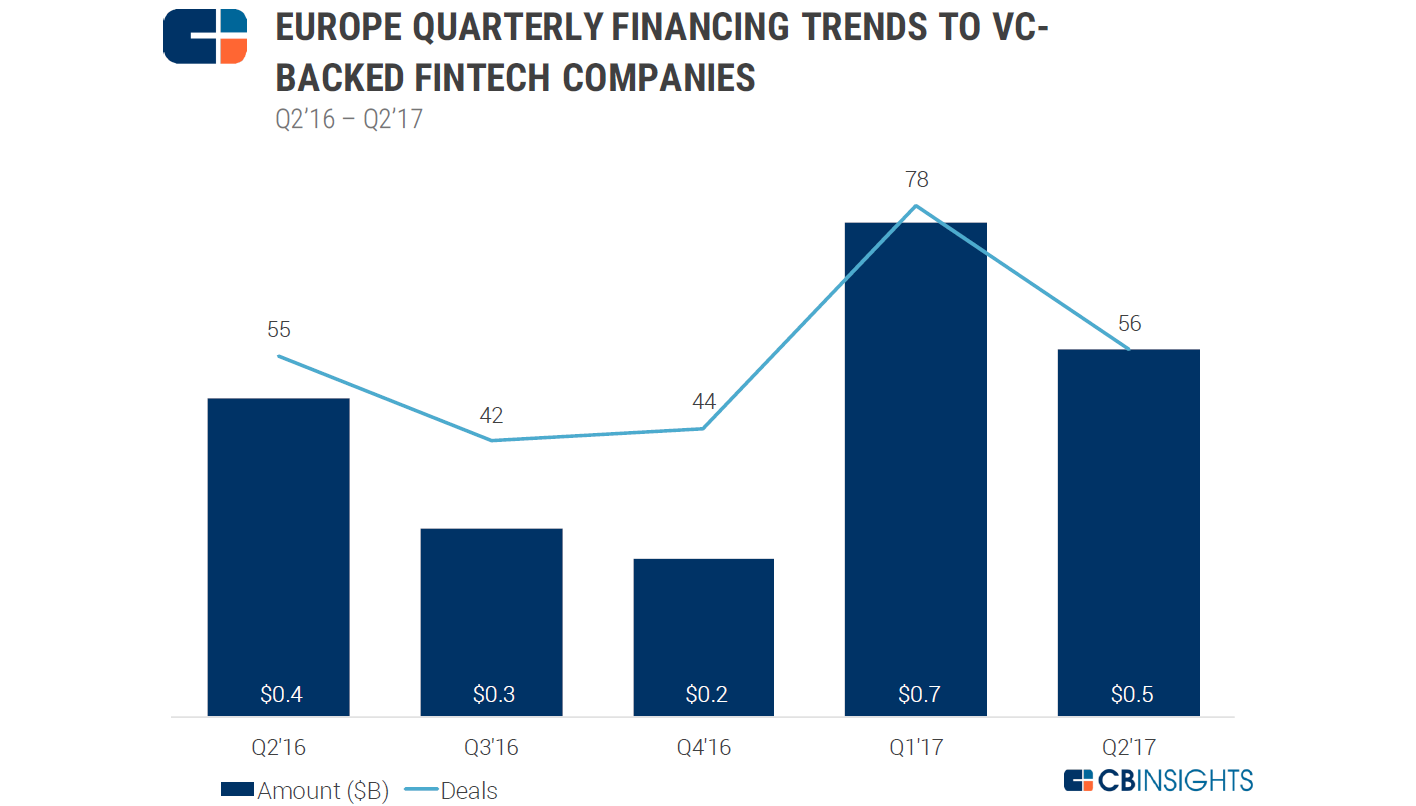 Year-on-year, the European Q2 2017 performance is very similar to the Q2 2016 performance. This preceded a sluggish H2 2016 in Europe, which offers an opportunity to record robust year-on-year growth if the performance in Q2 2017 can be maintained for the remainder of this year.
In contrast with the US, only one European Fintech investment exceeded $50m; a $120m investment in Kreditech (Germany's first deal over $100m).
Investment in Asian Fintech
Previous analysis of Fintech in Asia suggests that the sector has been able to grow so rapidly because the existing financial infrastructure was less mature. Instead of disrupting established institutions, Fintech businesses have been able to build on their technological platforms to offer competitive conventional financial products alongside alternative financial products.
Deal volume (45) and total deal value ($2.7bn) both recorded five-quarter highs in Asia in Q2 2017. Deal value in Asia also exceeded the US for the second time in the reporting period (the first was Q3 2016).
Deal value was driven by a huge $1.4bn investment in One97, representing half of total investment in Asia and alone almost three times total investment in European Fintech.
Asian Fintech has historically been dominated by China. The appearance of WeLab, a Hong Kong-based unicorn, in GP Bullhound's 2016 analysis and One97 in this report suggests that the sector is expanding beyond China.
The investment in One97 could also transform the performance of Fintech in India; typical total deal value had previously been between $15m and $157m per quarter.
Conclusion
This analysis of three key Fintech markets suggests the sector is still evolving and exhibiting some signs of volatility consistent with this stage of development.
We would expect this to continue, but one trend that should be monitored is the size of individual investments - there is the potential that fewer, larger private investments could affect the supply of capital to start-ups.
There is increasing interest in the scale of private equity investments, and it is possible that this may, in future, require some intervention to ensure that start-ups are able to access seed funding that private markets are uniquely placed to provide.
In this context, the work we do as a co-investment platform - championing micro-businesses seeking their first external investment and small businesses seeking their second - becomes ever more vital.