GrowthCapitalVentures appoints tech expert to advisory board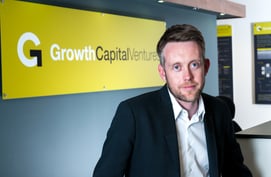 We're delighted to announce the appointment of Head of IT Architecture for Shop Direct and former Lead Enterprise Architect of Everything Everywhere to our advisory board.
Stepping into the role of Technology Advisor, Karl Wintrell brings with him a wealth of tech-focused experience and expertise which we know will help to support the execution of our growth plan.
As a financial services business operating online, GrowthCapitalVentures sits in the fast-growing FinTech sector. We are constantly introducing and utilising new technology and digital techniques which aid people who want to raise, lend, borrow, or invest growth capital. It's great to be able to have someone completely tech-focused advising us in this as we move forward.
COO, Craig Peterson, said: "Having someone of Karl's expertise join GrowthCapitalVentures at this early stage of our journey is fantastic and we're delighted to have him as a key member of the advisory board.
We want to make sure we have the right people in the right positions; people who understand just how big this market is and where we need to position ourselves. Karl's come on board, not only as an advisor, but as an investor too, which is a great vote of confidence from someone who can see the high growth potential of our business."
Co-founder and CEO, Norman Peterson, added, "It's all about recruiting the correct talent; someone who can advise both the in house team and outsourced providers to enhance development and deepen the technology on the platform. Karl has that ability and his experience is deep, relevant and current."
With 15 years of experience in both the management and architecture of enterprise-class, web-based applications, Karl has been responsible for £10M+ project implementations and is currently working as Chief Architect and Head of IT Architecture for Shop Direct, the UK's fourth largest online retailer and home to digital department stores including Very.co.uk.
Karl said, "I'm very excited to join the GrowthCapitalVentures advisory board and offer my skills as their Technology Advisor. Globally, the FinTech sector is huge and alternative finance solutions, such as equity crowdfunding and peer to peer lending platforms like the ones GCV are developing, have the potential to become very important indeed. I'm looking forward to helping the team achieve their goals and taking GrowthCapitalVentures to the top."
The appointment of Karl Wintrell comes at a very exciting time for us here at GrowthCapitalVentures as we are currently in the process of raising funds in our Seed round. Our original target was £150,000, which we hit in just 10 minutes, and immediately went into overfunding.