Intelligence Fusion: investment opportunity has been extended!
Intelligence Fusion have made the decision to extend their current investment opportunity for an additional 30 days to accommodate further discussions.
Currently 87% funded, it's a true co-investment campaign, with two Venture Capital Funds currently investing alongside 12 online investors - and with four weeks now left, there's still opportunity to take part in the investment (with a minimum investment of just £100).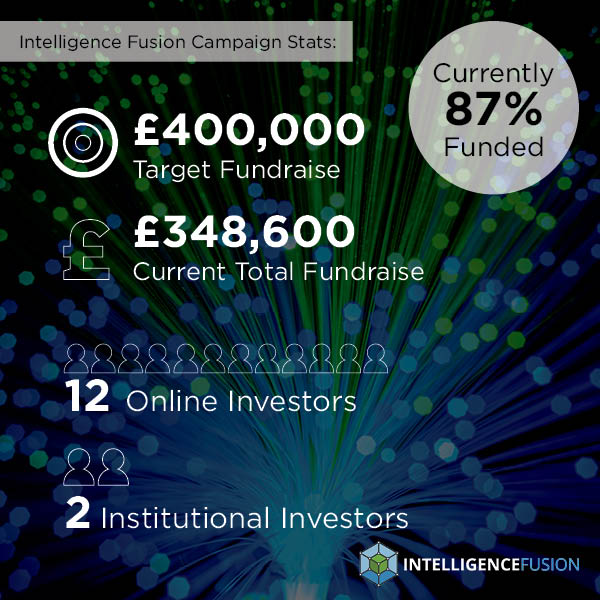 What is the investment opportunity?
Intelligence Fusion is a highly scaleable software-as-a-service (SaaS) business. The company specialises in providing global security companies and their customers with detailed, up-to-date information on incidents around the world.
Whether that's helping oil and gas companies operate in Iraq or supporting an internationally renowned film production company on location in Africa, Intelligence Fusion provide the security companies protecting these global businesses with detailed incident reporting in key geographical locations. This ensures informed decisions are made to offer maximum protection.
In an increasingly volatile world, companies face increased risk. Terror attacks have placed significant travel risk for those companies operating globally. In-house security teams and external security companies rely on detailed information and situational awareness to make key security decisions.
Intelligence Fusion's technology led solution provides information at a scale and frequency in-house teams are unable to match.
The investment raise so far
The company has raised £348,600, reaching 87% of the £400,000 funding target.
Investors have the opportunity to co-invest alongside two Venture Capital Funds and 12 sophisticated investors.
Highlights of the opportunity include:
- Growing Market
The need for intelligence and situational awareness crosses multiple sectors and markets provides a wide customer base
- Experienced Team
The founders are ex-military intelligence and have significant industry experience working for many of the market leading security companies
- Scaleable Business Model
Intelligence Fusion is a technology led SaaS business with a recurring revenue model and forward billing with the potential to generate strong cash flow
- Revenue Generating
The company has proved the business and revenue model having already sold subscriptions
- Clear Value Proposition
The company collects, collates and distributes information at a depth, breadth and speed in-house teams would find difficult to achieve. This enables security companies and their customers to focus resources on data analysis to more effectively protect their people and assets.
EIS Tax Reliefs
As an EIS-eligible investment opportunity, investing in Intelligence Fusion can provide a range of tax reliefs (depending on personal circumstances) including the following:
Up to 30% upfront Income Tax relief
Capital Gains Tax (CGT) relief
Inheritance Tax (IHT) relief
CGT deferral relief
How to invest
With only a small allocation of the funding round remaining, to invest, begin by viewing the online investment pitch.
With the investment pitch having full details of the campaign, if you have any questions related to the raise, please contact us.