Intelligence Fusion: the investment opportunity and achievements
If you're a member of our GrowthFunders co-investment platform (and if you're not, sign up for free here!), you'll be aware of the Intelligence Fusion EIS-eligible investment opportunity. Currently 91% funded, the opportunity is set to end in the next few weeks, at a figure in excess of £400,000.
[UPDATE: The intelligence Fusion investment opportunity is now overfunding! Click here to view the overfunding blog post, or here to jump straight to the opportunity]
An exciting investment opportunity, Intelligence Fusion have achieved some fantastic traction in recent times, including:
Having over 68,000 incidents reported across multiple continents
Are the market leader in geopolitical intelligence, running an exclusive pilot scheme in which they have access to the data feed in order to further develop their internal platform around
A new contract underway with a leading tracking company using a referral subscription model
Subscribed customers delivering annual recurring revenue
An immediate pipeline of leads who are being successfully nurtured into clients
Over 250 identified potential clients on their initial target list
Several key sectors identified for targeting further clients, which includes banks, military and police organisations
In addition, Intelligence Fusion proudly:
Provide situational awareness for a security company protecting one of the largest movie franchises currently being filmed
Produced thematic papers for a government agency, which were highly regarded. So much so, they will produce another thematic report for the same agency this year as the relationship develops further
Are in final talks to become an intelligence provider to one of the world's largest private intelligence companies, which is a particularly exciting opportunity
Have a highly successful internship programme, which is helping students move into full-time employment, allowing Intelligence Fusion to deliver positive social impact.
The investment raise to date
Investors currently have the chance to co-invest in this EIS-eligible opportunity (click here to find out more about EIS) alongside 2 Venture Capital funds and 15 other sophisticated investors.
Having raised over £360,000 and reaching 91% of their £400,000 funding target, being EIS-eligible, investors can potentially benefit from a range of lucrative tax reliefs, including:
Up to 30% upfront Income Tax relief
Capital Gains Tax (CGT) relief
Inheritance Tax (IHT) relief
CGT deferral relief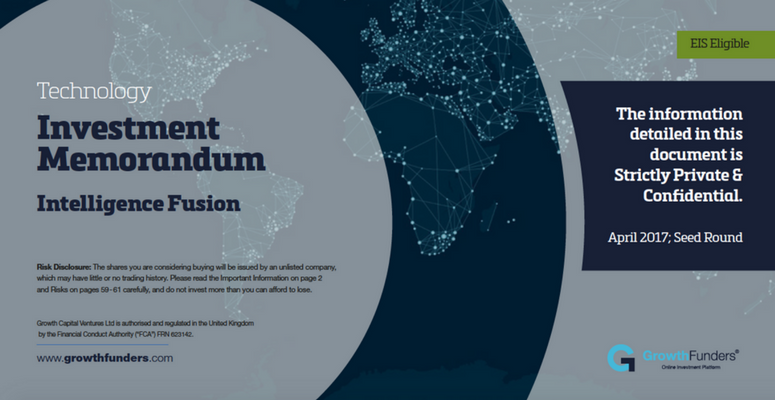 If you're interested in this investment offer, you can view the full opportunity on the Intelligence Fusion Online Pitch.
At 91% funded, there is only a small allocation of the offer remaining. As such, if you wish to invest and have any questions, I'm happy to answer any questions - you can contact us here.