Intelligence Fusion: end-of-year update with growth and impact report
It's been six months since online information-sharing platform, Intelligence Fusion successfully closed out their POC round. The subscription-based forum crowdsources information from around the world, enabling users to share intelligence, news of incidents, and risk awareness in real time.
Forum moderators group discussions from Intelligence Fusion's online community in order to focus the information and maintain relevance and usefulness.
The startup had originally set out to raise £15,000 but attracted interest from an institutional investor and ended up closing out at £22,500.
Click here for the full story on how Intelligence Fusion attracted online angels and a VC to overfund.
I recently caught up with Founder, Michael McCabe, for an update on Intelligence Fusion's plans for 2016, including:
The development and launch of the software,
How he plans to build the membership base,
How the company plans to deliver positive social and environmental impact alongside financial returns for investors,
His plans to recruit interns.
GrowthFunders: What have you been up to since the POC funding round closed out?
Michael: The capital raised in our POC round enabled me to work with developers to create and prepare to test the platform in real-time situations. Now, we are about to begin monetising the platform and offering subscriptions to paying users, having just sold our first subscription to a security company who supports non-governmental organisations (NGOs) in Africa and the Middle East.
GF: What are the next steps for Intelligence Fusion?
M: Our current focus is on Syria, Iraq, Libya, Egypt as well as maritime criminality, but in the new year we will be expanding the countries we monitor to include:
The reasons behind the countries we have chosen to focus on are extremely varied. For example, the 2016 Summer Olympics are taking place in Rio, Brazil which means that there will be thousands of people in attendance.
A lot of those people will be travelling (or thinking about travelling) from other countries and may want to find out more about situations in Brazil, prior to visiting. Intelligence Fusion will be working to build a community of users based in Brazil who can then share real time information with people both inside and outside of the country before, during, and after the games.
GF: How will you start to build the platform's membership base?
M: At the moment, our focus is very much on larger SMEs and corporations operating in and exporting to emerging markets. By sharing information they have or need, we can begin to help people make informed decisions which should then lead to the forum becoming the main point of contact for these companies.
The online community we are building will eliminate the confusion and uncertainty of doing business in new environments by allowing users to plug into new networks as and when they require. With Intelligence Fusion Analysts providing information on the threats and hazards of that country, users can then network with other subscribers and enable operations through close collaboration.
One initiative we are keen to introduce is a reward scheme, where customers can receive a percentage of their annual subscription cost by referring one or more new businesses. We feel this will help significantly grow our network to our vision of 10,000 subscribers in the next five years. The success that will come with growing the platform is something we want to share with the Intelligence Fusion community.
GF: How are you planning to deliver impact alongside a financial return for your investors?
M: We are in the final stages of finalising an internship programme with a local university which will provide vital experience for 22 post graduate students, helping them to get a foot on the career ladder. This will not be a one-off, but an ongoing programme, providing training and mentorship to future intakes of students.
In addition, we plan on taking on full time members of staff in 2016, providing job opportunities in the local market. Also with tools such as our Exchange Module, subscribers to our platform can enable operations helping them do business in foreign markets and therefore creating jobs and revenue in emerging economies.
Our new "How it works" video provides more information.
GF: What specific impact themes will Intelligence Fusion be targeting?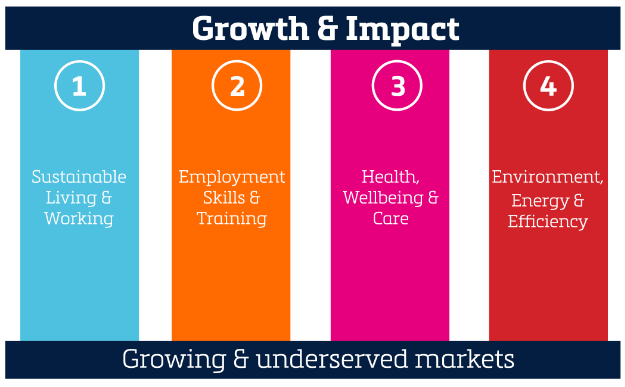 M: The company will deliver on the following:
Growing and underserved markets

The idea is that by aiding operation in and export to emerging markets, we can also encourage growth. If businesses feel more comfortable about the risks and challenges they face in other countries, they may consider expanding into those countries. This results in job creation which will obviously then have a huge knock-on effect.

Businesses operating in BRICS (Brazil, Russia, India, China, and South Africa), for example, would benefit hugely from the aid Intelligence Fusion could provide as they make their way to becoming five of the most dominant economies by the year 2050. We would look at employing designated analysts whose focus is on specific areas ensure clarity of information. The potential catalyst for growth that Intellince Fusion could provide is phenomenal.

Employment, skills, and training

We have established links with a local university and are looking to provide 20 undergrads with internships, initially to give them an opportunity to work with Intelligence Fusion to assess incidents and risk globally and to disseminate this information and share it on the platform.

Longer term, we are looking to provide employment opportunities for post graduates and apprenticeships for software developers and content creators. We are based in County Durham, which is a fantastic part of the UK, but is classed as an underserved area. I am delighted to be starting up and growing a software company that will provide some exciting employment opportunities for talented people in the North East.

In addition to partnering with universities, we are offering our internships to individuals with the relevant career interest and background. Although this is an unpaid internship, students gain practical hands-on experience, ongoing training from highly-experienced intelligence analysts, as well as personal exposure and the ability to network with major companies and organisations.

Interns under the guidance of mentors, remotely monitor a country of their choice, helping to develop the intelligence picture. The platform currently has registered senior representatives from numerous prominent companies and non-government organisations. With the mentoring and support of Intelligence Fusion Analysts, interns will operate using their own names, giving their reporting and analysis unrivalled exposure.

With a crowd sourced business model, we feel we can greatly improve the quality of intelligence on the market, in addition to making it accessible for small and medium sized enterprises.

Health and well-being

One of our key objectives is to help SMEs who operate globally understand the risks associated with the geographical locations that they are doing business in. In particular, it is for businesses whose employees are visiting new countries and who need to understand how to brief their employees on local culture to ensure that their business trips are as safe as they possibly can be. By managing risk, we can help to keep people safe in challenging areas and situations.

Economic growth

Emerging markets need external investment in order to stimulate economic growth. Going back to the first impact theme of job creation in underserved areas and the knock-on effects that provides, this can encourage inward investment which could then go towards kickstarting an economy. Let's take Africa as an example: the most positive impact that this continent could get would be investment from sovereign wealth funds, large corporates, and large SMEs to help stimulate economic growth.
GF: What are your next steps?
M: We will be working to launch, attract subscribers and build the Intellince Fusion community, and identify the Key Performance Indicators (KPIs) which will enable us to drive growth and impact within our business.