Intelligence Fusion close out pre-seed round from online angels and VC
Intelligence Fusion have successfully closed out their pre-seed round after overfunding to 150% of their original funding target.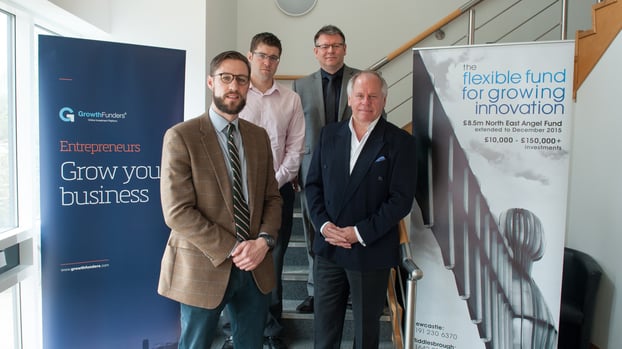 Originally, the online security, intelligence, and risk platform created by former military intelligence officer, Michael McCabe, had set out to raise £15,000.
However, the startup attracted interest from an institutional investor, which prompted their decision to allow the investment opportunity to overfund.
Intelligence Fusion decided to end the round after receiving £10,000 from Venture Capital fund, Rivers Capital, which took their total funding amount to £22,500. This was the maximum level of equity available for this particular round of funding.
Michael Dickens, fund manager at Rivers Capital Partners said, "Intelligence Fusion is an innovative, disruptive business lead by a go-getting entrepreneur. It is exactly what we look for in an investment opportunity.
One of the main aims of the fund is to stimulate angel investment activity into the North East. So we are pleased to complete a funding round with GrowthFunders, a ground breaking North East based online angel investing platform."
This funding will enable Intelligence Fusion to roll the online platform out for testing with 150 industry professionals. Founder, Michael, has already spoken to a number of people from a broad selection of organisations and industries who have provided feedback and validation.
He told GrowthFunders that one of the most common pieces of feedback he received was that everyone liked the singular-platform concept, as it means that they no longer have to search through multiple sites and chat groups for the information they require. In addition, the cost-effectiveness and use of technology-as-an-enabler were seen as significant advantages, in a sector where intelligence support cost businesses thousands of pounds a month.
Intelligence Fusion connects professionals from across multiple sectors and countries, on one interface, allowing them to securely share business intelligence, as well as tactical, operational and strategic information.
Michael founded the business because of his strong background in military intelligence. He served five years with the British Army's Intelligence Corps, during which time he gained significant experience conducting Counter Intelligence and Operational Intelligence, both in the UK and across the Middle East.
After leaving the military in 2009, Michael joined the private sector, where his role involved providing intelligence support and risk management to the United States Army Corps of Engineers' reconstruction efforts in western Iraq. He helped manage projects worth in excess of $100 million on behalf of the U.S. Department of Defense and planned and risk-mitigated for over 800 successful close protection missions in a hostile environment.
Michael says, "I faced some tough challenges when providing intelligence for close protection missions in Fallujah and there was nothing like Intelligence Fusion around. Instead of relying on Skype and trawling multiple open sources - such as websites, chat groups and social media posts - for hours, Intelligence Fusion would have made sharing information and finding new sources far easier, thus helping to make our projects and missions more secure."
Craig Peterson, co-founder and COO of Growth Capital Ventures, says, "It's fantastic to see Intelligence Fusion harnessing online angel investors to fund their business, which will in turn, crowdsource intelligence information from and for a number of specific markets. Enabling businesses, who operate in hostile environments and who understand and manage risks, to be monitored by military intelligence personal is an interesting prospect."
The Intelligence Fusion platform can help support any business which has intelligence requirements relating to threats and risks, including banks looking for travel security information, shipping companies facing threats from piracy, and the extraction sector with operations in non-permissive environments or high risk locations.
The system will be monitored around-the-clock by highly-experienced intelligence professionals, ensuring that only the most accurate and up-to-date intelligence picture is disseminated to the Intelligence Fusion community.