Q&A with the founder of Intelligence Fusion

We spoke to Michael McCabe, Founder and CEO of Intelligence Fusion, about the business, the market and their current EIS eligible investment opportunity.
GrowthFunders (GF): What does Intelligence Fusion do?
Michael McCabe (MM): Distilled down to its simplest part, we provide the information businesses need to understand in order to protect their people and assets in a highly complex world.
GF: What's your background?
MM: After finishing my degree in Theology I joined the British Army's Intelligence Corps, undertaking operational tours to the Middle East. After leaving the military in 2010, I went on to work as the Senior Intelligence Officer for Aegis Defence Services in western Iraq, before becoming the Iraq Intelligence Manager for Olive Group. It was during this time I came up with the idea for Intelligence Fusion.
In addition I have obtained qualifications in counter-terrorism and security from St Andrews University and Leeds University, as well as completing a Certified Ethical Hacking course. I have commented on Russia Today and written articles for numerous security publications.
GF: Who are your co-founders and what are their backgrounds?
MM: Prior to joining Intelligence Fusion in 2016, Daniel Harrington, the COO, worked for major blue chip financial firms in the City of London, providing crisis management, business continuity and operational risk consultancy. Daniel also worked as a Senior Regional Analyst for Control Risks based in Iraq, working and providing security advice and consultancy to numerous governmental, diplomatic and energy sector clients.
Previously working as a Security Consultant for Aegis Defence Services. Daniel served in the Royal Navy with operational service including a tour of Afghanistan. He holds a BA (Hons) in Politics and History of the Middle East with Arabic from Durham University.

GF: Why is there a need for your product and service?
MM: If you look around the world at the moment, you can't deny that the global security situation is becoming more unstable. Police and intelligence agencies are struggling to keep pace with increasingly sophisticated terrorist activity and emerging conflicts. Providing security has shifted from a traditional role protecting companies from risks to become a new source of competitive advantage. With that in mind there has never been a greater requirement for improved situational awareness, which can help to protect people and assets from harm, as well as aid companies to move into emerging markets.
GF: What does the Intelligence Fusion platform do?
MM: Intelligence Fusion's platform connects people from around the world on one online resource, and crowdsources information. By rewarding users for providing information and engaging with the site, we aim to create the foremost global intelligence platform. This will provide the situational awareness required for businesses and organisations in a world which is highly unstable.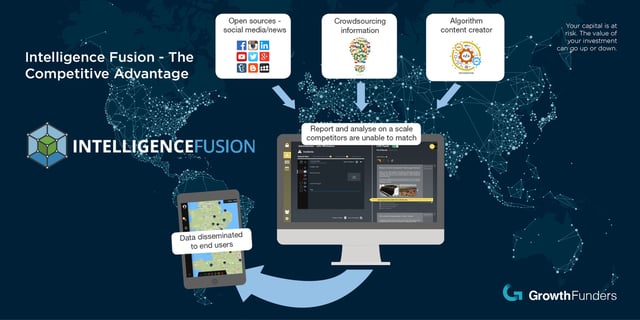 GF: Why is Intelligence Fusion a good solution?
MM: Private security and intelligence companies are failing to evolve quickly enough to meet the changing threat landscape. Generally, private intelligence teams have consisted of small groups of people attempting to keep abreast of the massive volume of global incidents. However, more recently some companies have attempted to solve this problem through computer algorithms.
Algorithms record large quantities of data, however, they will generally geolocate an incident without much precision, and they lack any contextual analysis of why an incident occurred. Neither solution provides accurate global situational awareness with analysis that delivers the 'so what' factor businesses need. In a globalised world, tapping into that global community and crowdsourcing information is the next phase of intelligence.
If you layer a professional team of intelligence analysts and security consultants over the top of that crowdsourced data, you will create a world leading intelligence platform.
GF: What are your company objectives, mission and goals?
MM: Our mission is to improve the quality of intelligence on the market, by organising and connecting diverse networks of people from across the globe, on one platform. At the heart of our business is a vision of constant innovation to meet the rapidly changing needs of the market. As the world simultaneously becomes more intertwined and unstable, our mission is to constantly innovate and adapt to meet those challenges.
GF: What are your biggest achievements to date?
MM: As you can imagine many of our clients do not wish to reveal their business, or why they use Intelligence Fusion, however, our first year has been really exciting:
We are providing situational awareness for a security company protecting one of the largest movie franchises currently filming.
We have produced thematic papers for a government agency, which were highly regarded. So much so, we will produce another thematic report for the same agency in 2017, as this relationship develops further.
We are also in final talks to become an intelligence provider to one of the world's largest private intelligence companies, which is really exciting.
One of our biggest achievements to date has been our highly successful internship programme, which is helping students move into full-time employment, allowing us to deliver positive social impact.
GF: What will the investment capital be used for and why?
MM: Investment into our business will be used to build the next version of our platform, the concept of which has been honed over the course of the past 12 months. The money will also allow us to hire a team of analysts, which will help to expand our intelligence monitoring, giving us full global coverage. We will also fully commercialise the business by hiring a sales, marketing and development team, helping to accelerate our growth.

GF: Where do you see yourself and/or the company in five years' time?
MM: In five years time I believe Intelligence Fusion will have been bought by a multinational security company or information services company. I hope I will still be involved with the business at that point, as this is an exciting industry to work in, providing real value to businesses and organisations around the world.
Intelligence Fusion is currently raising £400,000 in exchange for 33% equity on GrowthFunders. Click here to view the investment offer. Please note your capital is at risk and the value of your investment can go down or up.