Jo Bentham
Weekly Briefing: the impact of shortening HS2 on the UK economy, global economy proves resilient & AI surge loses momentum
In this week's briefing, we take a look at Prime Minister Rishi Sunak's plan after abandoning the northern leg of HS2, recent updates to global economic growth predictions, and more.
UK Economy
What shortening the HS2 rail project means for the UK economy
At the Conservative Party conference on Wednesday 4th October 2023, Prime Minister Rishi Sunak announced that the northern leg of HS2 had been axed, now terminating in Birmingham rather than continuing to Manchester as initially planned.
The Prime Minister stated that following the Covid pandemic, the economic case for HS2 has "massively weakened with the changes to business travel" and that the money for the project would be better spent on improving local transport links.
£36 billion was due to be spent on extending HS2 to Manchester, which Sunak now says will go towards new projects connecting towns and cities in the North and Midlands, creating a "Network North."
Among the new projects mentioned were upgrades to the A1, A2, A5, A75 and M6 roads and motorways, extending the West Midlands Metro and building a Leeds tram, and protecting the £12 billion investment to connect Manchester and Liverpool.
Whilst the Institute for Economic Affairs think tank called the decision to scrap the rest of HS2 a "victory for common sense", others were less impressed. Andy Burnham, Mayor of Greater Manchester, told Channel 4 News that curtailing the long-awaited project "will permanently reduce the size of the northern economy."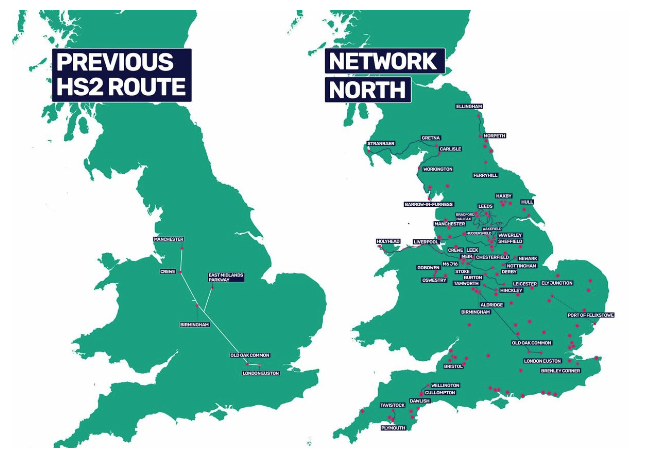 Source: Bloomberg.
Metro Bank secures fresh financing and shares rally
On Monday, Metro Bank told shareholders it had secured a £325 million capital raise and £600 million of debt refinancing "enhancing balance sheet strength and accelerating earnings potential."
In the aftermath of the announcement, Metro Bank's shares jumped 25% to 57p, after hitting an all-time low of 34p last week.
The deal involves a £150 million equity raise led by Spaldy Investments, which becomes the bank's largest shareholder at 53% with a £102 million contribution. The raise will see shares priced at 30p.
Metro Bank is also in talks to sell up to £3 billion of residential mortgages.
Jaime Gilinski Bacal, Founder of Spaldy Investments, said: "I have been an active investor in Metro Bank since 2019. The opportunity to become the Bank's major shareholder is driven by my belief in the need for physical and digital banking underpinned by a focus on exceptional customer service. I believe that the package announced enables the Bank to pursue growth and build on the foundational work undertaken over the past three years."
Global Economy
Global economy proving 'remarkably resilient' to recent shocks, says IMF
In its latest World Economic Outlook (produced before the recent events in the Middle East), the International Monetary Fund (IMF) said global economic growth has shown "remarkable resilience" after a number of shocks over recent years.
The IMF released the update at its annual meeting in Marrakech and highlighted that activity has been slowing, but crucially not stalling.
There's little evidence of a wage-price spiral according to the IMF, though they have issued a warning to central banks against cutting interest rates too quickly.
The report suggested global growth is expected to fall from 3.5% in 2022 to 3% this year, with this forecast being unchanged from their last predictions in July 2023.
Their 2024 estimate has been revised down by 0.1% however, down to 2.9%.
Venture capital
Generative AI deal count dips in Q3
After a surge in VC funding as it captivated both VC's and the general public, momentum for generative AI appears to be slowing down.
Investment in the sector remains high by historic standards, but excitement is waning as investors realise many AI applications may not yet be viable, according to PitchBook.
In a 29% decline from Q2, the number of generative AI deals fell to 101 rounds in Q3.
Deal value was also on a downward trend during Q3 before a deal between Amazon and Anthropic worth up to $4 billion was signed.
However, large investments from big tech companies such as Microsoft's $10 billion OpenAI investment are proof that there's still a significant amount of confidence in the sector's potential.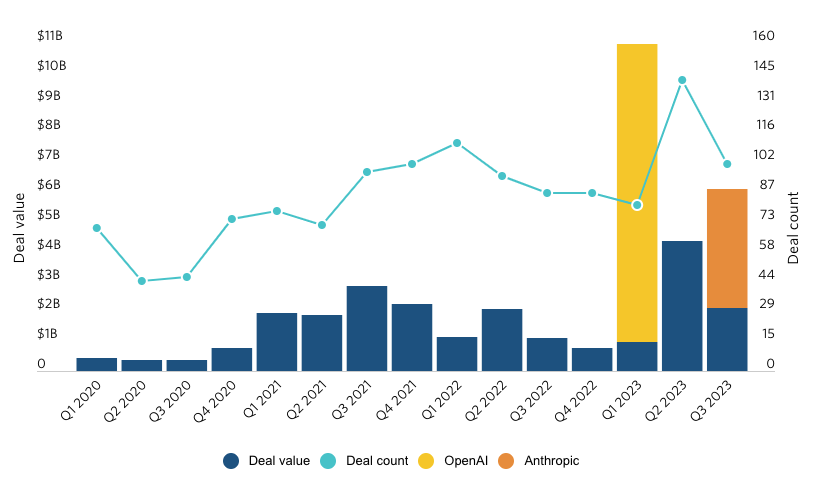 *As of Sep. 30, 2023.
Georgraphy: Global.
Source: PitchBook data.
A Final Note
Whilst a positive outlook remains tentative, it's excellent to see a flurry of positive news in the last week with the creation of a "Network North", evidenced global economic resilience, and a boost to Metro Bank.