A Q&A with the GCV Founders
When Craig and Norm Peterson embarked on a venture to launch a Fintech Business in 2015, they had one clear vision: To create a dynamic, forward-thinking company with the investment, technology and know-how to build businesses that could transform industries and communities.
Five years on, it's fair to say they've achieved their aim – and more besides. Growth Capital Ventures (GCV) is now one of the most innovative companies in the North of England, building and backing businesses that transform industries and communities.
Earlier this month, we spoke with GCV CEO Norm Peterson and COO Craig Peterson to take a closer look at their plans for growth and their EIS eligible live investment opportunity on GCV's Co-investment platform (closing on the 30th November, 2020).
Discover More: Live EIS-eligible investment opportunity
Q: How would you describe GCV for an investor learning about the business for the first time?
A: Craig Peterson: GCV is an FCA authorised fintech business, we focus on financial services and technology and marry the two together.
We launched the company back in 2015, at the time we were focused on developing and operating online investment platforms, so we built GrowthFunders, an online co-investment platform designed and developed to originate deal flow and connect investors to growth-focused investment opportunities utilising tax efficient structures.
The business has evolved significantly over the last five years, and we now have three business units: Our Private Investor Network (GCV Invest), our Venture Builder (GCV Labs), and our Fintech Software (Quva). Our mission at GCV is to build businesses that transform industries and raise capital for those companies through our Private Investor Network.
Q: G-Ventures, the Private Investor Network, can you talk through how that works and some of the benefits for investors?
A: Craig Peterson: G-Ventures essentially is a Private investor Network, both online and offline, it's aimed at experienced investors which include high net worth individuals and sophisticated investors that participate in the investment opportunities we introduce.
We focus on three asset classes which all come under the banner of alternative investments and they include: Venture Capital which provides investors access to high quality, pre-vetted investment opportunities in early stage and high growth businesses.
Property investment opportunities which are generally joint-venture style development projects, so investing alongside the developer.
Finally the third asset class is Private Equity. We're just starting to look at some investments in that space, which are later stage companies, revenue generating, profit making and a little bit lower down the risk curve than higher growth, early-stage companies.
Overall to give you an idea of quantum we've got around 350-400 experienced investors in the network and also around 5,000 everyday investors.
To date they've invested over £10m into transactions so far and they co-invest typically alongside institutional investors in the deals that we bring forward.
It's an interesting co-investor network for people who are looking for something a little bit different, not your traditional mainstream products, something that's got the potential to offer better returns than you'd typically see.
Q: How are the Private Investor Network opportunities complemented by the Venture Builder Unit, G-Labs?
A: Craig Peterson: With G-Labs, I suppose the interesting area here is that it was never part of the original strategy.
We launched G-Labs off the back of entrepreneurs that were coming to us that had deep domain experience, so they knew their sector inside out, but they probably didn't have all of the knowledge that was required to raise investment and maybe build a technology that could transform the sector that they operate in and actually scale that business.
What we've ended up doing is creating a Venture Builder, which is a business that builds businesses, and working with entrepreneurs to actually co-create the business before launch and scale.
We bring forward a skillset that covers investment, the strategic side of things, lean startup methodology, so ways of really taking an idea to a scalable business.
This includes agile project management and software development, so there's quite a vast skill set that we bring, plus back office support.
This really is our USP as a company, it brings forward high quality deals for our investors, so a lot of these businesses are early-stage and therefore they are generally EIS (Enterprise Investment scheme) and SEIS (Seed Enterprise Investment Scheme) eligible.
EIS and SEIS are quite interesting Government backed tax wrappers that investors can use to minimise downside risks and maximise their returns.
G-Labs is there to provide high-quality deal flow where all of our interests are aligned as the Venture Builder and our investors participating alongside us.
Q: What types of businesses would GCV work with within G-Labs?
A: Craig Peterson: So generally they have a technology focus, so we're looking for businesses that are really transforming the industry that they operate in.
An example of that would be Intelligence Fusion – that's a business which focuses on situational awareness and threat intelligence, the founder Michael McCabe comes from a military intelligence background but has worked in the private sector intelligence as well, so he knows his space inside-out.
Michael knew the challenges that were faced for people in his role which was finding a way to collect intelligence globally and at scale. They needed to also map that data and deep-dive back into it historically, but in addition to that to also get real time data to make the right decisions to protect people and assets.
So how we worked with Michael was by creating Intelligence Fusion through the build of the technology that allowed him to go out and actually prove the tech would transform the industry, and then raise the capital for the business.
Now Michael is scaling that company up and employs around 15 people with a very impressive board that is leading the company with him, and it's also being backed by Private Equity Managers, Maven Capital Partners as well.
So working with Intelligence Fusion from idea stage to see it now with clients that include one of the biggest oil and gas companies globally, the Dutch MOD and the Metropolitan Police, it's fabulous to see the company actually scale and really do something interesting in its space.
Q: Moving on to the Fintech Software, Quva, how does that fit in within the three business units?
A: Craig Peterson: Quva is an online investment platform, where we have tapped into the knowledge, skills and experience that we've gained over the past few years building GrowthFunders, our bond platform and also an investment platform for another external organisation.
What this has allowed us to do here is to create essentially a platform as a service solution, so it's a bit like a software as a service solution but it's a bit more complex and more scalable. It's like a white label platform that allows organisations like us that work within Venture Capital, Private Equity, Real Estate and Investment Funds to enable them to manage their investment lifecycle from end-to-end.
From deal origination through to transacting, and then ongoing portfolio management, monitoring and reporting, the platform's able to do everything.
Development is well underway at the moment with it being a core part of our growth strategy moving forward. It's also one of the primary reasons that we're raising capital now – to strengthen that team and to grow that business unit.
Q: How did you notice that there was a gap in the market for Quva? How did that come about?
A: Craig Peterson: This came from our own experience of having to build something like this, and we're well on the way of using Quva to replace our existing GrowthFunders platform which we're hoping to do during the course of next year.
Because we and other companies out there needed software like this, we saw the value and opportunity in the market.
There is software out there that does a bit of what we're doing with Quva, so it's a market that's proven, which is good, but what we're actually doing is bringing forward a real current tech stack and a real current proposition that is highly configurable, highly scalable and highly customisable.
Q: Recapping on these three units, how do they all work cohesively together?
A: Craig Peterson: As mentioned we have the three business units including the Private Investor Network, Venture Builder and Fintech Software.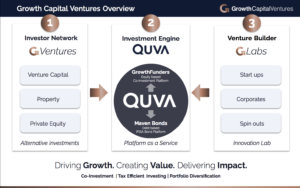 Our Private Investor Network focuses on three asset classes: Venture Capital, Property and Private Equity.
Venture Capital is essentially investment into early stage businesses and has been the majority of the investment opportunities up to this point.
The Venture Builder side of the business is the unit that can really originate some high quality transactions, where we can de-risk those transactions as well, because we're so heavily involved in co-creating the business and helping them launch and scale.
This means that our investors understand the business inside-out when we come to introducing it to them.
There is a real strong connection with G-Labs the Venture Builder and G-Ventures the Private Investor Network, and probably the key thing that sits in the middle is Quva now.
If we're going to make that investment process as slick and as streamlined as we possibly can, then we should be using our own technology to do that and that's where Quva will enhance that overall process, connecting our investment opportunities to our investor network.
Q: The team has gone from 4 to 22 employees over the past 5 years, but what does that look like in terms of the skills and experience that has been brought together?
A: Craig Peterson: Norm and I are the Co-Founders and are joined by Bill Kennedy and Suzanne Lupton on the board who are both partners at Maven Capital Partners, Bill is the COO at Maven and Suzanne is the Director of Co-investment.
What we've got here is a team at board level that has got some real complementary skill sets, so Maven for example focuses on Venture Capital investments, Private Equity investments and Property, so there's a real alignment to what we do.
In terms of the overall team that we have, there is a real breadth of experience from the investment side of the business – the ability to originate, transact and monitor deals, and then the software development side is important for us.
Internally as a business, we need to build our own software, e.g. Quva, but obviously building software for the businesses in G-Labs as well and that's what makes us quite unique, and it means we can build and launch businesses. So we have a real breadth of experience in our team all in all.
A: Norm Peterson: We have 22 really talented people here, these team members have joined us from highly respectable organisations around the North East with strong track records in tech development. Each member has made a real impact since their arrival here and there will be further great opportunities for them to showcase their talent here in the near future.
A: Craig Peterson: On that, giving a bit more of an overview of the software development team, for example, many have previously worked for a very well-respected software house in the North-East who have worked with the likes of British Airways, Home Group and Sage, so we've got some real talent in the engineering department.
This is critical for us with Quva, but it's also critical for the G-Labs businesses that want us to come and help build their tech as well, so it's quite a unique skill-set we have really.
Q: With the investment to date, how have the source of the funds come about?
A: Norm Peterson: In the chart below, this shows you the fundraises to date, we've had just under £2 million invested, and you can see from the first round how the pre-money valuation of the company has grown over this period, and it works out as 56% compound annual growth rate to date, and the plan is to keep that moving in the right direction.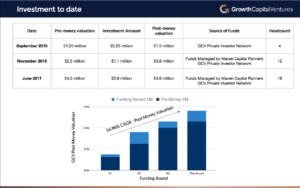 A: Craig Peterson: The seed round was all private investors, we raised £250,000 from private investors to build the first version of GrowthFunders and to get the FCA authorisation in place for the business.
The second round we were delighted that Maven Capital Partners actually invested in that round, and have supported the business in future rounds as well.
In the current investment round we're delighted to have Finance Durham on board which is the Venture Capital/investment arm of Durham County Council, which, being located in County Durham, is brilliant to have them on board as well.
What's important to realise here is that when investing into Growth Capital Ventures, it's not just supporting one company, effectively investors are supporting all of the portfolio companies that sit within GCV, and that has a knock on effect in terms of the value it brings.
For example, Finance Durham are investing into a business that builds businesses, and with GCV being based in County Durham, they're investing into our company and we're investing into different companies and helping them scale, and you start to see the impact that has, not just in financial returns, but on other economic, environmental and social impacts as well.
Q: What key milestones have been achieved in the last five years?
A: Norm Peterson: As we mentioned, we're up to a team of 22 members now and we're hiring new people as well, which is a core part of why we're raising capital.
Our private investor network has over 400 members which is growing weekly. We've transacted over £35 million worth of deals and £10.1 million of that has come from our investor network.
That £10.1 million has now grown to £32.4 million in terms of the actual value of that investment, so we've looked at the recent valuation of the company when they raise money, and the impact of that is based on these figures, the investors are looking at a £3.21x unrealised return on their investment, so there's been some real impact across that area.
A: Craig Peterson: I think it's important to point out that's just across the Venture Capital Sector asset class only at this point, so to have £10.1 million, and probably by the point the two live transactions that we've got at the moment close out will jump to around £12 million.
So it's important to point out that those figures are just from that one asset class, because we do have Property and Private Equity as well which are separate.
A: Norm Peterson: We've had £15 million in terms of property deals, and that's given us future B income potential of £2 million.
In those property deals we have currently got a pipeline of 300 homes, creating much needed construction jobs around that, with homes being very much needed in the economy, and that job creation impact of these investments has probably created over 500 or 600 jobs now, so there's a real impact coming from these investments.
Q: What does the overall portfolio of companies within GCV include at the moment?
A: Craig Peterson: We've invested into or facilitated investment into 9 companies to date. To name a few, they include Atom Bank, Hive HR and Transparently.
So there's a number of companies that are in the portfolio, some of them had multiple rounds, giving us 17 transactions in total, it's interesting when you look at the metrics that have been delivered there.
Atom Bank has created 300 high quality jobs in the North East, attracting talent, retaining talent, and then Hive HR who have created around 50 jobs in a really impressive tech company.
Overall if you add the market capitalisation for each of the portfolio businesses it's in excess of £600m, with a lot of that coming from Atom.
It's really encouraging to see how the investor network has been a part of this and I think it goes back to that key point for investing – the unrealised 3.21x money-on-money return, and we are hoping that this increases over the growth cycle of the company in the coming years as well with our portfolio.
Q: If someone had invested £10,000 for example across all of the different transactions, what might that look like now?
A: Norm Peterson: If you'd invested £10,000 into the 9 companies giving a total of £90,000, at this moment in time with unrealised return the value of that investment would be worth £288,900, that will move as the companies raise further funds moving forward, there'll be a re-evaluation of the business and that 3.21x is targeted to increase and we'll hopefully get some exit events in the near future.
A: Craig Peterson: I think, overall, to add to that, the initial target money-on-money return for Venture Capital transactions is generally 10x, though as with every investment your capital is at risk and returns are not guaranteed. However it's the sort of returns that we want to see being potentially achievable from an early-stage business.
Q: What's in the pipeline over the next 12 months?
A: Craig Peterson: With G-Ventures, we're working on around 5 or 6 immediate transactions, across various asset classes. We have a couple of Venture Capital deals, one Private Equity transaction and a couple of Property transactions as well.
With G-Labs there's some very interesting early-stage companies that we're working with there, 4 in total across media tech, legal tech, another fintech business and a property tech company that we're looking to work with probably towards the end of next year.
Q: Can you recap on the three different business units and what the business plans will look like for the different areas?
A: Craig Peterson:
G-Ventures
With G-Ventures what we're looking to achieve with this investment round is to expand the investor base. We'd like to take the experienced investor network from the 350/400 it's at now to in excess of 500.
We'd also like to have more online investors as part of the network as well, we do feel, as a co-investment platform, that there's an opportunity to get more people involved in what we do, and so there's a target to take us from 5,000 to 10,000 investors over the next couple of years.
What we also need to look at is to increase the deal origination and transactions we bring forward, so we've transacted on 9 companies to date and we'd like to increase that to 30 companies over the coming years, and every transaction that we look at, whether it's Venture Capital, Private Equity or Property, we always look at an internal rate of return of 25% for investors, that's the trigger point for us.
We would also like to bring forward more Private Equity and Property transactions as well as this helps our investors diversify amongst this alternative asset class. And what we'll do as well is bring in a couple of new hires to support deal origination transactions and portfolio monitoring.
G-Labs
G-Labs as a business unit, we're looking to scale that part of the business up. We're looking for 2 hires imminently, and then probably taking that over to 6 over the next year or 2, being predominantly software development and UX / UI teams.
It's all about being able to build and scale the software side of things, that will help us launch 30 high-growth startups with a real technology focus over the next 5 years.
The key point here is that we want to create value in those businesses, and obviously GCV's business model ensures that we will have stakes in those companies as well.
We also want to ensure that our investors get high quality deals so they can be part of that value creation as well.
The key thing we want to do, is to increase the success ratio of early-stage companies that actually scale and move to a successful exit in the future. It is actually very hard to launch and scale a high-growth startup so we want to work hard at that.
We'd like to improve the speed as well, so make that scale happen faster, and that's drawing into our skill set across the board of raising capital, building the tech, and hopefully getting the business into that next round of funding.
Quva
With Quva, this is probably one of the main reasons we're raising capital at the moment.
We're really excited about this business unit, it draws on all of our collective strengths and experience in building online investment platforms for ourselves and others. Now taking this to a product that we can actually licence, scale, and take into new markets this is really interesting.
Our plan is to strengthen the team, we've got about 5 software developers working on this now, we've got a sales and marketing team coming on to this soon and probably more of the tech team joining when we need them.
That will get us to a point when we can launch the product, which will hopefully be early next year. Obviously we will work closely on the market entry strategy, how we target the new clients, on-board them and win those new clients.
We'll continually and consistently deepen the tech over the coming years, developing software non-stop as you can never rest on your laurels with that, and the key outcomes would be attracting 50 customers over a 5-year period, with an average revenue per customer being between £50,000-£100,000.
Ideally we are targeting the business to be on recurring revenue of £5 million within a five-year timeframe. If we do that, Quva in its own right, either as a business unit or a spinout business, will have some decent enterprise value around it. So it's a lot of work to do but we're really excited about the journey.
Q: The current GCV investment round is now open for investment, what's on offer for investors who would like to participate?
A: Norm Peterson: This is an EIS qualifying investment, and we're targeting a money-on-money return of 12.9x, and we believe the opportunity at this level represents real value, and we'll look forward to welcoming new investors on board.
A: Craig Peterson: We were targeting an initial £1 million investment for just over an 18% stake in the business, with a pre-money valuation of £4.5 million.
We're delighted that £1 million has been committed via institutional money, and £250,000 has by private investors to date, closing on Monday the 30th of November, this is an opportunity for new and existing GCV investors to invest alongside Finance Durham and Maven Capital Partners in this round.
We're targeting a 12.9x money-on-money return, it's really important to mention though, that as with all investments your capital is at risk and returns are not guaranteed. We are still a young company, but we're very excited about the future.
Q: How do the target returns work?
A: Norm Peterson: As shown in the graph below, there's 3 target returns here. There's the base case which we are targeting, we did look at an upside case if things overachieve, let's say Quva exceeded it's revenue plan and became more valuable, there's an upside case to it which might hit 17x or 18x, but equally we looked at sensitised case where we looked at what if we didn't hit the revenue streams and what that might look like.
So we're just giving a range of potential returns for the investor to consider. Internal rate of returns is 56% taking into account the base cae, so it hits our hurdle rate, and the job is to make sure that we make the journey and get to that exit.
Q: One of the attractive aspects of this round is that it is EIS eligible. What does that mean for investors who may or may not have heard about this Government backed scheme before?
A: Craig Peterson: EIS (Enterprise Investment Scheme) is one of the UK's most lucrative and exciting tax wrappers and there's a number of benefits associated with it.
Whilst this is not tax advice, it's just to give you some guidance on the benefits:
On the way into the transaction, the key features investors can benefit from is 30% income tax relief on an ongoing investment – so if somebody invests £10,000 into an EIS qualifying transaction, they can claim back £3,000.
It's a nice reduction that you buy shares at basically at a 30% discount.
If an investor has capital gains tax liabilities, so let's say they've sold their business, it might be that someone has had a successful exit and has a capital gains tax bill, they could defer that capital gains tax by investing into an EIS eligible business.
Also if somebody's sold property and has capital gains tax to pay, they could use it that way.
I suppose the only other thing to be mindful of is that investing into early-stage businesses, as we mentioned, this comes with certain risk – it doesn't always go to plan.
If investors experience losses then they can manage downside risk by claiming loss relief with EIS as well.
I think going back to the positive side, if a business hits an exit and a liquidity event and generates returns for investors any of those profits are free from capital gains tax, so again another lucrative tax benefit on the way out of an investment.
Probably the final benefit for investors that have a sizable estate is that EIS investments have the potential to form outside of the inheritance tax.
There are some things that you need to be aware of there – how long you hold shares and so on, but again, if you're interested in investing in an EIS qualifying investment like the opportunity with GCV, always take advice from your personal tax advisors, as personal circumstances vary. I think another thing to mention is tax treatments can change.