End-of-year pitch update for HiveHR: employee engagement software
Please note: this investment opportunity is now closed. To be informed of future funding rounds, please make sure you are a GrowthFunders member. You can do that here.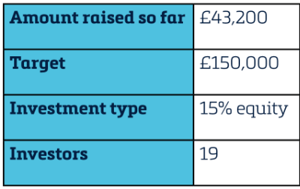 Named the "small startup with huge ambitions" by their sister and incubator company, award-winning eCommerce business Visualsoft, the Hive team are certainly on a mission to get employees engaged, motivated, and happier.
Based on Teesside (but with offices in London and targeted sites in Edinburgh, Manchester, Leeds, and Birmingham as part of their ambitious growth plans) Visualsoft are hot stuff. Alongside supporting Hive, they recently opened their impressive new headquarters in Stockton and now look set to take the crown for "coolest office", as well as celebrating a hat trick of nominations at The Employee Engagement Awards 2015.
I recently caught up with Founder and Managing Director of Hive, John Ryder, to get an update on the team's fundraise and find out their plans for 2016.
Hiring
Following the appointment of our first key hire, we have been busy, well, bees...
Jamie Burnip joined us as a PHP Software Engineer in October to help Visualsoft CTO, Matt Burton, complete the final stages of development, prior to beta testing and launching.
We also recently hired an Enterprise Sales Manager, Theo Fitzharris, who will join us from Nigel Frank International in mid-January. Theo will focus on generating, nurturing, and closing business with companies of 250 employees or more.
Our core focus for the next couple of months will be to develop and introduce some new features based on the feedback we are currently receiving and the work our team has been carrying out.
We launched our investment campaign on the GrowthFunders platform back in October, and have been working extremely hard to develop and build the software which enables employers to better understand, measure, and improve employee engagement within their organisation.
Demos
I've been demoing the software, both online and face-to-face, to a number of businesses, including one of the UK's largest challenger banks who are looking for a progressive way to engage with their employees.
Hive has also been demoed to HR Dept, a consultancy business which provides outsourced HR services to a national client base of 4000 SMEs via a network of licensees - as well as a handful of big brands including Volvo and The Body Shop. They're growing and have a really impressive track record when it comes to customer satisfaction.
There's scope for a non-exclusive partnership arrangement where their licensees will earn a comission for referring their clients to Hive. It would be a mutually-beneficial relationship because our business model doesn't include providing consultancy or training to clients - but naturally, that's something that the HR Dept are very well placed to do.
Early adopters
Excitingly, we were able to launch an early version of the Hive software in November and it has already been linked to a number of early adopters, including Spark Response.
Spark Response are an order-fulfilment and contact centre services provider whose clients include BT, Toys R Us, FitFlop, Soap & Glory, and Micro Scooters. They've always recognised the importance of employee engagement and immediately tuned into how Hive will help further boost engagement levels within its 200+ workforce. They will begin using Hive in January.
Another early adopter is a leading Teesside business law firm who are looking to further boost engagement in their 44-strong workforce and continue to grow their positive company culture.
It's fantastic to be able to work with such forward-thinking businesses at this early stage.
Success in the marketplace
A Seattle-based startup, which operates in a similar space to Hive - replacing out-dated annual reviews in order to better assess how engaged employees are - is demonstrating how this kind of Software-as-a-Service (SaaS) proposition is scaling in the US.
The US's leading pulse survey and peer-to-peer recognition platform, TINYpulse, has recently closed out a $6 million round, led by Arthur Ventures. You can read the full story on GeekWire.
In the US, TINYpulse is doing fantastically despite competition from OfficeVibe and Waggl. At the moment, there is no such competition for Hive in UK. However, I am confident that the UK is large enough to support serious competition if one or more were to surface here.
The story of TINYpulse's recent funding round offers fantastic validation for Hive, showing the potential for growth in the UK and the value that can be created in businesses like this.
I am also confident when it comes to Hive's setup regarding customer success and sales, which is something I believe comes from mine and Visualsoft's previous experiences of gaining and retaining customers.
Impact Hive will deliver
Health and well-being
Hive enables employers to measure the engagement, motivation, productivity, and overall happiness of their workforce. Through weekly surveys problems, suggestions, and queries can be highlighted and addressed quickly in order to maintain a pleasant working environment. Employee engagement analysis is a rapidly growing market and one Hive is well-equipped to take over.
Skills and employment
As well as the health and well-being impact Hive delivers, the business is also focussed on professional development and furthering the skills of workers. Through weekly feedback, employees can highlight areas in which they believe they, the team, or the entire company would benefit from training.
Underserved areas
Hive are also keen to replicate the success of Visualsoft, their incubator company, in terms of job creation in an underserved area of the UK. Visualsoft has successfully grown from a startup to one of the largest private employers in Stockton-on-Tees, creating 200+ jobs along the way. The company places great importance on creating a pleasant, fun, and smooth workplace environment in order to attract and retain top talent.
Potential investors
Behind-the-scenes, I've been working hard to secure the investment we need to kickstart our growth journey. With some fantastic support from the GrowthFunders team, I've had a number of advanced conversations with some seasoned professional investors. This is exciting news and we will continue to keep everyone posted on our progress. Here's to an exciting 2016.
Speaking of which...
The GrowthFunders team would like to wish John and his wife Ailsa a huge congratulations on the birth of their daughter, Remy Beatrice: The best early Christmas present ever!
Hive's funding round has now ended but you can still use their pitch page to stay up-to-date with progress.