Hive's founding business exhibit their high growth and impact potential
Please note: this investment opportunity is now closed. To be informed of future funding rounds, please make sure you are a GrowthFunders member. You can do that here.
After smashing their original target of £150,000, this exciting startup is currently in overfunding with £283,500 pledged from a combination of professional and online angels. Click here to read more about Hive in overfunding.


Beginnings
Hive originally started as an employee engagement tool for use within the office of e-commerce and technology giant, Visualsoft. However, the growth potential for Hive was spotted immediately and the decision was made to incubate the idea and spin it out as a stand-alone company.
The Head of Innovation who worked on the software, John Ryder, was appointed Managing Director and is focussed on the growth, positive impact, and success of Hive. Find out more about Hive's journey so far in this recent "Bright Spark" article from the NE Times.
We recently caught up with John to get his thoughts:
We're thrilled with the success of our equity crowdfunding campaign. Our original target was £150,000 and to nearly double that gives us the financial resource to potentially accelerate the growth of the business.
Visualsoft have incubated the company, providing early stage finance, office space, technical expertise, and strategic advice and support to help shape Hive in its very early stages. They could quite easily have bank-rolled the business right the way through, however they were keen to open up the investment opportunity to a wider audience of investors.
It's been a great way to showcase Hive and build the brand and our network. In fact, some of the investors who've come on board have made connections which has accelerated the sales process. We're hoping that others we've pitched to will become early adopters.
I hope we're emulating our sister company, Visualsoft in our approach to a number of things but especially employee happiness through increased engagement, motivation, and productivity.
Visualsoft: the "big sister"
The multi-award-winning company was founded by Dean Benson and some friends whilst studying at university. Opening their doors in 1998, Visualsoft have experienced high growth in the flourishing e-commerce sector. Scaling up exponentially, they now employ almost 200 staff across their three UK offices in Stockton-on-Tees, Newcastle, Manchester, and London, with plans to expand further by opening offices in Edinburgh, Leeds, and Birmingham.
The company recently moved their headquarters to the purposely-named Visualsoft House in Stockton. The move has enabled Dean to create a campus environment, similar to the ones used by Google and other dot.com companies in Silicon Valley with a "quirky" setup which includes a series of workstations, break out areas, and pods to allow employees to work from wherever they choose. As well as this, the HQ houses a breakfast station and ping pong tables with plans currently being drawn up for a slide and chef's kitchen.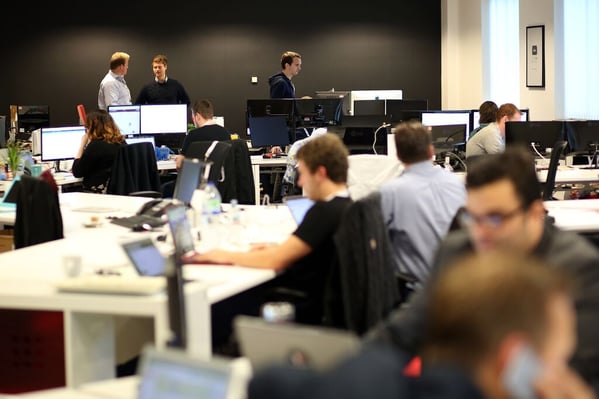 These larger premises mean that Visualsoft can continue to increase their headcount on Teesside, which they've already started to do with the recruitment of eight new employees. What a way to kickstart 2016!
All of this helps to explain why Visualsoft were recently listed in a table of the world's fastest growing tech firms. With an average growth of 226% since 2011, the company was one of just 72 UK companies to appear on the Deloitte Technology Fast 500 EMEA in 2015.
Positive impact: health and well-being
Hive couldn't have been born of a more-qualified business when it comes to understanding the importance of employee engagement, motivation, and productivity. Visualsoft are at the forefront of employee initiatives, something which can easily be seen through the introduction of their Staff Benefits Package which includes unlimited paid holidays, flexible hours, and exclusive staff discounts.
The health and well-being of their employees is paramount to Visualsoft and they know how much an unhappy workforce can negatively impact a business, as well as how much a happy one can positively impact it. Another example of Visualsoft's focus on health and well-being is when they offered staff free massages and flu vaccines to highlight the importance of stress awareness at work.