How COVID-19 is transforming the SME lending market
Recent figures published by the Bank of England show lending to SMEs was up 21.8 per cent in August 2020, the highest rate of growth on record.
The surge in demand has been driven largely by small and medium-sized enterprises (SMEs) that have found it difficult to secure funding during the crisis.
Whilst the Coronavirus Business Interruption Loan Scheme has supported many businesses throughout the pandemic, the supply of finance to many smaller firms has nonetheless been badly disrupted by COVID-19.
As many retail banks are prioritising government guaranteed loans and staying clear of SME lending, this has widened the gap for competition in an SME lending market already rife for disruption.
The SME lending landscape
From challenger banks to peer-to-peer networks, varieties of SME lenders have witnessed exceptional growth in popularity over the past decade in UK finance.
Largely due to the lifeline they offered British businesses following the 2008 global financial crisis, alternative SME lenders have played a crucial role supporting small businesses that could no longer rely on traditionally slow, inflexible incumbent bank systems to survive, often believing large retail banks lacked individual attention.
This realisation paved the way for challenger banks, who began to originate innovative solutions and technologically-oriented approaches to SME lending issues that had previously gone unmet.
Today several challenger banks pose as key players in the UK banking sector, with the top 13 globally having each received at least £100 million in equity financing by 2020, almost a third of which were British.
Read more: Why Growth Capital Ventures backed challenger bank B-North
The impact of COVID-19
Though the value SME banks hold has become increasingly recognised in the years leading up to 2020, severe economic impacts caused by the COVID-19 pandemic have highlighted the growing need for more purpose-built SME lenders.
Whilst the overwhelming majority of SME lending has come through the government's emergency schemes (90% of the £29bn in loans to SMEs in April and May), of which have proved crucial to the survival of jobs and businesses throughout the nation, CBILS won't be the right answer for all businesses.
For businesses in which plans for the upcoming years are aimed at growth rather than simply survival, advisors are suggesting that alternative lenders could provide a more flexible and appropriate solution.
And with non-bank lenders largely stepping back from the market throughout the pandemic, and incumbent banks being plagued with legacy system issues from understaffed call centres to backlogged loans, much of the focus is on neo and challenger banks to provide reliable SME support throughout this difficult period.
Changing the face of business lending
Though it seems clear that relying entirely on emergency government schemes and the already overloaded retail banking sector could have serious consequences for the future growth of British SMEs, several features could be identified as crucial for an SME lender to possess in the current climate.
SMEs value quick, effective systems that don't rely on the centralised decision making and bureaucratic processes that led to 6/10 UK SMEs being unsatisfied with their bank's speed of assistance throughout the pandemic.
This growing demand among small to medium sized businesses for platforms that are responsive and flexible, has been paired with a demand for providers able to serve customers almost entirely digitally, whilst still providing access to regional knowledge.
Highlighted particularly since the pandemic, these priorities have developed, partially, as SMEs have grown weary of less-interactive lender relationships that are conducted primarily through call centres using rigid, centralised credit policies.
Introducing B-North
One upcoming SME lender, set to launch into the market, that aims to address these key pain points is challenger bank and GCV portfolio company B-North .
Assembled by a high-quality team with an unparalleled track record in gaining new banking licences and scaling SME banking businesses, B-North aims to transform the business lending process by delivering loans between £500,000 – £5 million, 10x quicker than the market average.
B-North is the first genuinely regional British business bank in over 150 years. Built specifically to serve SMEs across the whole of the UK with a ground-breaking 'Regional Bank' model, which combines uniquely customised technology with the trust of face-to-face banking, local credit decisioning and swift delivery.
Live investment opportunity:B-North Series A Bridge Round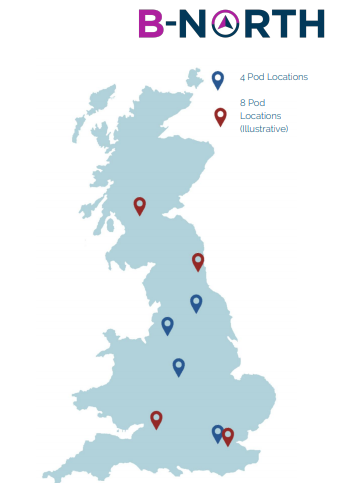 The challenger bank's hybridised business model and unique 'regional pod' distribution model will see physical 'pods' located in major cities throughout the UK.
These pods will house a collection of key decision makers (from bankers, to underwriters and valuers) under one roof that can offer lenders real, local relationships incorporated with local risk decisioning.
Combining cutting edge technology, industry-leading delivery times and specialised, professional assistance is what the company believes will differentiate itself in the business lending market and help to relieve the SME lending market's £48 billion of annual unmet demand.
Speaking on GCV's 'Interview with the Founders' webinar, CEO & Co-Founder of B-North, Jonathan Thompson, commented:
"It's fair to say that this, on balance, is largely a positive time for B-North. What we're seeing at the moment is a withdrawal of competition from the SME lending market, as both funds and banks are distracted either by delivering CBILS or by nursing existing portfolios. This is all serving to leave an element of unsatisfied demand, and there's certainly strong demand for alternative new sources of capital."
Following two previous funding rounds facilitated by GCV that resulted in a total of £6.9 million raised, B-North have now opened their latest investment opportunity – now live on the Growth Capital Ventures co-investment platform.
Speaking on how they aim to use capital raised from the current funding round, CFO & Co-Founder of B-North, David Broadbent, stated:
"The next round of funding will ultimately unlock the banking license, an extremely valuable asset that will give us access to the £1.3 trillion retail deposit market as a source of funding. From then it is our intention to start lending, starting with the opening of the first lending pod in Manchester."
Live investment opportunity:B-North Series A Bridge Round
The future of SME lending
Though no one can be certain of what the future of SME lending looks like, it appears as though we're on the verge of a switch in emphasis within the banking sector.
As the post-COVID-19 downturn forces business owners to get creative, SMEs could continue migrating to lenders who offer more flexibility and are prepared to extend credit, based on a better understanding of the risks of a particular sector.
Following the trend of digitalisation, many believe physical banking processes will be stripped back further and the handover from physical to technological could make way for even more innovations among non-traditional lenders.
Whilst it is crucial emergency government schemes and CBILS accredited lenders continue to support small businesses that are dependent on their capital for survival, it seems inevitable that of the 5.4 million SMEs that exist in the UK, many will look to not just survive, but grow post-COVID.
And as those businesses look towards quick, flexible, reliable lenders to kickstart a bounce-back from pandemic, the UK lending landscape could evolve into one in which non-traditional lenders increasingly to threaten market share of incumbents – the forecasted market value of neo & challenger banks set to soar to $394 billion by 2026.
Live investment opportunity:B-North Series A Bridge Round