Personal finance review: a resolution worth keeping
New Year's resolutions can spark lively debate between friends and family; some people swear by the incentive they provide, others are adamant that having placed too much emphasis on them in the past, they won't be fooled again.
We've reviewed some data on New Year's resolutions, with interesting findings. As you might expect, improved health through diet and exercise feature prominently, but we are keen for everyone to consider reviewing their personal finances in 2018.
The reason behind this is there are more ways than ever before to invest your capital. With the impact of technology reducing the minimum level required to invest in financial products, these changes represent a great opportunity, but they can also be somewhat overwhelming.
What do we know about New Year's resolutions?
Polling completed by ComRes in November 2015 provides some interesting insights into how we all approach New Year's resolutions. For example, 71% of women have made a resolution in the past, compared to just 59% of men.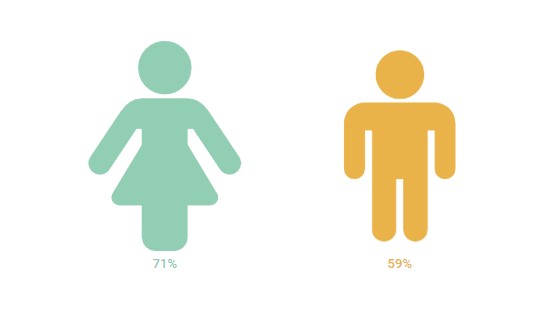 Those that are sceptical about the value of making resolutions will feel vindicated by data that show that 93% of respondents admitted having failed to maintain a resolution in the past, compared to just 48% who reported having successfully implemented a resolution. Furthermore, the majority (66%) of resolutions that were not kept had been discarded before February began.
The survey asked participants about the nature of the resolutions that they were planning to make for the forthcoming New Year, focussed on health and wellbeing. As suggested in the introduction and confirmed in the chart, below, these were dominated by improvements to physical health and appearance.
These were driven by women selecting these resolutions (represented on the chart by the boosted proportions in green). Men were more likely than women to resolve to drink less alcohol and stop smoking (the boosted proportions in orange).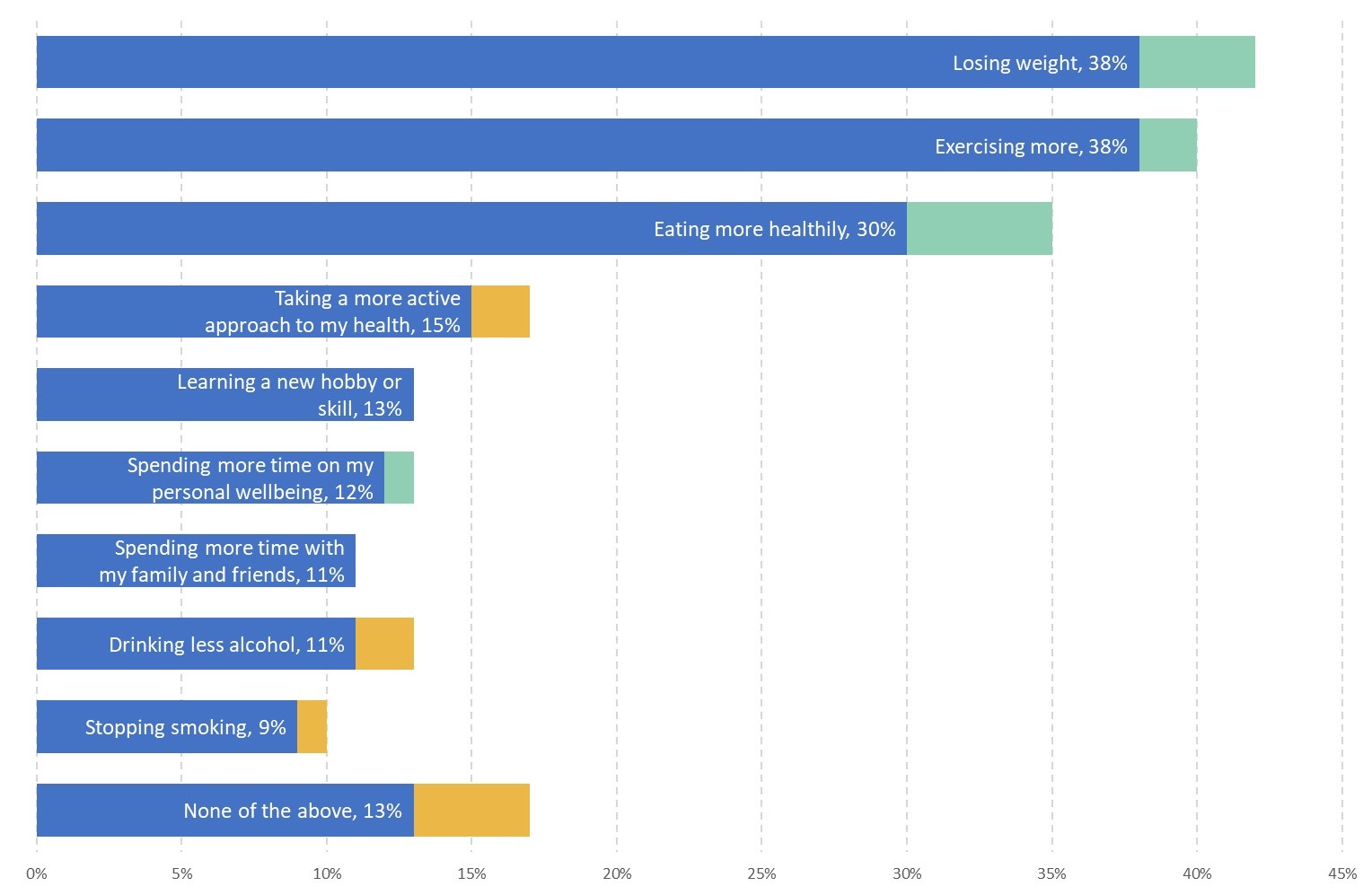 The options provided to survey participants did not include any direct reference to reviewing/improving personal finances. Although this might not be a traditional resolution, the link between financial security and emotional wellbeing is very well established.
Financial security and emotional wellbeing
London fintech firm Neyber produced an authoritative review of financial wellbeing, published in May 2017. When 10,000 employees across a range of organisations were asked what was negatively impacting on their wellbeing, the most frequently selected response was financial security. The chart confirms this, whilst also confirming that physical health was the third most frequently selected response.
The impact of this financial insecurity is considerable - 1 in 4 women and 1 in 5 men reported having lost sleep because of financial concerns.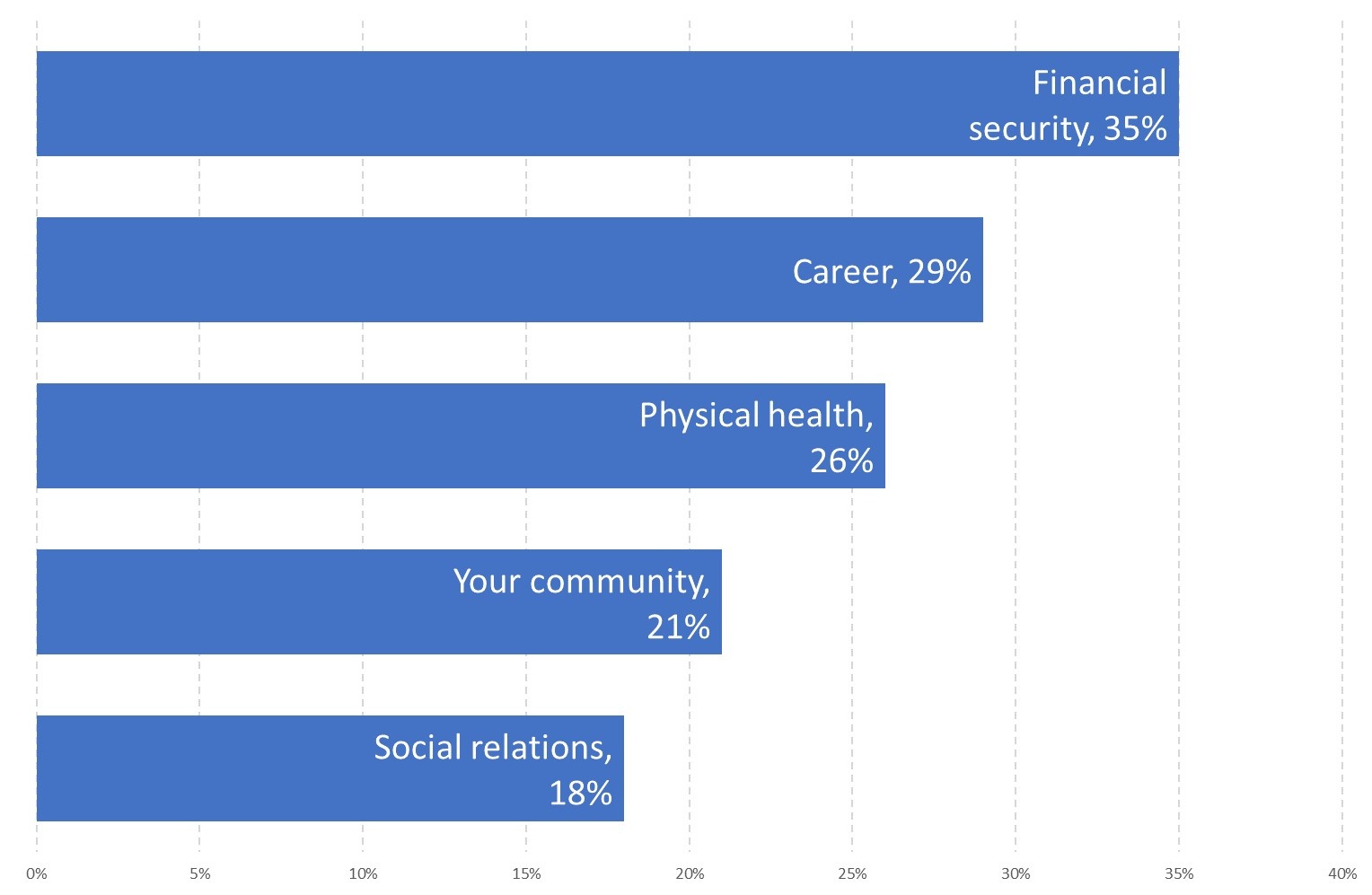 As a subset of the overall population, employees are younger than average. This might make them less concerned by physical health than retirees, for example. Nonetheless, financial security is clearly a significant issue for a large part of the population.
Options for greater financial wellbeing
For those employees currently seeking greater financial security, the most obvious solution would be increased salaries. This is a valid response, and one that various campaign organisations have embraced on behalf of employees. However, it is not a solution that that online investment platforms alone can affect.
An alternative source of financial concern could be the nominal rates of interest currently offered on cash deposits by financial institutions. For many people, their savings are their only financial asset.
Earlier in 2017, Royal London highlighted the scale of this in its powerful policy paper The Curse of Long-Term Cash. Royal London contrasts the value of a £1,000 investment made ten years ago - in a Cash ISA, this would now be worth less than £900; in a multi-asset fund, this would now be worth an estimated £1,500.
Tax efficient investing
People concerned by the erosion in the value of their savings now have access to a broad range of complementary investments. These include equity investments that qualify for generous tax reliefs (up to 50% with SEIS and 30% with EIS), offer tax-free growth, exemption from inheritance tax, and downside protection.
The emergence of equity co-investment platforms like GrowthFunders has brought investing in companies that qualify for these initiatives within reach of more people than ever before. If you're looking for a New Year's resolution that may become one of those rare resolutions that are upheld, it could well be worth giving your personal finances some attention and considering what might interest you.