B-North: targeting a burgeoning SME banking opportunity
As B-North track further progress in their live funding round on GrowthFunders (with over £780,000 now pledged), CEO and Co-Founder Jonathan Thompson's latest piece explores the growing gap in the SME lending market for a reliable, tech-enabled, face-to-face business bank, further detailing how B-North are set to address it.
There are many reasons why SMEs are underserved and apathy seems intrinsic to the problem.
Back in the day, the local bank manager would have been a prominent figure in town, having relationships with businesses across the area. Important finance for firms would have been agreed on a handshake.
Clearly those days are well gone, and in a risk aware, regulated world, this is no surprise. What is surprising is that nothing has really stepped into the void. Services for SMEs have been steadily degraded over time, with bankers often replaced by an 0845 number for the 'local' contact centre.
Online banking is highly convenient for certain transactions, particularly day to day payments and even for lower value, short term finance, but where a firm needs more material, complex support there is something of a vacuum, particularly in the UK regions.
This partly explains the rise of commercial finance brokers, the number of which have doubled over the past decade, who help SMEs find the finance they require. But where is the experienced SME lending banker?
There are a number of reasons why they are so scarce, mostly dictated by the challenges facing the big UK banks.
The first and most obvious one is that big banks continue to wrestle with the challenges of legacy systems and infrastructure. They are saddled with complex physical footprints which are considered costly, and with technology which has suffered from decades of underinvestment.
Whilst every bank is on some form of 'digital transformation', investment is mostly pointed to valuable retail franchises or high-volume segments. SMEs, particularly larger ones, are complex and don't lend themselves to automation, and so most banks land on a strategy aimed at driving cost out of their SME franchises, in a bid to solve their structural cost issues. People are one of those big costs.
All the while, the traditional profit pools of banks are being eroded by innovators with much more customer-centric models, and banks are struggling to keep pace. Wholesale re-platforming of technology is fraught with risk (recall TSB's IT upgrade in 2018) so, in playing catch-up, banks often end up plugging new technology into old systems, to avoid flicking any big, high risk switches. This may be fine in isolation, but the result is banks which are constantly lagging more innovative new players who have built their business and technology wholly around the customer.
What's more, these challenges aren't solely technology focused. Many high street banks have become so big and complex, in the drive for efficiency they have lost their customer centricity. Once this is gone, it is nigh on impossible to get back.
I referenced the local bank manager earlier. Almost all banks have centralised the underwriting of loans to SMEs, because it is efficient. Sadly, from the borrowers' perspective it can feel more like you are dealing with a faceless institution. The result is a lack of personality and a one-size-fits-all solution to what are often complex borrowing needs.
All this means that 'regional empathy' is really missing at a time when businesses are looking at ways to recover from the impact of COVID. Many banks lack genuine understanding of the regional economy, and local bankers, even if they do exist, lack empowerment to support businesses and are shackled by centrally agreed credit policy, often written with a London lens.
On top of that, lending can take months to deliver. From a banking perspective at least, the UK is hindered by a lack of practical means with which to go about achieving greater national business momentum.
What's more, a lot of high street banks are currently closed to new business finance enquiries, which exacerbates the situation. At B-North, we are frequently receiving enquiries from brokers looking for a home for debt opportunities. This lack of appetite to take on new accounts is predominantly due to the pandemic and a focus on shoring up existing clients – maintaining the status quo, rather than supporting growth.
There are 5.6 million small and medium-sized businesses operating in the UK and, with even more founded during the pandemic, it might seem odd that the high street banks don't make more of an effort to court this client demographic, but they are content to keep taking cost out of their models and to stay out of the spotlight by delivering an average proposition. And that's good, for them.
But it's not good for those businesses in need of finance. Post Brexit and as the UK recovers from COVID, businesses need confidence to invest for the future.
The good news is that there is a new generation of cloud-native banks coming through to help plug the funding gap.
At B-North, we're not trapped in an outmoded business model, because we started from scratch, unfettered by legacy. We've designed our business with the SME borrower in mind – that means using cloud-based technology for faster, more nimble lending which also transforms the economics of the firm. That allows us to invest in face-to-face banking with experts who can understand a business. Placing front line bankers and underwriters within B-North's regional banking hubs is all about putting banking expertise back into the UK regions. We call this our hybrid model, new tech combined with traditional banking expertise.
Our aim is to facilitate a vastly improved regional borrowing experience, investing in genuine face-to-face relationships with growing businesses and the brokers which support them, and making lending decisions in the region, not in some faceless centre. Not many high street banks can say that, and almost none are in a position to authentically help SMEs with their lending needs.
It's an exciting time to be building a bank and, in a post-Brexit era, as we try and put the challenges of COVID behind us, never has an offering like ours been more crucial to the future success of the UK economy.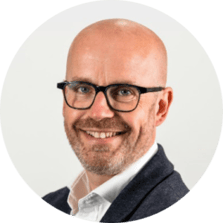 Less than a week left: live investment opportunity with B-North