25 years of the Enterprise Investment Scheme:
For over two decades higher rate taxpayers have been drawn to invest in Enterprise Investment Scheme (EIS) eligible small and medium-sized businesses that offer high growth potential.
The EIS plays a vital role in helping SME-sized UK businesses grow. As important to the economy as a whole as it is to investors, the scheme offers some of the most attractive tax breaks available in the UK, making a smart EIS investment a very compelling proposition.
Since its introduction in 1993, businesses have raised almost £16 billion through EIS-qualifying investments, enabling a high level of growth and success for the best British SMEs.
And although approaching its 25th birthday, the EIS remains a proven means of driving early stage business investment.
Tax relief for investors
The EIS incentives available to individuals are configured to ensure capital reaches businesses in the quickest and most efficient manner possible. The scheme recognises that experienced and sophisticated investors are the best judge of where to invest in pursuit of growth - growing businesses, after all, benefit everyone.
As EIS tax incentives are targeted towards individual investors (both retail and professional), it is vital that suitable platforms exist to facilitate these investments.
At GrowthFunders we champion co-investment that enables retail, professional and institutional investors to syndicate for the mutual benefit of all, aligning some of the most exciting EIS eligible investments available.
Recent trends in EIS investments
Data recently published by HMRC, documenting EIS investments in 2015/16, makes for particularly interesting reading.
One of the most notable observations is that 3,285 firms secured EIS-eligible investment in 2015/16. This consolidated a general (albeit occasionally interrupted) trend of year-on- year growth since 2008/09, and was second only to 2000/01.
Although there has been somewhat of a decrease in more recent times (aggregate funds raised fell by 12.4% between 2014/15 (£1.88bn) and 2015/16 (£1.65bn), with a consequent fall in average raise value of 13.0% (£576k to £501k)), this is likely due to the fact highly recognised investment opportunities associated with clean energy and property are no longer eligible for EIS incentives.
Even with these recent decreases taken into account, EIS eligible investments have shown to continually be one of the most powerful and lucrative investments when it comes to tax relief.
The future for EIS investments
Figure 1, below, presents annual percentage changes over a longer period. Annual percentage changes in the number of businesses participating have been relatively benign since 2001/02. Total funds raised through EIS is slightly more volatile, with annual growth appreciably greater in 2011/12 and 2013/14.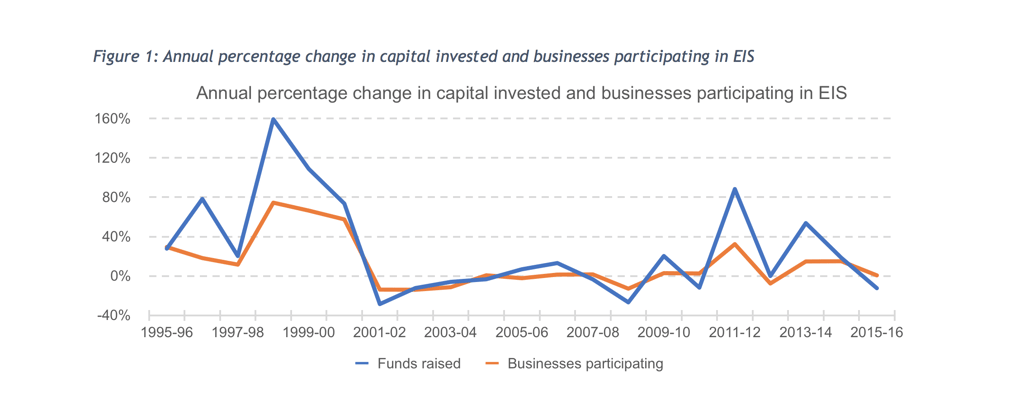 On closer inspection of the data, we can see performance in 2015/16 was weaker amongst first-time raises, something rightly identified by Mark Brownridge of the EIS Association. Table 1, below, demonstrates annual percentage changes across three key indicators, and the performance of first-time raises is less than the other raises across each indicator.
It's important this is understood as businesses' eligibility to raise funds through the EIS is eventually constrained by legislation. The most typical causes of ineligibility are age (businesses must be less than twelve years old) and gross asset value (which must not exceed £15m).
For this reason, businesses raising for the first time represent an important barometer of total future opportunities. This highlights the action that needs to be taken to maintain – or better still, expand – this pipeline.
Get involved
At GrowthFunders we're committed to raising awareness of the benefits offered by EIS amongst investors and businesses alike - and encourage all to support us with such awareness by sharing our content!
We currently have two live EIS eligible investment opportunities available on our platform in the form of Care Messenger and Intelligence Fusion. Click through and register to view the investment details in full, or for further information on EIS investments, download our guide on the scheme.